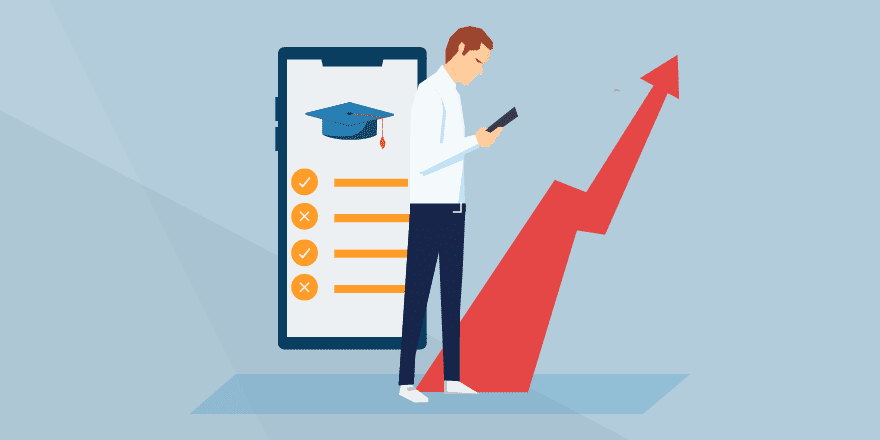 Before we discuss the best app to learn Chinese, we should first ask the question: are apps a good way to learn a language? App technology has come a long way in the last few years, and the developers of some of the apps I review below have put a lot of thought into the design and content of their apps. Plus, smart phone apps are so convenient: if you have your phone on you and some time to kill, you can get in some Chinese study.  
So, you've decided to get a Chinese learning app, you go to the Play Store or iTunes on your smart phone, and search "learn Chinese". The results are literally hundreds of apps to choose from. Such a huge selection can feel overwhelming, so hopefully this guide will help you decide on the best app for learning Chinese 
A few ground rules to begin with. I've called this an honest review, and that means firstly I've tried out all the apps I'm reviewing. Secondly this site receives no affiliate fees in exchange for a favourable review. Also, this review of the best app to learn Mandarin will just cover smartphone apps, so no web-based apps or pure web-based online tools. All the reviewed apps are available for Android and iOS. Most of my reviews cover the paid version of the app, which inevitably offer the best features. However, all them can be accessed for free, either as a free trial or a version with less features.
Because there are so many apps on the market, I've organised my review of the best app to learn Chinese according to the major skills involved in learning a language. Apps are ranked in rough order, best to least good. 
The Best App to Learn Chinese Vocabulary
FluentU
FluentU is a great app that uses material like music videos, movie and TV clips, excerpts from interesting YouTube videos plus old-fashioned flashcards to learn words and phrases. I've been using FluentU a short time, but already I've found that words I had had trouble remembering were now beginning to stick, simply because I was now associating the words within an interesting context like a line from a movie. The one downside to FluentU is that it's not cheap. 
Memrise
Memrise is an app I like to use a lot. It teaches both words and phrases, and uses spaced repetition algorithms so that you are prompted to review vocabulary just as they are beginning to fade from your memory. What I like best about Memrise is their Learn with Locals feature which has clips of local Chinese speaking the phrases in a very natural way. The free version has limited features but the subscription rate is reasonable. 
There are a lot of multi-purpose Chinese apps that incorporate flashcards, and TCB, as well as being one of the best-known within the Chinese learning community, is also one of the best to learn vocabulary. When I read a TCB text and come across new words I can easily save them to my Word Bank and review them later. It's also very easy to review words by HSK category or by how well I know them.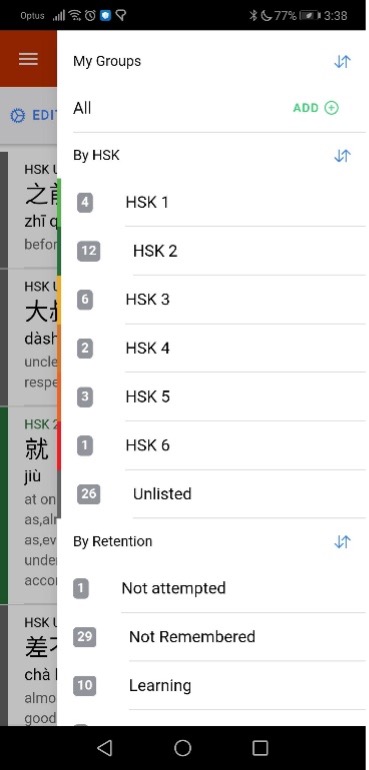 Anki
Many language learners swear by Anki, but I can't say I'd choose it as the best app to learn Chinese. The interface and design are bland and I don't feel flashcards by themselves are particularly engaging. You can use flashcard decks created by other users, there's a big range to choose from though quality varies. Or you can make your own decks, but be warned: it's time-consuming and there's a steep learning curve.  
Duolingo
Duolingo's one of the most popular language learning apps on the market, no doubt because of its 'gamified' nature that encourages you to maintain daily streaks. But is it the best app to learn Mandarin? I used it for a while, but in the end felt that it wasn't really helping me, an inefficient use of my learning time. 
HelloChinese
Another gamified app which is very comprehensive, but I found it visually unappealing. It felt like the target audience were young children. (So, if you are looking for a Chinese learning app for your child, maybe HelloChinese is worth a look). 
Mondly
This app has a couple of interesting gimmicks – a chatbot (of very limited use), Augmented Reality (though this feature isn't available for Chinese), and the vocabulary covered is extensive. But in my opinion, it's poorly designed and tedious to use. 
The Best App for Reading Practice
Many reading resources, particularly those for lower-level language learners, can serve up some dull material, because of the need to keep the language and grammar simple. TCB, by focusing on simplified news articles, goes a long way to avoiding this predicament. And of course, the higher the level the more interesting the material becomes. There's plenty of reading choice with over 7,000 articles, and new materials are constantly being added – around six new articles daily. The phone app has a nice look and an easy to navigate design. To get the most out of TCB, a paid subscription is the way to go, and subscriptions rates are very competitive. If you like to learn by reading then The Chairman's Bao may be the best app to learn Chinese.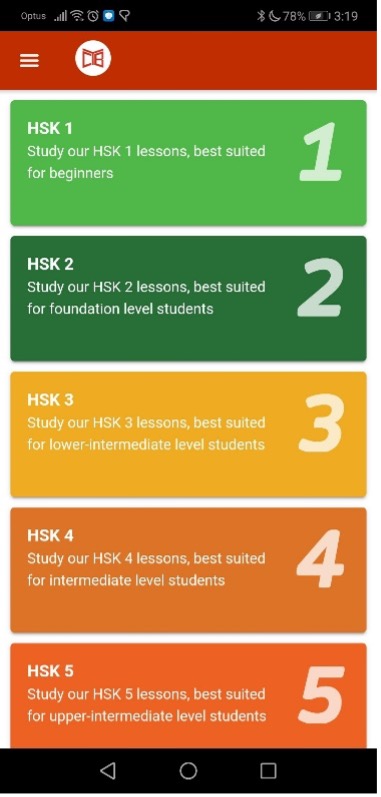 Du Chinese
In contrast to TCB Du Chinese focuses on stories, a mix of contemporary and traditional tales adapted for language learners. At the lower levels, the stories can be a bit repetitive (though this does help reinforce vocabulary), and the design is starker than TCB's more colourful app. Subscription rates are marginally more expensive than TCB and there's less new material added than TCB. 
LingQ
LingQ is a fantastic concept where you click on words in a reading passage that you don't know, select a definition and these become your 'LingQs" or words you are learning, now highlighted in yellow. Then next time you come across the word in another article it will be clearly highlighted and you can review it. The best feature however is that you can import material from anywhere online, including YouTube and Netflix, and study it through LingQs. The app however is a bit clunky to use. 
The Best App for Chinese Listening Practise
YouTube
Listening to naturally-spoken Chinese is vital for learning the language, and using authentic material can really enhance the learning process. To this end there are a growing number of Chinese YouTubers providing authentic, interesting material, and aimed at all levels of learners. If you are a beginner the choices of course are much more limited but even here you can find videos. (Just search "HSK1, HSK2 listening practice"). 
Once you hit Intermediate level, the choices open up for you. Just a few YouTubers I'd recommend for intermediate learners are SyS Mandarin and Chinese with Piao (both use movie and TV excerpts to help your listening practice), and Mandarin Corner. 
ChineseClass101
This offers a very structured listening course where you can listen to mainly short dialogues using very casual and natural Chinese. The main gripe I have with ChineseClass101 is that at the lower levels each 'lesson', average length 10-15 minutes, has about a minute of Chinese and the rest is in English. 
ChinesePod
ChinesePod was a pioneer in the field of Chinese listening apps in 2005. But the original developers and presenters have long ago, as have most of their replacements. A lot of the old material is still available, but the newer material doesn't have the same engaging quality. I also find it very buggy, particularly the flashcard component, and like ChineseClass101 there's way too much English at the lower levels to be an effective listening tool. 
Google Podcasts
Like YouTube videos, podcasts are a great way to practise your language listening. However, when I search for Chinese material on Google Podcasts, the shelves are pretty bare for elementary and intermediate material. This app best suits the more advanced learners (until somebody comes up with a great podcast for lower-level Chinese learners). 
Don't forget that many of the multipurpose apps can provide excellent listening material. For example, with reading apps like The Chairman's Bao and LingQ you can download the audio files and concentrate on listening rather than reading. 
Apps for Chinese Speaking Practice
There are two kinds of apps in this category, those where you practise speaking with a tutor and apps that match you up with a language exchange partner. Getting plenty of speaking practise will really help improve your Chinese, but unfortunately the apps are a bit of a mixed bag. 
Tutoring
iTalki
It's the market leader and was once a really good app when you could also use it to find language exchange partners for free. Unfortunately, iTalki stripped down the language exchange component to make that part effectively useless. Being a Chinese-owned company, it seems to be the preferred site for Chinese tutors, so there's hundreds of teachers to choose from. However, the company's customer service is really poor in my experience. 
Preply
Preply recently introduced a complicated, inflexible subscription method for paying for lessons, compared to iTalki's much simpler pay as you go system. Also, if you take a break from learning for six months you will lose all your credit, and refunds are hard to get. Another annoyance: I was bookmarking tutors I might be interested in, which led to a barrage of messages from the tutors trying to hawk their services. 
So not much to recommend there – maybe the language exchange apps are better? Unfortunately, not really. I've used three – InterPals, Tandem and HelloTalk. All have their share of fake profiles and scammers, and people using it not for language exchange but for a casual romance or to find a wife/husband. HelloTalk, being Chinese-owned, is probably the best bet for finding genuine Chinese language exchange partners. But at this stage, I'm not sure if there is a best Chinese learning app as far as practising speaking goes. 
Best Apps for Learning Chinese Writing
First off, is an app really the best way to learn how to write Chinese characters? I wouldn't have thought so, that's why I laboriously practise my characters with a pen and grid book, just like the Chinese do. Skritter is the best-known writing app and has a lot of fans who would say that it's the best app for learning Chinese writing, but I've never been tempted to use it. Note that some all-purpose apps, The Chairman's Bao (see screenshot) and HelloChinese for example, have a cool feature where you can learn how to write and practise characters.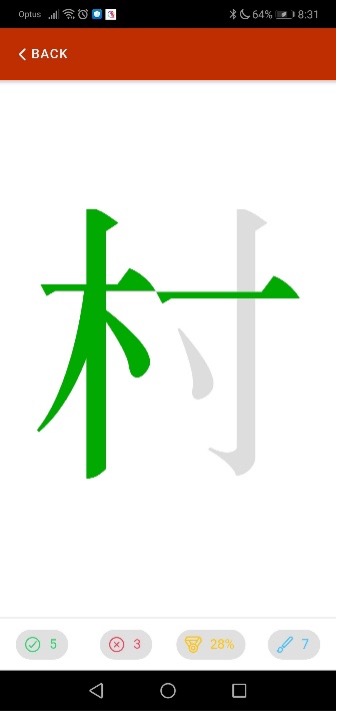 Summary
So, after all that, which is the best app to learn Chinese? The answer is, as is it for a lot of questions: it depends. Everyone's different, and people learn in different ways. You'll probably need to use a mix of apps that are tailored to each of the main skills involved in language learning. For learning vocabulary FluentU is the best Chinese learning app, or at least the most fun. If you like to learn by reading, then the best app to learn Mandarin might be The Chairman's Bao. For listening, I believe YouTube videos are the way to go. The best idea is to try out the apps above and discover which ones work best for you. 
Author 
Nick Dennis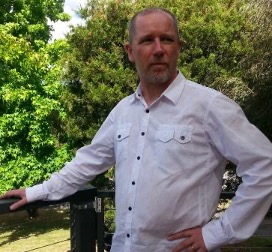 Nick is an English teacher who has taught English as a Foreign Language in China, Italy and France. He has a Bachelor of Arts (Modern Languages), majoring in French, from the University of New South Wales. He loves travel, reading and football and, of course, learning languages. Four years ago, Nick and his wife co-founded an online English language school targeted at the Chinese market (since sold to Chinese investors). He has also ghost-written the autobiography of a well-known Australian horse trainer.