The Chairman's Bao is the ultimate tool for those wishing to learn Mandarin Chinese through compelling and engaging news-based lessons. Our app and website sync seamlessly across all platforms and our bespoke articles are designed to suit all study styles. We publish around 1,600 articles every year, with 3-6 more published daily…5 times more than any other news-based graded reader.
Save Time and Motivate Students with Interesting, Engaging Content
Access to 1,600+ news-based lessons every year, with 3-6 more published daily.
Set interactive, engaging homework assignments and challenge exceptional students.
See extensive reductions in lesson planning time.
Motivate students with real-life interesting and informative content across a wide range of topics.
Bridge the gap between beginner and advanced Chinese learning resources
Easy to Get Started, Built to Grow
Get started with as little as five students in your class
The subscription duration and number of users are fully flexible and entirely at your discretion.
Perfectly suited to all institution types and class sizes.
Companies and commercial organisations welcome.
Students can learn both independently and in groups through fun and manageable bite-sized content.
All lessons meticulously created and categorised for one of five levels (HSK 3-6+).
TCB is an Interactive Cloud-Based ClaaS Platform
Classroom as a Service (ClaaS) – A flexible, cloud-based subscription service delivering an easier, effective, and more affordable solution than EVER before!
Accessible from anywhere and on any device
Acquire the education technology you need without the IT overhead.
Opens in any web browser.
Native iOS and Android apps for smartphones and tablets also available. APK file is downloadable from our website for those of you without access to Google Play.
Seamlessly move between devices & website with automatic synchronisation of personalised content, word lists and progress.
Students can use TCB anywhere and love having the freedom to choose!
We Bear the Load, So You Never Have to
Personal Account Manager assigned to each institution.
Individual logins and personal dashboards created for each student.
Setup within one day of initial payment.
Full technical support and easy to administrate with centralised billing.
Competitive pricing, whatever your budget.
"I wholeheartedly recommend The Chairman's Bao to all students of Chinese at intermediate level and above, for self-learning or to supplement a formal course. The bite-sized bespoke articles are equally ideal for graduates of Chinese or others with more advanced levels who want a pain-free method to keep their language skills ticking over on a daily basis. The links to HSK levels are a useful bonus. There is a remarkable range of online resources now available to help people learn Chinese, but very few are as user-friendly and well-designed as the TCB, and even fewer cover such interesting topics. I have found myself recommending the site on numerous occasions and will continue to do so."
Dr Frances Weightman
Director of East Asian Studies & Senior Lecturer in Chinese Studies at Leeds University, UK
Why TCB?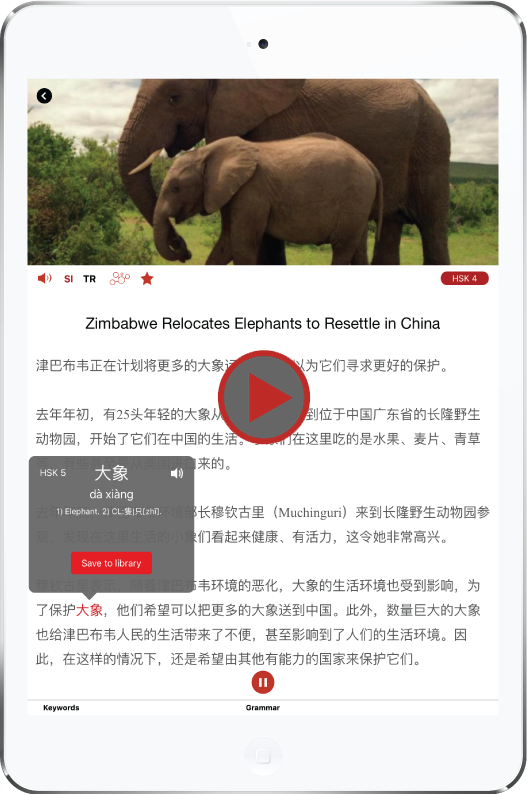 Quality Control
Extra functionality is great but our primary concern has been and will always be lesson quality. For that reason, we developed a stringent seven-point editorial process to ensure the quality of everything we produce. Students and teachers can have faith that our news-based lessons have been produced to exacting standards by our highly skilled writing and editing team. In the 2017/18 academic year, you can look forward to more content than ever before, with the same exacting quality that you have come to expect from our team.
Volume and Variety
By breaking Chinese learning into fun, manageable chunks, TCB takes the chore out of the daily character grind. We understand better than anybody that as materials for other languages have progressed, Mandarin has tended to get left behind and for that reason we are leading the revolution! Students love to learn from content that is fun and engaging. So, whether you are studying for HSK, other formal examinations, or as a supplementary course, TCB is the platform for you.
(Visited 1,861 times, 1 visits today)