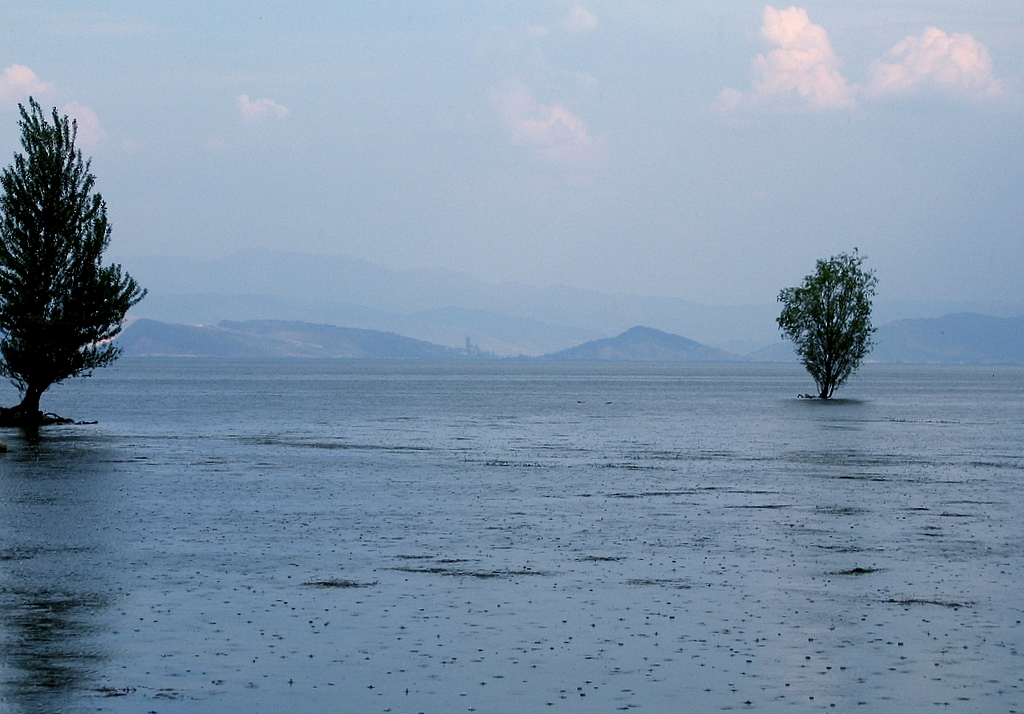 "How the hell do you say sunscreen in Mandarin?" was the thought on my mind two hours into a full day bike ride, but perhaps more important was "Where the hell am I going to find sunscreen?". The last few ramshackle collection of buildings hadn't had much in the way of skin care or anything else for that matter. My quickly deepening crimson glaze on my arms and neck was already more than a little worrisome. I snagged one of those stereotypical conical paddy hats that no one in the east coast cities of China actually wears, but comes in handy under the beating sun out in a rice paddy or on a long bicycle trip. It would have to do until I could find skin protection. Fortunately, it wasn't much more than an hour before we rounded the northern end of Erhai Lake and found a place for that sweet, sweet coconut-scented, lifesaving cream. Whew.
Jumping back to the beginning, we had just rented mountain bikes for cheap by leaving a deposit and a copy of our passports with one of the multitude of bike rental shops in the old town of Dali. Overnight rental was OK, and quite necessary as we ambitiously planned to bike the entire 128km, 79.5mi circuit around gorgeous Erhai Lake. Equipped with a map and some very basic knowledge of the villages on the shore, we set off on the smooth pavement of provincial route 221.
If the great American dream is a cross-country road trip with a V-8 engine, then the American-in-China's dream is Erhai lake with a wide-open road, bright blue skies and a bicycle.
The first stop along the way was to the small village of Zhoucheng. What is the specialty of Zhoucheng? – From half a century and a wide ocean away, it's tie-dye clothing. The dancing bears of the Grateful Dead were astray, but tie-dye shirts, blankets and, tapestries for tables and walls were all there. Buy from here or Xizhou, not Dali. As long as you bargain, you can get a much better price. Feel free to stroll into any of the giant shops lining the dirt road, check out the small hand production centers and poke into houses. There are over 20 courtyard workshops in town. Everyone will be trying to get you to visit; it's a sell, sell, sell kind of place. Very important, don't forget to bargain!
After hopping back on our bikes, our next target was the old town of Xizhou. Literally meaning "happy prefecture", Xizhou is a rarity in China. While Dali is fully on the tourist trail, packed with tourists from all over the world and more banana pancakes than you can shake a stick at, Xizhou is somehow off the beaten path. You'll see a few wide-eyed travelers wandering around the well-preserved Bai architecture, which are characterized by honeycomb patterns, large courtyards, and a balance between a simple layout and elegant details. Over 100 of these large courtyard homes are registered cultural relics from the time when Xizhou merchants were wealthy from trade on the southern Silk Road. You can grab a bilingual map from the Linden Center to help navigate around town and also stay at the boutique hotel located at the Linden Center if you want to escape Dali for a bit. Before you leave, make sure to sample the famous local snack "Xizhou Baba". This savory flatbread with minced pork and spring onion worked wonders as on-the-go pick-me-up for the long ride.
It was right around Xizhou that I first noticed my rubescent skin shade. There would be much more pedaling before relief. We cruised and cruised along the flat Eastern shore with views of verdant farmland to the west and the ever-looming mountains to the east, slowly working our way to the northern reaches of Erhai. It was there that we transitioned from the level, smoothed paved road to a typical scene of China – construction. The road simply stopped and we were left with packed dirt roadways with mountains of slag everywhere. Not the most picturesque of scenes, but that should be all finished for smoother travels to the area today.
After rounding the northern part of the lake and finding ourselves in construction, things would only get crazier. The western road is full of climbs through the mountains, rapid changes in elevation, and some wicked downward slopes to bomb at full-speed. Just make sure you do a brake check first and watch out for traffic. The first expanse of the western route was also filled with road construction carrying over from the north point, and we were a bit worried about finding a place to stay before it got dark, so we passed up a chance to visit the oddly named Nanzhao Amorous Island and just stopped for a quick ice cream in the adjacent village of Shuanglang. Most visitors from Dali do not make it this far, and we were definitely an oddity in the area.
If you do have time for a visit to the island, be prepared for a touristy romp full of "culture" like Nanzhao theme park, Nanzhao Cultural Town complete with folk dances and buying things at high prices. However; if this is any consultation, there is a small sand beach.
Continuing on after cooling down with ice cream and cold water, we eyed the small village of Wase as a stopping point at a little over half of the way around the lake. It was a good plan, as the road got even more strenuous afterwards.
In Wase, we located a small hotel with a room for two people for only 30rmb (approx $5 USD). That's actually not the cheapest hotel room I've ever had though, that distinction goes to a $2.50 room in the Philippines. We set down our bags and tried to regain our land legs on a stroll down to the lakeside to watch the gorgeous sunset. Our muscles did not like the change from pedaling to walking, I could barely move! The local kids swam and splashed in the water amongst housewives washing clothes while the fishermen vied for one final catch before retiring for the evening. The tranquility was palpable in the air as the sun slowly slipped behind the cloud-covered mountains and everything was engulfed in a deep purple light. The last vestiges of light glimmered on the glassy surface of the week as the silent fishermen were silhouetted against the vast backdrop of nature. It was awesome enough to help me forget how beat and sore my body was after a strenuous day of cycling and sun.
As night fell, there was one last thing I had the energy for – food. We stopped in a little Chinese-style BBQ joint run by a friendly Sichuan woman who moved to Yunnan after getting married. We chatted the time away over a smorgasbord of grilled meats & veggies and washed it all down with pint sized bottles of ice-cold Dali beer.
Come back soon to The Chairman's Bao to see if I'd be able to move out of bed the next morning and learn about the rest of the ride around Erhai Lake.
Check out some more of David's blog posts – Kunming and a trip through Dali.