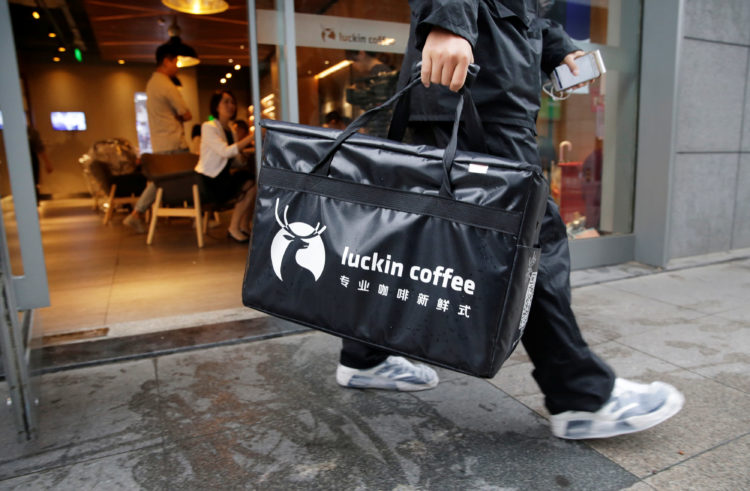 What's the big craze around Luckin Coffee? The new chain has only been around for 18 months, but has quickly become Starbucks' biggest rival in China, who have been around for 20 years.
China is not renowned for its love of coffee. The average person in China will only drink 3 cups a year, compared to a whopping 363 in the US. But China is now going through a bit of a coffee revolution – or so Luckin and its investors hope.
Luckin is a venture backed startup founded by Jenny Qian Zhiya in Beijing. Luckin started with a trial coffee shop in busy Beijing and made fast delivery and mobile app ordering it's focus. That was in just 2017. Fast forward to today, Luckin has over 2,300 in China's biggest cities and has conducted nearly 17 million transactions in the first quarter of 2019 alone.
To top it all off, Luckin is planning on going public by being listed on Nasdaq in the US where they aim to raise $586.5 million. Luckin are working extremely fast, as it takes most venture-backed startups a decade to go public.
Luckin completely relies on it's app based platform for selling and delivering coffee. It fronts as a tech company which is fuelling it's great success in China. Luckin's shops are small and built for fast delivery. They are also in close proximity to offices which allow for a quick grab-and-go, as well as speedy delivery, which has got Luckin straight into the hearts of China's young, fast paced urbanites.
Jeffrey Towson, a Peking University professor said "they are still basically a retail coffee business at the end of the day, but they act like a tech company".
Luckin has received huge investment which it's spending on rapid expansion. In the short time Luckin's been around, it's opened roughly 2,400 stores and plans to open another 2,500. In comparison, Starbucks has 3,700 stores throughout China. Luckin aims to become the biggest coffee chain in China by the end of 2019.
In 2018, Luckin threatened to sue rival Starbucks over unfair competition and monopolistic practices. Starbucks dismissed the accusation, claiming it was just a "promotion hype", and the lawsuit was never pursued.
Competition between the 2 rivals is only getting more intense. However, some business analysts worry that the coffee chain's rapid expansion and high investment is similar to Ofo's bike sharing boom, which led to big failure. 
However, it is predicted that coffee consumption in China will continue to grow at 15% annually, so Luckin is probably on the money. Starbucks will have to keep up and get even more tech savvy to keep up with their new, booming rival.