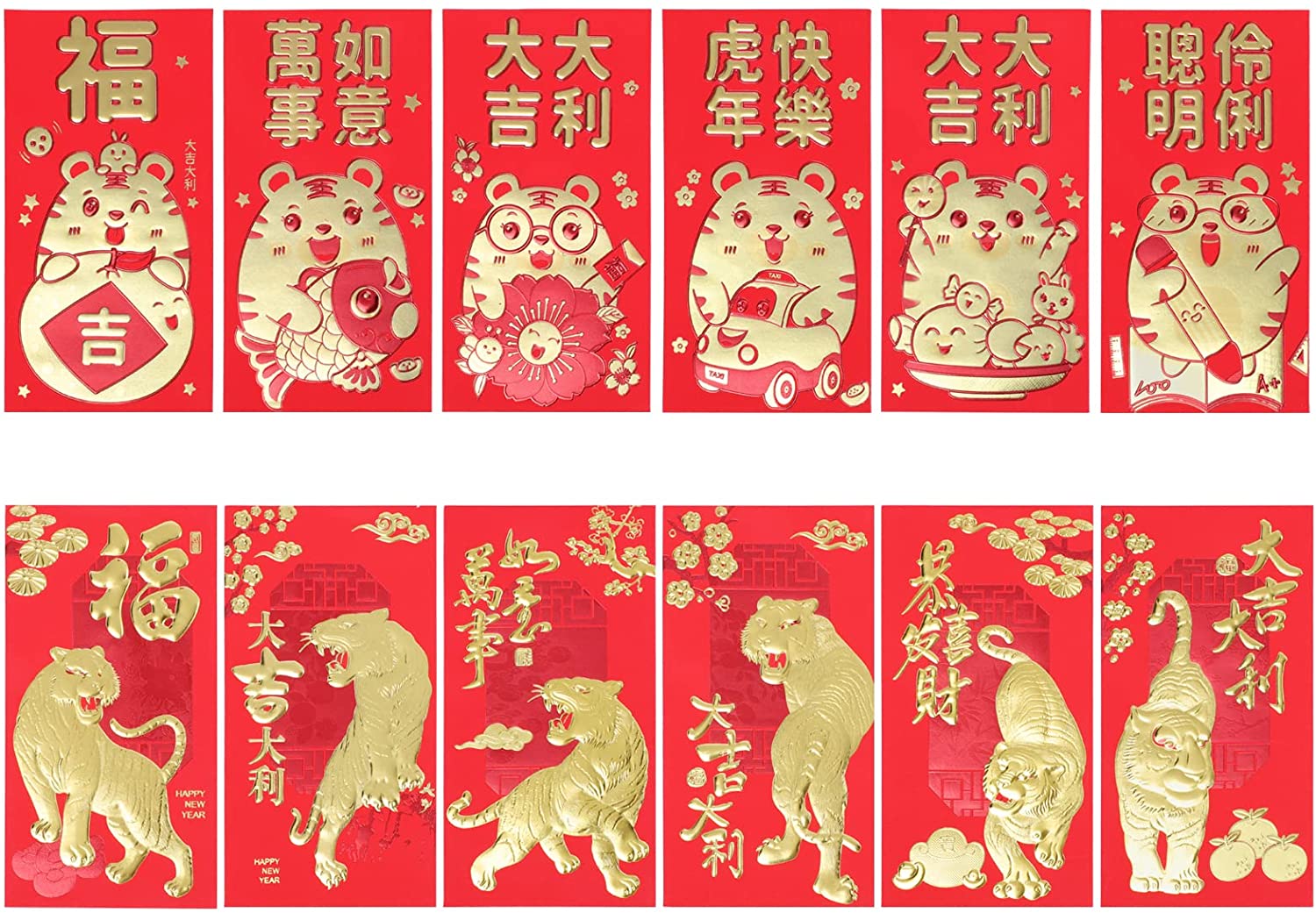 As we welcome the Year of the Tiger this month, we thought we would delve into the topic of red envelopes in Chinese culture. Although synonymous with Chinese New Year, red envelopes are also given at other times of the year and there is certain etiquette to giving and receiving the infamous 红包 (hóngbāo).
What are red envelopes?
Red envelopes are small red and gold packets containing money that are given to family, friends and employees to signify good luck. The red envelope itself promotes good luck, rather than the quantity of money that is found inside.
What is the origin of hongbao?
According to Chinese Legends, the demon Sui would come on New Year's Eve to harm children. Before red packets, people used to tie together eight coins with red string and place them under children's pillows before they slept. This was known as 压岁钱 (yāsuìqián) in Chinese, literally 'suppressing ghost money', and was thought to ward off the evil spirit as children slept.
The colour of hongbao (red with gold trim) signifies good luck, happiness and prosperity for the year ahead.
Etiquette to giving/receiving red envelopes
It's important to receive hongbao with both hands and to not open it in front of the person who has gifted it. You should express your thanks and extend a greeting to the person who gifted it to you, waiting until you return home to open the envelope and reveal the quantity of money inside.
If you are preparing hongbao to give out, try to use crisp, new notes where possible. You should try to avoid gifting coins, however if you do, ensure that they are shining and clean. Red envelopes can also be a good time to remember the importance of numbers in Chinese culture – try and avoid the number four, whereas even numbers and the number eight are thought to be more auspicious.
It is expected in Chinese culture that when you begin earning, you would start to gift red envelopes to younger members of your family during Chinese New Year. If you are unmarried, it isn't always expected that you start the tradition of giving red envelopes until you wed.
While there are no set rules on how much money you should put in each red envelope, tradition dictates that the closer you are to the person the, the higher the amount you would gift.
Other times you see red envelopes
If you are invited to a Chinese friend's wedding it is customary to offer a red envelope to the newlyweds. Wedding hongbao would usually be marked with 囍 (xǐ), meaning double happiness.
Hongbao are gifted on the birth of a relative's or friend's child to offer good health and fortune for the new-born and parents.
Red envelopes are given by parents, grandparents and other members of family on graduation to wish you good luck in your transition to working life.
Got an important birthday coming up? You can expect to receive red envelopes to wish you happy returns for the year ahead.
Funeral packets are usually white and marked 奠 (diàn), which signifies making offerings to the spirits of the deceased.
Companies often choose to offer incentives and rewards at Chinese New Year through the gifting of red envelopes to their employees.
How have red envelopes developed?
Red envelopes now come in all shapes and sizes and are usually decorated in Chinese characters and sentiments of good luck. You can even find red envelopes branded with your favourite Pokémon character or eSports team!
Nowadays, it is common for hongbao to be sent through social media apps such as WeChat. There has been a big push by social media giants in recent years to strengthen the offering of digital hongbao, such as with the inclusion of animation or a selfie from the sender. With the recent visiting restrictions brought on by Covid, it has been a preferred method of sending red envelopes for people in China.
Despite the convenience and inventiveness of digital hongbao, many people feel that they are less personal and meaningful than giving and receiving real ones.
Companies often also run digital hongbao competitions for their employees to unlock prize money in the lead-up to the celebrations, with the leader board shown at the end of the competition detailing which employee received which prize.
Did you receive any hongbao this year? We'd love to hear from you on our social media channels. Wishing you all the best for the Year of the Tiger!