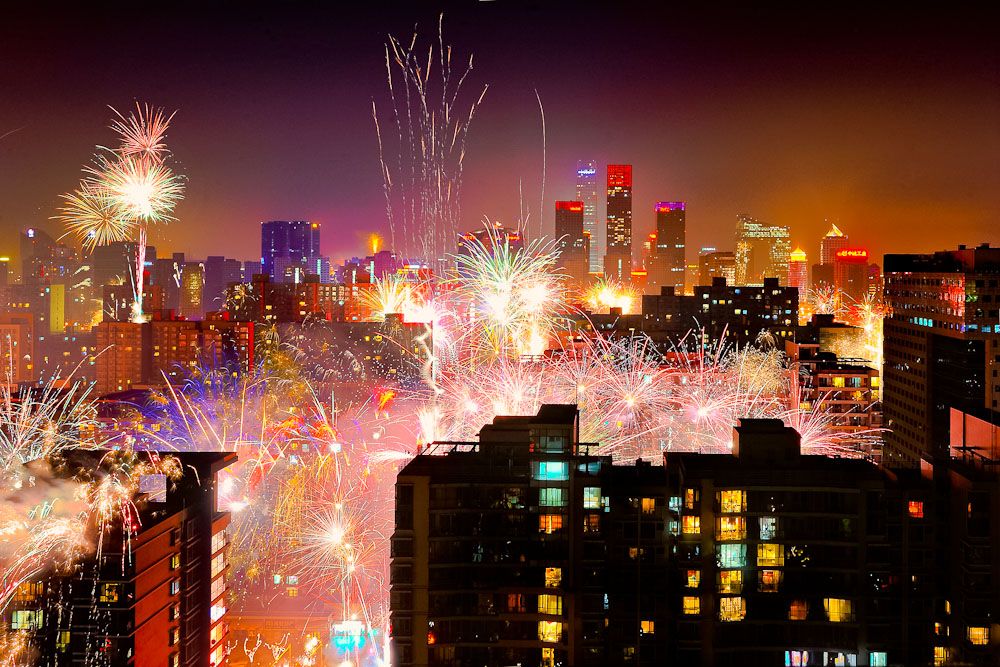 Western New Year in China isn't a traditional holiday, but that doesn't stop millions in the country celebrating the Gregorian year end! Gatherings of friends, or office colleagues, is now very common in China to mark 31st December and, just as with Christmas, it's becoming more celebrated each year.
In contrast, Chinese New Year, or Spring Festival, celebrates the beginning of a new year on the traditional Chinese lunar calendar and the date isn't fixed. Chinese New Year usually falls between late January and early February. In 2022, that day will fall on 1st February. This is by far the most important date in the Chinese calendar, with many people in China having this as their only opportunity in the year to visit loved ones at home.
In China, people would generally be unlikely to stay up strictly for the bells to see in the Western New Year, however they would be much more likely to at Chinese New Year.
Tip: New Year's Day in Chinese is 元旦 – Yuándàn.
What Happens on 31st December in China?
Visit a restaurant with friends
What better way to see in the New Year than with great food, surrounded by your favourite people? Book early to avoid disappointment, as it's a very popular day for eating out.
Attend a fireworks display
Many major cities, such as Shanghai and Beijing, will play host to a major firework display (like those held for Chinese New Year). Just take care with the local rules around personal fireworks displays if you are thinking of hosting a party at home!
Attend an office party
Many offices will hold a New Year's party for their workforce, with plenty of food and drink to get you in the mood! It can be a great time to socialise with colleagues and talk through plans for the upcoming year.
Take a rest (New Year's Day is a national holiday in China!)
Schools and most businesses close for New Year's Day in China, so people use it as an opportunity to have a rest from the usual stresses.
Go shopping and take in the decorations
Shopping malls often run big promotions for Western New Year in China. Most will also feature festive decorations. Take in the sights and bag yourself a discount!
Learn more about Chinese New Year, or the Lunar New Year.