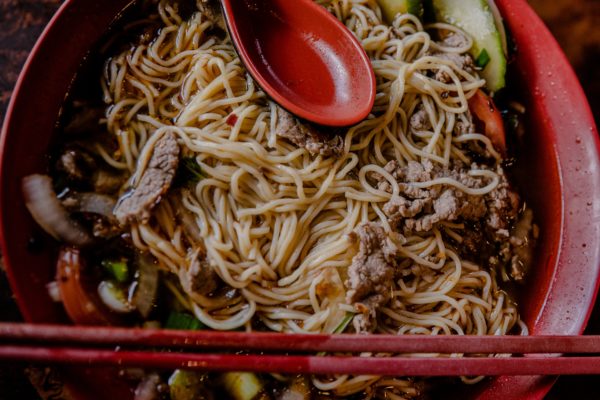 Gansu Cuisine is rich in culture and rich flavour – let's dig in!
Food is a huge part of cultures around the world. So, it's no surprise that a diverse country like China is home to so many different types of cooking. Regional cuisines in China can be influenced by location, climate and local culture. Last time we gave you an introduction to Hunan Cuisine. But, today we'll be giving you a quick introduction to Gansu Cuisine. We also have Lanzhou City resident, Lu Lu to tell us more about the region's great eats!
Gansu Cuisine: What are the main flavours and ingredients?
Gansu Cuisine is heavily influenced by its agriculture. The province's wealth of natural resources means there is an abundance of livestock and crops. Staples include wheat, barely beans and millet. The wheat, in particular, is used to make pulled noodles – a speciality of the region dating back to Ancient Gansu. Gansu cuisines are inclusive of a variety of meats – even Camel! However, it is especially known for its beef and mutton dishes. The preparation of roast meat dishes is also a speciality of Gansu and Mutton Kebabs are highly recommended.
Extreme weather changes between seasons are thought to be the reason behind the region's fatty dishes and strong flavours. Dishes are often a combination of salty and spicy. Yet, Gansu snacks tend to be light and tangy.
Gansu Cuisine: Why so much variety?
Gansu's variety in agriculture and livestock is due to its wealth of natural resources. In addition, Gansu's territory overlaps with 3 out of 4 of China's great plateaus. Furthermore, Gansu Province's diversity in food can be attributed to its ethnic diversity. Along with the Han ethnic group, Gansu is also home to Hui, Tibetan, Yugur and many other groups. Hui Muslims have had an influence on the regions culinary culture. Gansu was also part of a major corridor for the Silk Road, trade and introduction to other cultures had a great impact on the region.
Tea is a great gateway for discovering the province's many ethnic groups. Must-tries are Tibetan butter tea or the Milk tea of the Kazak people which can be made from horse milk.
Gansu Cuisine: What do locals like to eat?
Here's what Lulu had to say about what locals like to eat:
We have a number of speciality snacks and dishes! The ones that I can recommend are roast whole lamb, sweet fermented wheat and fried noodle slice. But, the most famous of all is Lanzhou's Beef Noodle Soup. It is a clear soup with chewy noodles and beef slices. The broth has a range of flavours from chilli oil to local spices and radish.
After doing some research on this famed dish we found that it was rated China's Top 3 fast foods by the Chinese Culinary Association! Though full of complex flavours the dish can be made in 3 minutes which is why it is so popular. It's not uncommon to find noodle chains that started with this one dish alone.
Lu Lu also shared with us this quick and easy recipe for fried noodle slices:
This is my own easy recipe. You can use any type of sliced noodle you want, hand made or store-bought.

First, prepare your ingredients

Slice: mutton or beaf ; onions ; spring onions ; courgettes ; tomatoes ; green peppers

Now, to cook

Heat a wok with hot oil

Add meat and cook until brown before adding noodles

Once the noodles have cooked through add vegetables and toss

When cooking the meat and vegetables I like to combine chili, soy sauce, rice wine and of course ginger and garlic.
Enjoy!