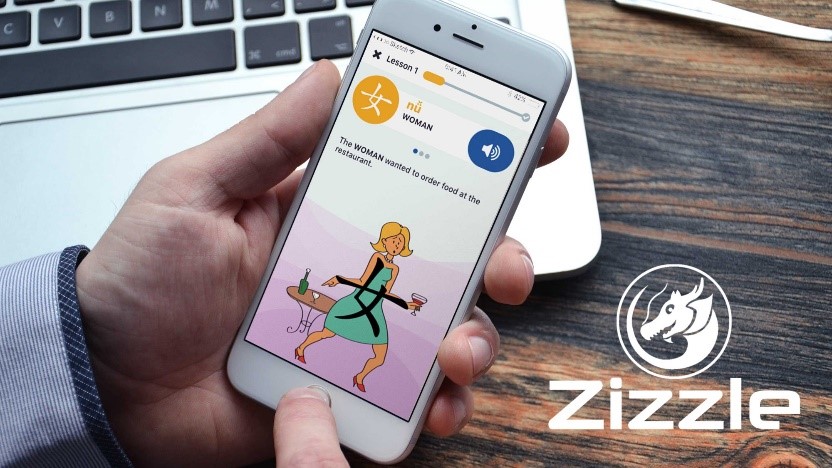 It's the part of Chinese learning that people often struggle with the most – remembering Chinese characters. Zizzle is a relatively new app that uses short stories in English to help you remember the four aspects of learning characters: shape, meaning, pronunciation and tone.
We all know that rote-learning can be a real pain, so Zizzle's technique to help get words to 'stick' is a welcome change. With a current base of approximately 900 characters, the 3,000 characters needed to complete the HSK 6 vocabulary list will be released in the coming months, at which point this app's true value will be evident.
Zizzle works on a pyramid system that teaches from the 'bottom up' – that is, from the simplest to the most complex Chinese characters. Simple characters can often be combined to form more complex characters, so this method makes building from an expanding knowledge base easier.
As we know, Chinese is based on an abstract visual writing system which means you can't tell a word's pronunciation simply by looking at it, so useful links to pronunciations in English are provided to help students remember.
Here's how Zizzle teaches the five tones in Chinese: https://www.youtube.com/watch?v=rqCZ84ggG8U
An example of how a word is taught in Zizzle from CEO Lukas: https://www.youtube.com/watch?v=uMqJdNZ4MQA
What I Like About Zizzle
Very neat interface and type-font. The app is extremely user-friendly and easy to navigate.
Visual learning style. Each lesson comes complete with a visual story that makes it memorable and fun to learn – particularly for younger learners and beginners.
Good links to syllabuses. Zizzle makes links to textbooks and syllabuses such as Discover China and Jinbu. This is an excellent feature for students working towards an exam or already using these resources in class.
Competitive pricing. At $9.99/month or $59.99/year, Zizzle's pricing is cheaper or comparable to other Chinese language learning apps on the market.
Study time per character. Each character takes between one and two minutes to learn, which means the most can be made of limited study time.
Spaced Repetition Software (SRS). Zizzle uses SRS to test on characters to ensure that you are tested more on words you know less.
Useful categories. Categories such as travel, business and food make for a quick way to learn vocabulary that will be relevant for upcoming trips or interests.
Search function. The search function makes it easy to look up words. Again, this will become ever-more impressive as the team add to the character base.
Room for Improvement/Features I'd Like to See
The introduction of traditional characters. Currently Zizzle only caters for simplified characters, however the team has plans to introduce traditional characters soon.
Tonal heroes. Zizzle uses heroes to represent each tone, however when recounting the stories, I often remembered the hero but then had to try to recall the tone that the hero represents (except for the dragon, as the curved back makes it obvious). However, this is something that would likely be developed over time as you use the app more regularly.
No Webapp. I think it could be neat for the team to introduce a Webapp for learning, which will make the platform more interesting to school kids who access from computer labs, or people without access to an iOS/Android device.
Overall, I think that Zizzle is a fantastic addition to any Chinese learning toolkit. A great interface, coupled with easy to remember stories make characters easy to remember and features such as the testing system make it easy to keep on top of learning. As the team builds up the amount of words available, Zizzle will be fantastic for students of all levels, however the current character base still makes it a great tool for younger learners, beginners and students who struggle to retain characters. Download the app today and give it a try for yourself.
Got any feedback? Get in touch directly with the Zizzle team at kevin.li@zizzle-app.com.
Discount code:
Use discount code TCB2017 for 20% off Zizzle subscriptions right now!
Download links:
App Store – https://itunes.apple.com/us/app/learn-mandarin-chinese-with-zizzle/id1124364692?mt=8
Google Play – https://play.google.com/store/apps/details?id=com.zizzle.app&hl=de