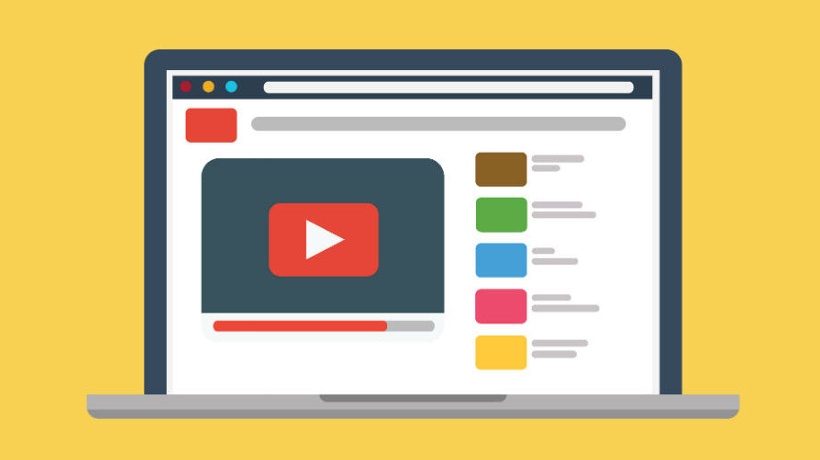 Chinese YouTube channels are an effective way to learn Chinese
In the age of information abundance, students of Mandarin Chinese can conveniently profit from an ever-increasing wealth of materials available for learning Mandarin. These include a plethora of websites, apps, flashcard systems, online teaching and HSK test preparation materials. Moreover, Mandarin language students will also find plenty of Chinese YouTube channels which profess to be able help them improve their Mandarin just by watching YouTube videos. Many of these videos are actually very effective for learning Chinese, but it's important to choose the best channels for your ability level and purposes. 
Why you should incorporate Chinese YouTube channels into you Mandarin learning strategy  
Many excellent Chinese teachers have discovered YouTube as a dynamic format for teaching Mandarin and have

created excellent videos

with entertaining, well thought out and effective lessons covering wide-ranging topics such as Chinese slang words and expressions, grammar, vocabulary points as well as videos with interviews or daily-life vlogs.

 

Since

YouTube is free

(though many of the channels include links to websites where you can purchase extra materials like PDFs), you can spend unlimited hours learning Mandarin on YouTube (which is a much better use of your time than watching endless cat videos!)

 

Most of channels I describe below

provide subtitles for their videos in Chinese and English

(some of them even provide Pinyin) which make their videos suitable for many levels. Depending on your Chinese ability level, you might not even need an English translation. My favorite trick in this case is to cover the English subtitles with a slip of paper which I can always quickly remove, should I need to see the translation.

 

The

video format is very flexible

with some Chinese YouTube videos only a few minutes long and others offering much longer lessons. You can select the material you have time for.

 
Here are some of my favorite Chinese YouTube channels for learning Mandarin
This channel is hosted by Eileen, who has long been one of my own favorite Chinese YouTubers. Eileen presents podcast-style interviews and vlog-style videos on wide-ranging subjects such as Kung Fu, Chinese beauty standards or narrating a tour through a country village in China. Since the videos are meticulously subtitled with characters, pinyin and English, they are suitable for all levels from lower intermediate to advanced. Eileen also presents a popular series of videos which explain all HSK vocabulary, using example sentences.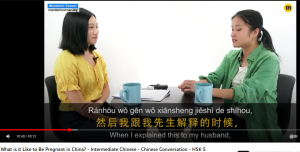 This Chinese YouTube channel features excellent quality, short videos presenting stories in slow Chinese. The host is extremely skilled at using facial expressions and gestures to illustrate language points and the well-produced and edited videos further enhance understanding. Subtitles are provided in pinyin, Chinese characters and English. The channel offers stories for newbie, beginning (HSK 1-2) and intermediate (HSK 3-4) Mandarin learners and the speaking tempo is appropriate for each level. There are also videos offering intensive preparation for listening part of HSK exams (for the beginning levels).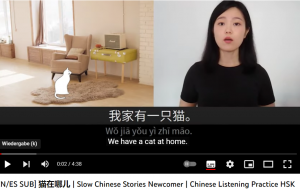 This extremely comprehensive channel offers some content with English explanations while other videos are presented only in Chinese. Here, Mandarin learners from beginners to upper-intermediate will find a huge variety of videos. I particularly like the video stories which are first presented at slow speed, then the host explains key vocabulary, and finally the video story is replayed at normal speed. Other videos show interviews with real people "on the street," explanations of language used during celebrity interviews, or lessons with lists of vocabulary or useful phrases (such as restaurant or airport vocabulary). The content is quite varied and all of it is interesting and well presented. The only complaint I have is that it can be a bit difficult to sort through all offered videos to find ones in your level.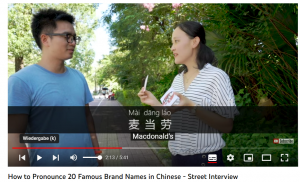 This channel is hosted by Ben and Jared, two non-native-speaking Mandarin Youtubers who are nonetheless scholars of the Chinese language, history and culture. The channel features a lot of relatively short videos explaining Chinese historical or modern traditions from the perspective a Western person who understands that many Mandarin learners might require a bit more background knowledge. The videos are suitable for all levels. They also have a lot of videos which introduce language points, slang vocabulary etc. My favorites are the videos which present an ancient Chinese poem and explain the language used as well as supplying an interpretation and historical context.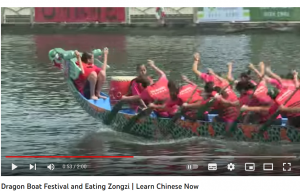 5. Chinese pod 
Mandarin learners will find great material on this channel for levels from newbie to upper-intermediate. This Chinese YouTube channel is extremely easy to navigate because it is so well organized and the lesson levels are so clearly marked. Featured topics and lesson series include Chinese slang, jokes and Chengyu (idiom) stories, Chinese movie recommendations as well as a huge selection of videos lessons with dialogues and vocabulary explanations. Their well-proven format often includes one English speaker chatting together with a native Chinese speaker and they banter back and forth, each speaking their own language.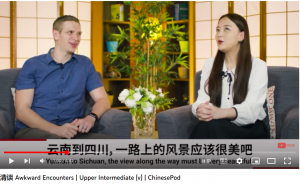 6. 每日中文课(měi rì zhōngwén) Free to Learn Chinese  
Dan Liao is an experienced Chinese teacher who presents daily videos lessons mainly at HSK 4,5, and 6 levels. She uses clear, understandable Mandarin in her videos which explain key vocabulary on a particular topic such as using ATM machines. She also longer offers Chinese stories as well as videos of 1-2 hours which comprise a complete course on a particular subject such as business Chinese. The best thing about Dan Liao's videos is that they are very well organized and prepared and she has a natural talent for explaining vocabulary clearly and repeats the new words often. I watch her "Vocabulary Booster" videos whilst practicing writing the vocabulary she presents.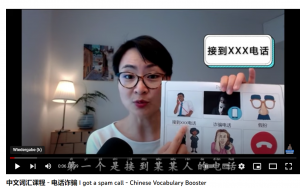 This channel presents videos with comprehensive listening practice, especially gearing toward passing the HSK exams Levels 1-3. Indeed, this Chinese YouTube channel presents entire courses for training up to the HSK 3 level. The videos are a bit dry, but very intense and extremely good preparation for the exams.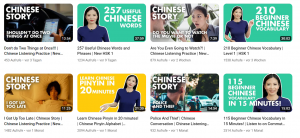 8. Learn Chinese with Chinese Class 101 
This channel offers videos from beginner to advanced. They provide many shorter videos, some of which have been compiled into longer units. The videos are good quality, but the navigation of the channel could be better since it is not always possible to sift through videos that are appropriate to each level.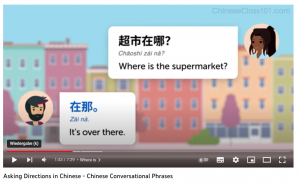 This channel is more geared towards advanced learners and even presents some videos explaining vocabulary for the new HSK 7-9 levels. Some of the videos are short, while others are much longer recordings of live-streamed teaching sessions. I like the in-depth explanations vocabulary, chengyu, etc. The two presenters speak very clear Mandarin, but also sometimes use English for efficiency. One special feature of this channel is using video clips from Chinese TV shows or news to illustrate language points.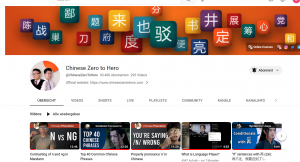 10. SyS Mandarin 
This channels also targets advanced Chinese learners. The special focus is on learning Chinese through authentic materials. For example, short clips from the news spoken at normal speed are presented and then the language is analyzed, sentence by sentence. The teaching emphasizes the aspects of vocabulary, grammar and pronunciation. The channel employs the same approach when analyzing Chinese songs, movies, TV shows, speeches and Chinese idiom stories. The subtitling presents simplified characters and traditional Chinese characters in addition to English translations.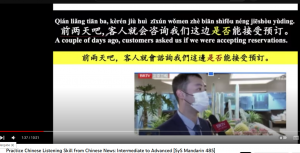 11. HSK Test Preparation and Practice  
In contrast to its title, this channel does not only present dry and boring grammar and vocabulary for various HSK exam levels, but it also features more interesting topics as Chinese slang, discussions of the best games or Chinese TV series for learning Mandarin and a very good feature for learning Chinese through the news. There is a lot of material here for learners from intermediate to advanced.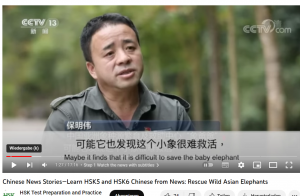 12. China Movie Channel ENGLISH 
This channel features Chinese movies with subtitles in Mandarin and English. I just discovered this channel, but it has become one of my new favorites since the movies here are a welcome break from my Chinese TV series obsession.  The movies selected here seem to be of high quality, with several of them having won awards.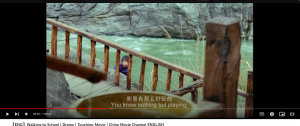 Finally, here are a few YouTubers who present daily-life vlogs.  
Of course, there are countless more Chinese vloggers. These are the best ones I have found from a learning perspective, since they provide subtitles in English and Chinese. 
13. A Cup of Chinese 
This is a relatively new channel created by a girl named Meiling who had the fantastic idea of teaching Chinese through vlog-style videos. The videos topics range from "A Day in My Life" to cooking Indian food to "What's in my bag?". Meiling speaks at a quite slow tempo and the videos are all subtitled with Pinyin, Chinese characters and English. I find that these videos are most effective for beginning to intermediate Chinese learners, but even upper intermediate and advanced learners might find something beneficial from her relaxed and easygoing style.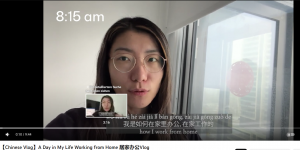 14. Kaho's Channel 
Kaho is a Japanese girl who has lived in China for several years and speaks excellent Chinese. Her channel is also relatively recent in the world of Chinese YouTube vloggers. In her format, she interviews people on the street asking them to react to questions on topics ranging from social taboos and etiquette in China to attitudes toward LGBTQ people. Even though Kaho speaks excellent Mandarin, the fact that she is a foreigner in China leads her interview subjects to speak in slightly slower and clearer Mandarin so that the language is a bit easier to understand. The videos are short (5-10 minutes long) and most of them provide a Mandarin transcription as well as an English translation, but no pinyin.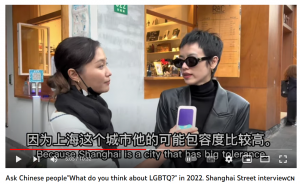 This delightful Mandarin language vlog is hosted by Rose, originally from Uganda, who now lives in the Chinese countryside together with her husband Anzai and son. She offers an insight into a very different world of rural life featuring talks with her neighbors and lots and lots of food. Rose also shows her viewers what she cooks, depicting very different ingredients and cooking equipment than city dwellers might be used to. Rose subtitles her videos in English and I usually have to turn on the automatic simplified Chinese subtitles because the country accents are quite different from the Mandarin I have learned in my Chinese class!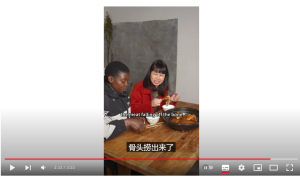 Hopefully, the above list of Chinese YouTube channels will give you a good start in finding your own favorite Mandarin learning channels. Of course, there are many other Chinese channels on YouTube and new Mandarin language video channels are being created every day. Once the YouTube algorithm has figured out that you are a student of Chinese, it will fill your suggested videos feed with more and more new possibilities so try checking the format out and you will find that you have endless learning opportunities. 
Author
Heather Buchanan-Schrader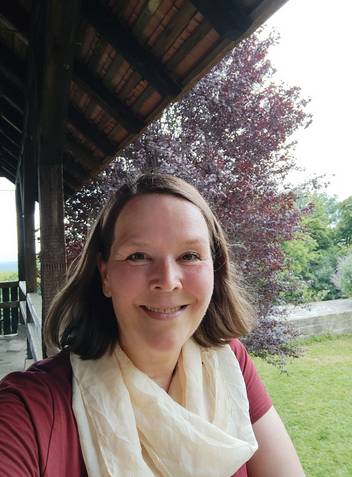 An unashamed language nerd from Anchorage, Alaska, Heather's life has led her to a degree in German and International Studies from Willamette University and a three-year stay in Taiwan with her German husband at the end of the eighties. In Taipei she took intensive Chinese courses at the Mandarin Training Center of Taiwan Normal University and also taught English at the Taipei Language Institute. After the fall of the Berlin Wall in 1989, she became intrigued by the life in a former East Bloc country and finally decided to relocate to Leipzig, Germany in 1991. There she and her husband established the FAE Fachinstitut für Angewandtes Englisch, a private English institute focusing on teaching adults, translations and language coaching. This has been a successful venture for over 30 years.