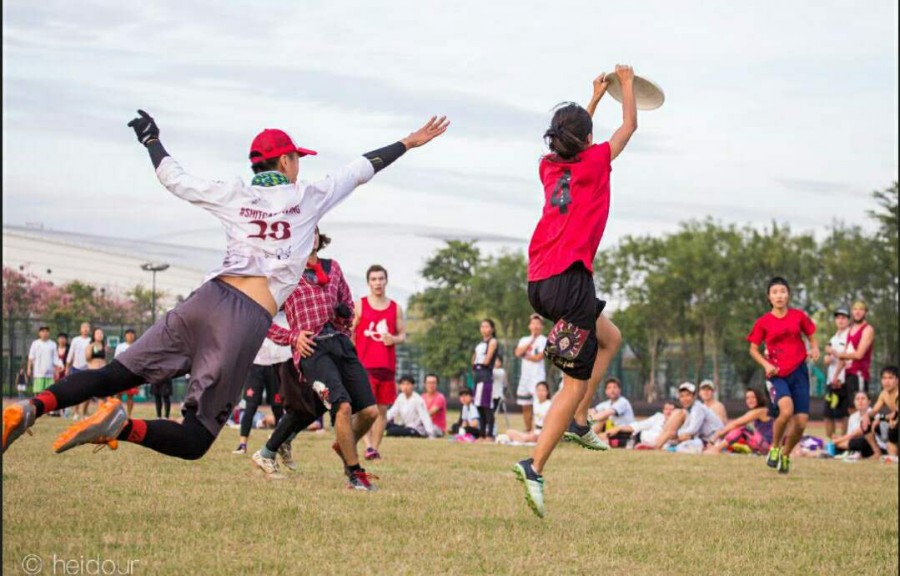 Who knew a small plastic disc, which is often mistaken for just a dog toy, could be the catalyst to a life of cultural integration, intense competitions and being part of the most accessible community of international players across the globe.
Ultimate Frisbee is a competitive 7-a-side team sport that emerged out of America in the 1960s and went on to become one of the fastest growing sports in the world. In particular, in recent years Asia has experienced a swift and uncontrollable growth in its Ultimate Frisbee community; with the level of competition and player development reaching all new heights. It is therefore not surprising that the 2016 WFDF World Ultimate & Guts Championships held in London, welcomed some of the most competitive Asian teams, including India, Singapore, Japan and of course, China.
The basic premise of Ultimate is that two opposing teams attempt to score points by throwing the disc to a teammate in their opposite 'end zone'. An 'end zone' is a designated rectangular area at each end of pitch. Teams will start each point on either 'offense' or 'defense', but players cannot take steps while holding the disc, and interceptions, dropping the disc and going off the pitch will result in possession of the disc going to the other team.
Being one of the few self-refereed team sports, Ultimate relies on sportsmanship and fair play in order to encourage 'the spirit of the game'. This is a concept that 'places the responsibility for fair play on the player. Highly competitive play is encouraged, but never at the expense of the bond of mutual respect between players.' Accordingly, playing Ultimate has proven to be an effective gateway into a society of open-minded and enthusiastic players, from America to Europe to Asia including a multitude of cities all across China.
According to one Chinese Ultimate player in Shanghai, Ultimate has given her a new style of life, one that has liberated her from her computer and quilt 被窝 and enabled her life to be filled with passionate teammates and the opportunity to engage in an exchange of cultures. As an expat in China, being part of the Ultimate scene can be one of the most enriching experiences, as it facilitates the integration of foreigners and Chinese into true friendships, and sportsman-like competition. It is also a platform to practice speaking Chinese (and English) and learn about the values and experiences of China's younger generations.
The Ultimate Frisbee season in China ranges from the yearly Hangzhou Halloween Hat Tournament and Open Tournaments in Nanjing and Fuzhou, to the more competitive Hong Kong Pan-Asia Tournament and most notably, The China Nationals. However, though the quality of players is ever improving, Ultimate remains one of the most accessible sports for beginners. For instance, player development clinics, that are open to all, are held on a regular basis, and larger cities in China have their own Spring and Autumn Leagues that anyone with an interest in Ultimate can sign up to.
The past year has also seen the beginnings of separate men and women teams; this progress is arguably pivotal to China making this sport its own. This is due to the concept that a lot of single-gender teams encourage long-term commitment with a focus on both individual improvement and the strength of the team as a unit. In fact, one of the goals that the Shanghai men's team, Shanghai Shamans, have written into their team constitution is that it is their desire to have some of the best local Chinese players and international players on the same team. The design of this goal is to make finding 'both highly skilled and long-term talent' their priorities for the team.
With most cities in China now accommodating several Ultimate teams each, Ultimate has truly become a national sport. A sport that encourages communication, mutual respect and perhaps most importantly; love of the game and the team.
Written by Nadine Golding.