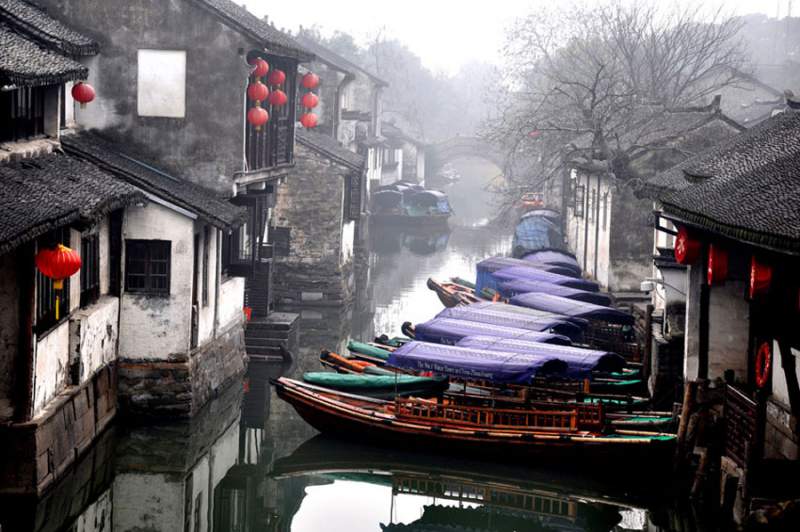 Even the most disengaged audiences are well-rehearsed in the biggest travel highlights of China: The Great Wall, Shanghai's Lujiazui skyline, Hong Kong, the Terracotta Army, the Forbidden City and many, many more, but what about the things people don't really know about? What about digging beneath the surface of every day opinon? After all, China is an entity so vast and so prestigious, that beyond the spotlights of its most glamorous attractions, beyond the "China" we are so familiar with, lies a sparkling array of hidden gems, rarely known to the Western observer. Having been to China so many times, there are numerous places I could describe which fit this bill, but today I want to reflect on a gem I discovered which truly captured my awe and imagination, that being, Zhouzhuang (周庄), Jiangsu province; or better described by some as the "Venice of the East".
Zhouzhuang is one of China's Water Villages, characterised not by the heavy, sometimes overwhelming and chaotic scenes of the big cities, but as the nickname above suggests, a series of thin and winding canals knitted tight between small and classical houses and wafer thin streets, still host to regular life. This nostalgic settlement, founded as early as the Zhou Dynasty and coming to fruition in the Song Dynasty, is hidden away in a somewhat dull provincial setting, roughly an hour to the West of Suzhou and two hours to the West of Shanghai. Don't let the disguise of the uninspiring surroundings fool you, it is an experience worth anticipating. I took a day tour from Shanghai which also included some historical sites around Suzhou and its famous Silk factories, the village itself however proved the star of the show, tying all of these things together into an overarching glimpse of the classical Middle Kingdom.
Arriving at Zhouzhuang, I was overwhelmed by the historical and romantic character of the town. You need to pay an entrance fee to get into the old quarters, which is about 100 RMB for a day. Inside, there are a variety of things to do, including taking a Gondola all the way around its famous canals, which proved a refreshing experience. If that doesn't meet your tastes, there are several temples to check out, classical tea houses and of course, all the usual tourist cliques and gift shops, which even here is not spared from! One particularly amusing outlet was a photography and dress up session which lets you dress up as a red guard and pose with a waxwork depiction of the chairman himself! Although small and easily completed within the scope of a few hours, Zhouzhuang is nevertheless sweet.
Thus, if you're planning to make around China, although the big and majestic things are always first on the list, don't forget the small gems scattered throughout this magnificent nation, not least if you're dropping by East China and Shanghai. Whilst most people will always see China through the box office lens of the Great Wall and the Terracotta Army, surrounded by the bustling scenes of modernity, for me, Zhouzhuang captured and angled this country through a lens the big cities could not, it extended my horizons. I experienced here a China of a far greater authenticity and classical taste than anywhere else. Here, we weren't just looking at the past, it was present all around us.
— Tom Fowdy