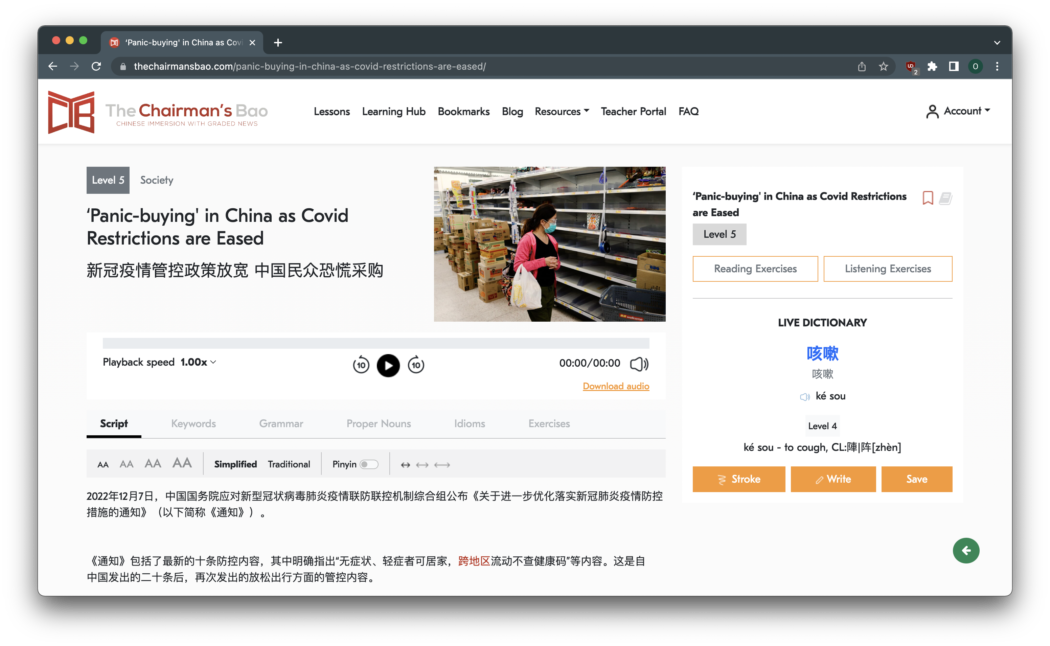 We are proud to announce the launch of the newly redesigned The Chairman's Bao (TCB) website. As well as a brand-new look and speedier, user-friendly interface, we've also added integrations with Skritter and Hack Chinese. You'll be able to sync your words and word lists between platforms for the ultimate Chinese study experience. Navigate over 9,000 lessons and join a community of over 200,000 users today!
What's New?
We hope you'll love exploring the new website and features. Here's some to look out for!
Homepage
Explore our full range of content, including 9,000+ news-based lessons, Legends Series, Frank Talks, as well as over 60 beginner video lessons.
View our latest lessons – we publish new lessons each day year-round!
New filter system to browse lessons at your preferred level(s).
Improved search system for navigating our lesson Library.
View your last viewed lessons.
Bookmark lessons direct to your Bookmarks area to study later.
Further optimization to improve user experience.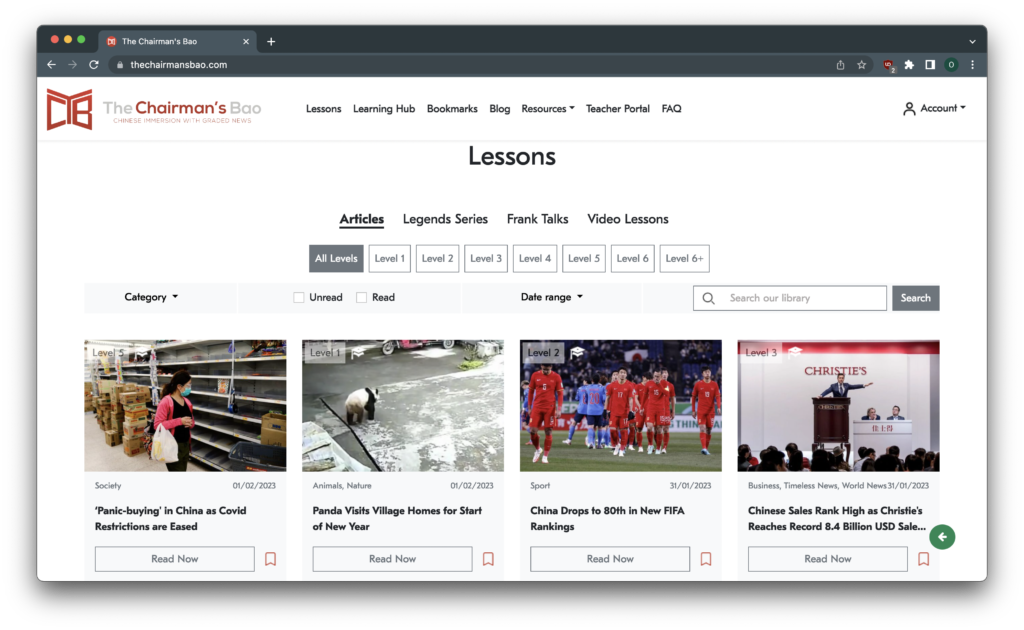 Lessons page
Minimal and functional new design to promote targeted study.
View both the Chinese and English titles at the same time.
Customize your learning experience with in-lesson toggle for text size, simplified / traditional script, Pinyin and word spacing.
Cleaner live dictionary with stroke order and character writing tools. Fixed scrolling improves the studying experience.
Access Keywords, Grammar, Proper Nouns and Idioms all with one tap at the bottom of each lesson.
More intuitive progression from reading and listening in lessons to completing accompanying comprehension exercises.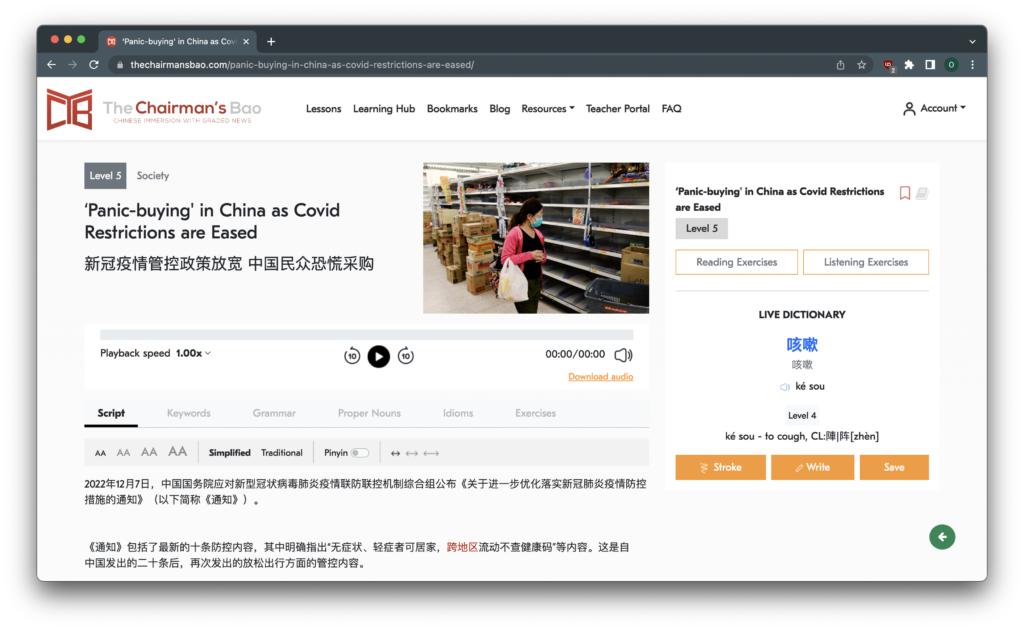 Partner Integrations
We are proud to announce new integrations with both Skritter and Hack Chinese, which you can access in the Account – Preferences section of the website.
Turn on the integration(s) you want to connect. You can then sync your words in two ways:

Send words manually through your Learning Hub using the "Send To" function.
Auto-sync all of your words by selecting the option below.

Navigation
Improved navigation throughout the website to help you find content you'll love.
Quick access points for your Learning Hub (with flashcard system), Bookmarks, our blog, as well as a newly introduced FAQ page.
Manage your account, preferences and subscriptions with access to the Account section.
Blog
New-look blog design to highlight learning content.
Filtering system to browse our latest blogs by category.
Bookmarks
New easy-access area for viewing your saved lessons.
Filter by level, category, date range and whether you have read lessons in the past in your personalized Bookmarks area.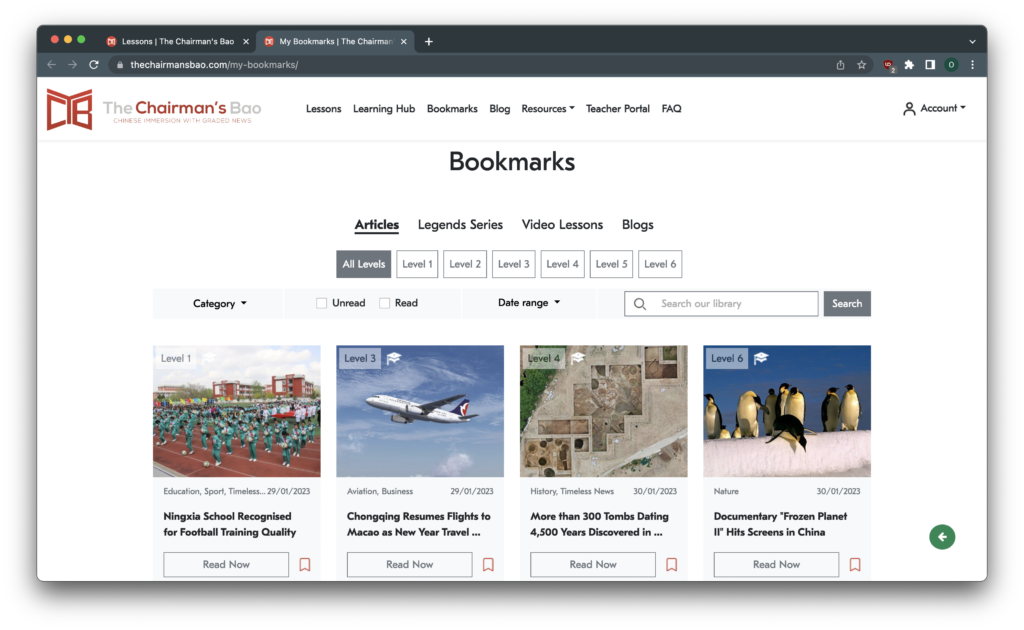 Account page
Improved Preferences section for setting your favored text size, script, Pinyin, word spacing, level settings and highlighting words already pressed in the live dictionary.
Update your details, manage your website subscription and update payment method(s) with ease.
If you are a current TCB website subscriber, you can now upgrade to a longer subscription and receive a credit from your current subscription to purchase your new package.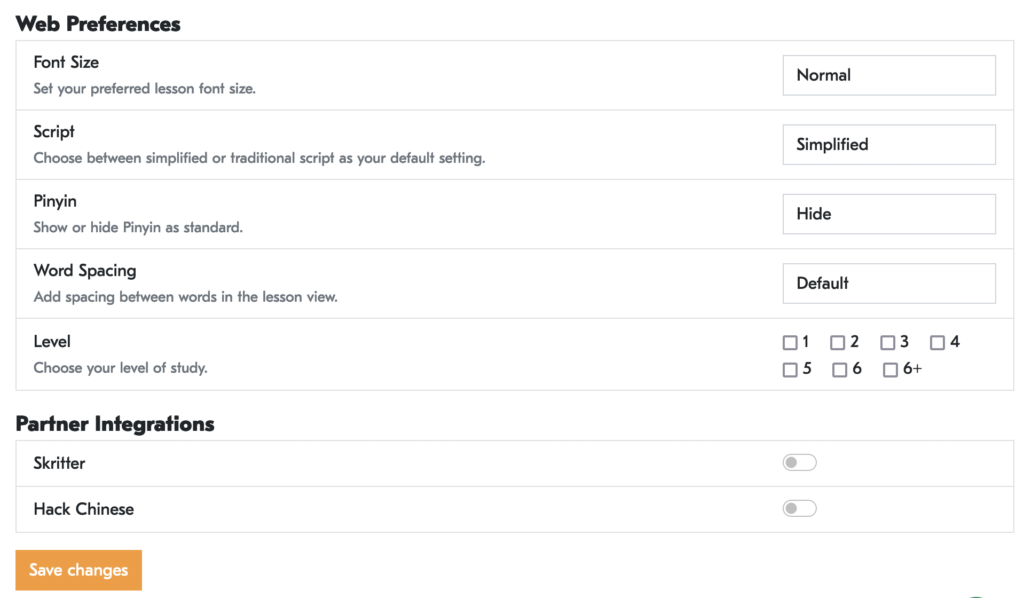 Registration and Contact Us Pages
Simple and refreshed registration page for new users.
New Contact Us page to reach our helpful team. We aim to respond to all customer queries within 12 hours!
Chinese Teacher?
New-look Teacher landing page that highlights the benefits of TCB Classroom to you and your students.
Case Studies and Reviews from leading figures in the global Chinese teaching community.
Direct link to book a platform demo with our friendly team!

Got any feedback?
We hope you enjoy the new TCB website and we look forward to more platform updates later in the year. Happy studying!
Author: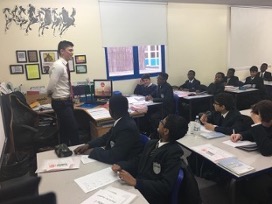 Sean speaking to students at Beths Grammar School about his experience of learning Chinese, living in China and founding Newsdle and The Chairman's Bao.
Sean studied Chinese and Spanish at University of Leeds and founded The Chairman's Bao alongside Tom Reid in his final year of study in 2015. Current Managing Director of The Chairman's Bao, he has overseen the company's growth from university bedroom concept to an international force in the EdTech industry with over 200,000 individual users and over 400 global partner institutions. Sean also launched Newsdle alongside Tom Reid and Oliver Leach in 2021, for students and teachers of Spanish and French. In his spare time, Sean is still a keen language learner and runner. He also sits on the Board of charity Leeds Irish Health and Homes in the UK.