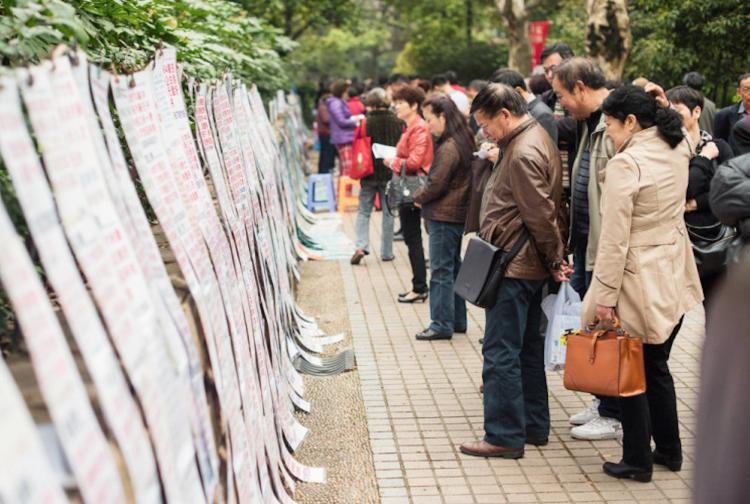 Literally translated as "blind date corner", Shanghai Marriage Market has been helping parents set up blind dates for their children since 1996. A scene that looks more like a bazaar than a "real-life dating app" to anybody who walks by, parents pay hawkers to pin up pamphlets or umbrellas with facts about their children, in the hope that their biographies take the fancy of other parents.
A "dating app bio" with a difference…
Instead of pictures and names, parents include details such as salary, weight, hobbies, education, home ownership, and whether their children drink or smoke. In a city of 24 million, finding the perfect match can seem like looking for a needle in a haystack, so parents take it upon themselves to set their children up, and have a good natter in the process.
Marriage in Chinese Culture
In China, people have a tendency to marry earlier and parents often say that seeing their children married and grandchildren born is the last responsibility they have in life. After that, it's their children's turn to look after them, with many parents moving into the marital home in old age. That also means they're around to look after the grandchildren, so it isn't simply a one-way street.
That responsibility leads some Chinese parents to the Shanghai Marriage Market to take charge of the mission of finding a spouse for their child. For five hours each weekend afternoon at People's Park in Shanghai, the factsheets are advertised, come rain or shine. Parents can be found wandering the stalls with notebook in hand, weighing up the costs and benefits of each potential suitor.
More than just a bond between two people…
Marriage in China is more than romance. It also cements the family's social status and financial stability. The influence of parents in the love lives of their children is something ingrained in Chinese culture, a practice that stretches back to imperial times.
Due to the one-child policy, China now has a disproportionate number of males. This can lead to additional pressures on the parents of single men, as they aim to find a potential partner for their children. According to forecasts, more than 25% of males in their late 30s by 2020 will never have married.
Women face a different challenge in China when looking for a potential partner. Often highly-educated and career driven, women are shunning the traditional practice of marrying before they reach the age at which they become a "left-over woman", which is usually 27-years-old, but varies around the country. The thought that their daughter may never marry or reach an age at which she is deemed "too old" to marry in the eyes of other parents, is a situation that strikes fear into many mums and dads.
How would you feel about being set up on a blind date by your parents, with a potential partner who they have never laid eyes on, purely because they seem to be a "good match" on paper (or umbrella)?
If you're heading to China, be sure to visit the Shanghai Marriage Market for a unique experience!