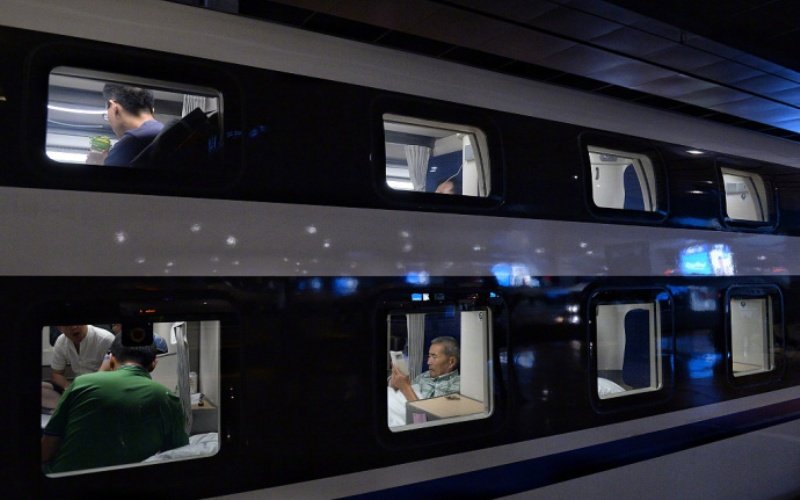 China's railways are increasingly convenient. Continuing government investment has saw a surge in high speed rail links throughout the country, with more and more popping up every year. Getting from one city to another has never been faster and for close journeys, affordable. But what about budget travellers? Or the more adventurous ones? If you have plenty time to spare in China, you might prefer an alternative means of rail travel, one which promises a much more enriching cultural and local experience than the modern high-speed journey. What would that be? It's the overnight sleeper trains.
China's rail system is categorized. Each type of ticket is given a distinctive letter which categorizes it. Whilst there are the modern and slick high-speed C, D and G services, there are the classical Z, T and K sleeper trains. You don't book a seat, you book a bed, because it's a very long journey. Some notable examples include the Hong Kong to Beijing sleeper train which, if you are daring enough to take the entire journey, takes a grand total of 31 hours! This is hardly unique, a Beijing to Xi'an sleeper is 22 hours, Beijing to Wuhan is 21 and so on!
If the journey doesn't put you off, then the way is arranged often comes as a surprise to westerners, as it is very much designed for the Chinese context. Communal and for lots of people. When you think of a sleeper train, you might think of private, comfy cabins. Not quite. The carriages are organized into a series of semi rooms lined with bunk beds. For what is known as a "hard sleeper" (which is the cheaper area), there are six bunks to one space. For the "soft sleeper", the more pricey category, which gives you the "courtesy" of a door, there are four. But regardless, you'll be sharing this limited space with a number of Chinese strangers, whom do not have the same expectations of privacy and comfort as you do. As you might have imagined, things can get very crowded in the run up to Chinese New Year!
So why would you choose to sleep a very long, overnight train with lots of people around you? It might seem daunting, but it is a fantastic cultural experience. Sitting on a train with little to do is a perfect opportunity for you to talk to locals and vice versa. I have often had to take the K27 train from Beijing to Dandong as part of my work in that region. The first time I ever did it, it was my first time in China so it was a big surprise. I felt almost violated by the strange context. Yet, I grew to love it over time. I was given ample opportunities to practice my Chinese in a relaxed and sociable context. The locals were always interested in the foreigners. Additionally, it wasn't all about sitting on a bed (or on the small chairs next to the window). These trains come with fantastic restaurant carriages which serve plenty of food and other conveniences, although they may limit your time there when things are busy.
So, if you're thinking about trying this yourself, what are some useful hints? First, make sure you beat the rush. As with all things in China, these trains draw incredible crowds and the stations get busy when it's almost time to leave. Be smart, be first. If you don't do it timely, you may find that some locals (often couples), have "swapped" your allocated bed for theirs on their behalf, such is the nature of compromise in China. Secondly, if you need to charge your phone, don't hold back. Plugs are available but they are inevitably competitive, with two for every six beds. If you get the opportunity to charge your phone, charge it whilst you can. Thirdly, be prepared to sleep early. Once the time gets to around 10.30, the train will effectively go into a "sleep mode". The lights will go off, the curtains will be shut and the restaurant carriage will also close. The locals will quickly follow suit and sleep, leaving you sitting awkwardly in the dark. Despite the attributed loudness of busy places in China, you'll be surprised how quiet the train gets.
All in all, an overnight Chinese train journey is a different experience, but it's fun. If you have a tight schedule, then it's best to take a high-speed train to get around, if not then I invite you to try out the unique cultural experience of a sleeper train. This is a much more classic element of Chinese life, one which will test your westernized boundaries whilst giving you an incredible way to get engage and meet locals. Happy travelling!