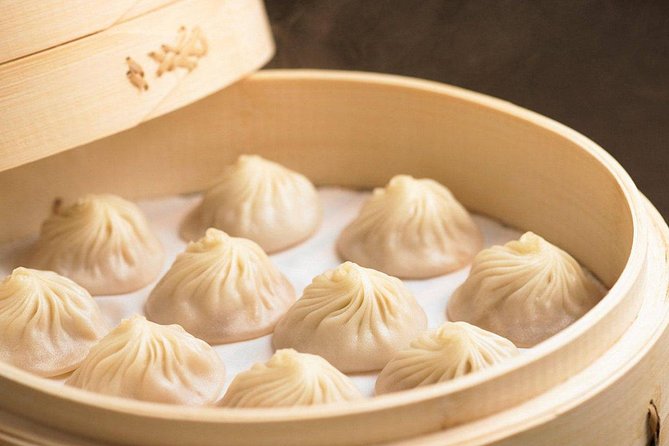 You'll be hard pressed to find a type of Chinese food that is loved more by Shanghai natives and visitors from around the world than xiaolongbao, Chinese soup dumplings. The delicious xiaolongbao and the bamboo serving baskets are a familiar scent.
From street vendors to Michelin-star restaurants, the ability to create the perfect xiaolongbao is a skill to behold. A thin steamed wrap of pork in a broth, xiaolongbao are best served hot with vinegar and ginger. We thought we would take you on a journey of xiaolongbao today – hope you're hungry!
The History of Xiaolongbao
Xiaolongbao are thought to originate from mid/late 19th century in Nan Xiang, a town on the outskirts of Shanghai. In an ever-competitive steamed bun market, a vendor named Huang Mingxian invented xiaolongbao to offer a competitive edge. Originally called nanxiang da rou mantou – a name which, unsurprisingly, didn't catch on – the name xiaolongbao emerged. Xiao (small), long (basket), bao (bun), or "little basket bun".
Tip: Nan Xiang is around a 1-hour subway journey from the city centre today. Head there for some authentic xiaolongbao on your next visit!
What set xiaolongbao apart is the addition of a jellified meat stock which makes up the broth content. The jellified stock melts into a delicious broth when steamed inside the soup dumplings. This process of making the jellified stock was a very arduous in the 19th century. It needed to be simmered for many hours and left to set. We can just imagine the envious competitor vendors when Huang Mingxian invented this masterpiece!
Xiaolongbao in Popular Culture
Xiaolongbao are somewhat of a maverick in popular culture today. In 2006, the Shanghai government even listed them as a protected national treasure. Shanghai's official city WeChat account also features a picture of the steamed dumplings as its mascot!
Are you a fan of TikTok? Xiaolongbao racked up an eye-watering 200 million views on the platform in 2021!
Many of you will have visited the famous xiaolongbao restaurant in Yu Yuan Gardens in Shanghai, Lu Bo Gang. The restaurant has been visited by Queen Elizabeth II, Fidel Castro, Bill Clinton and Paris Hilton. Chefs have since developed the recipes to add seasonal ingredients, such as crab and shrimp. There are plenty of varieties of xiaolongbao for you to try!
Lu Bo Gang was the restaurant that was famed for making xiaolongbao even smaller, so they could be delivered easily through Yu Yuan Gardens. It's said that the restaurant wraps over 10,000 buns each day. A seriously impressive feat for a task that's so intricate!
We might be biased, but our favourite restaurant for xiaolongbao is Din Tai Fung, which now boasts branches in Australia, US and the UK.
How to Eat Xiaolongbao
Place one xiaolongbao on a spoon using chopsticks. You can then add your favoured toppings – soy sauce, ginger or vinegar (or all three). Try to eat the xiaolongbao in one go to avoid it getting too messy as the soup can escape. Take care though, the broth often retains a lot of heat!
Learn How to Make Xiaolongbao
There are many schools in Shanghai to learn how to make the perfect xiaolongbao. There are also schools throughout the rest of China. Based outside of China? Why not get together with your language partner to try and make your own xiaolongbao!
Have you heard the story of China's hottest grandmother, Lao Gan Ma? Check back soon for more from The Chairman's Chow food blog.