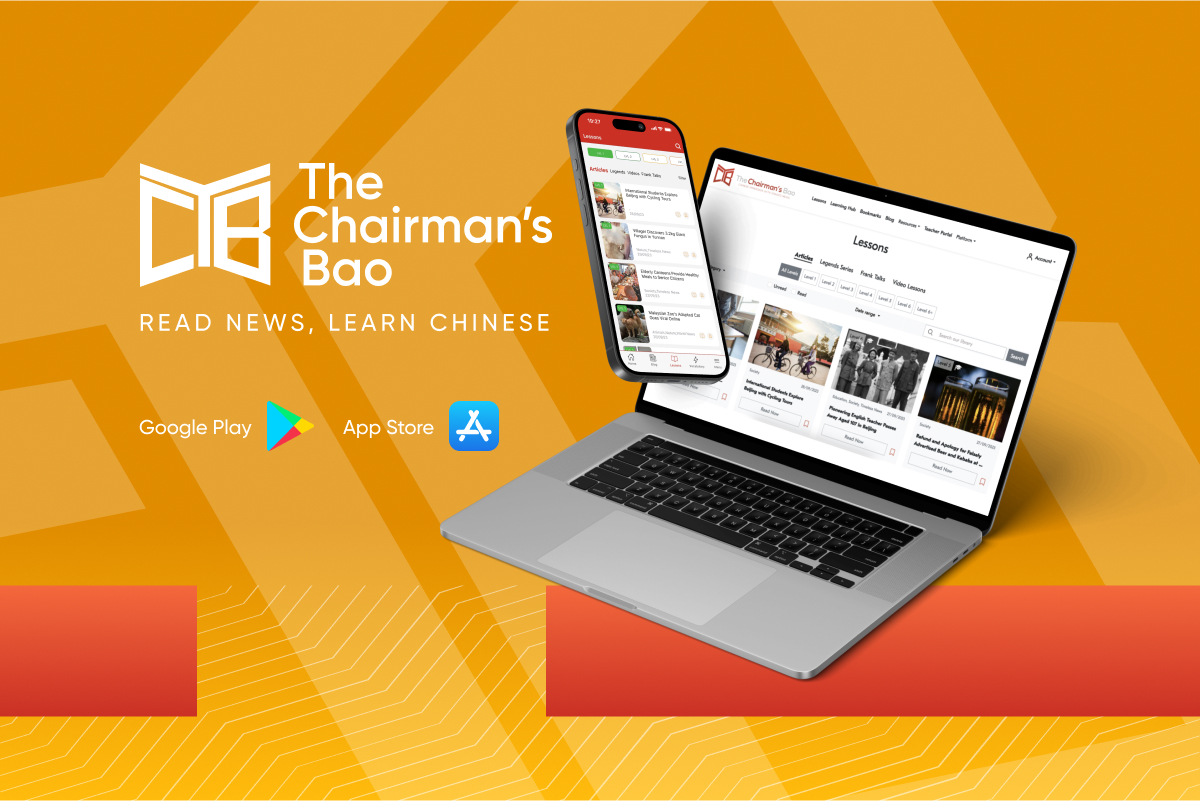 We've got some big news: The Chairman's Bao app has had a major upgrade! We've been working hard behind the scenes to deliver an enhanced learning experience for our users, and we're thrilled to be unveiling our new Chinese graded reading app. Get ready for a sleeker, user-friendly interface that makes navigating through our vast library of Chinese articles a breeze. The new app offers all the benefits of The Chairman's Bao website, in a convenient format that you can access anywhere via your Android or iOS device.
Whether you've been using the original TCB app for some time already, or you didn't even know it existed (where have you been?!), our all-new app is for seasoned users and newcomers alike. We can't wait to share some of the highlights with you, so read on for more details.
What's new with The Chairman's Bao graded reading app?
If you've been around for a while, you may have noticed that The Chairman's Bao website got a sleek new look earlier this year. Since then, we've been working on perfecting a new and improved version of The Chairman's Bao Chinese graded reading app, so our users will now be able to browse our 9,000+ articles more comfortably and conveniently than ever. Here is an overview of some of the top features that you can expect from the newly launched app…
An elegant and user-friendly interface
Our app has a completely new look. It's been designed to be easy on the eye, intuitive to navigate, and more closely aligned with the look and feel of the website. So if you enjoy using the website, you should find switching to the app absolutely seamless.
From the app's home screen, you'll be able to pick up where you left off last time, view your saved articles, and browse popular lesson topics. The app design is minimalistic and free of visual clutter (no annoying ads or pop-ups), so that the content can speak for itself.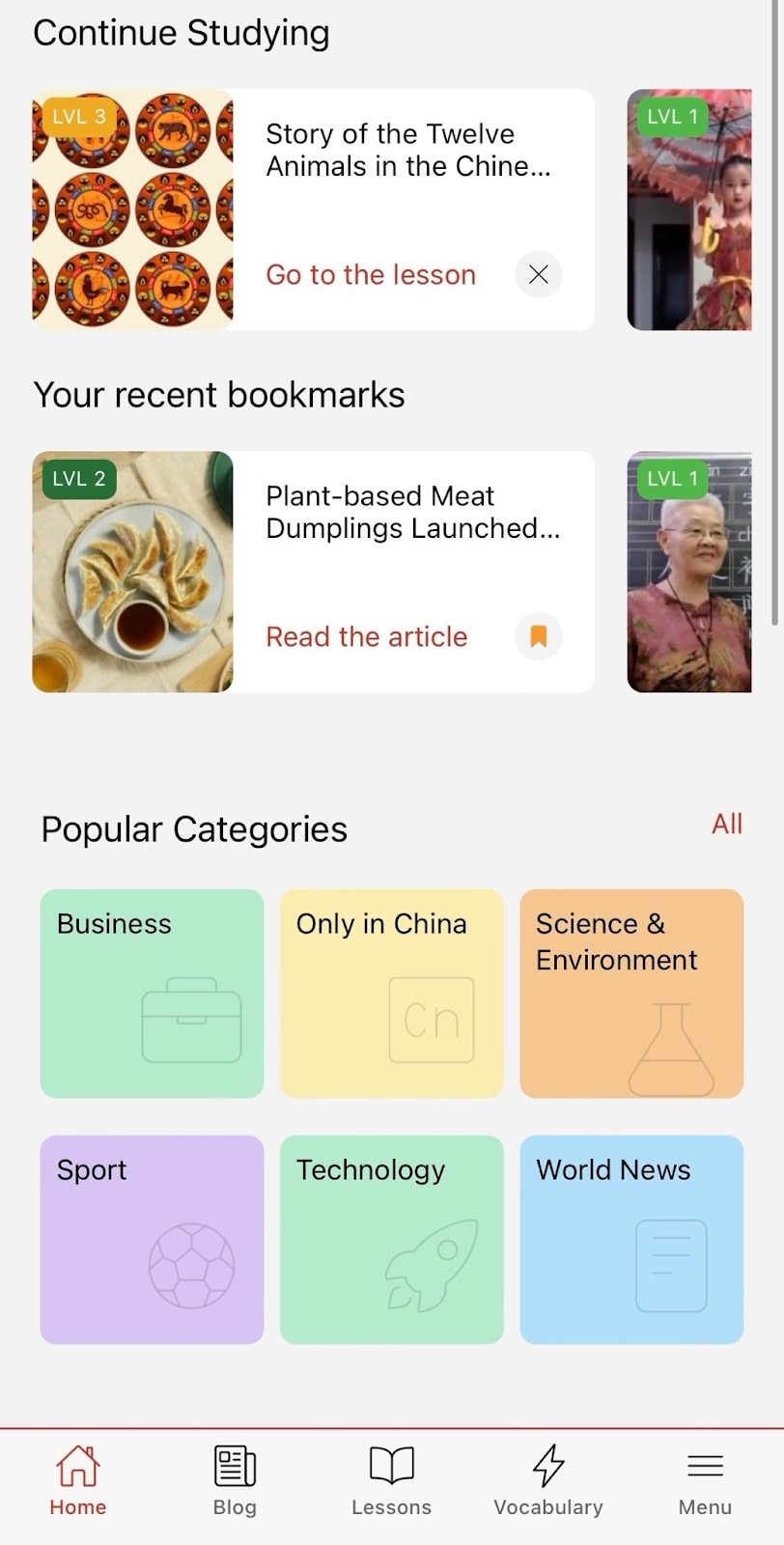 Advanced search and filter functions
Easily navigate to the content you want, and make boring Chinese reading material a thing of the past. Our app's search and filter functions make it simple to find topics that you're interested in. Users can retrieve articles by category, user-input search terms, HSK levels 1-6+, and/or publication date. Here is a preview of just some of our recent topics…
Viral news stories
Cute animals
Artificial intelligence
Chinese social media trends
Cryptocurrency
Travel and tourism
…and with new content being added every day throughout the year, you'll never run out of Chinese articles to read.

Interactive learning tools
Compared to traditional books, Chinese graded reading apps offer a major advantage: they allow the user to interact with the material in a number of helpful ways. This means you won't have the hassle of looking up words in a dictionary or switching between multiple platforms, as all the study tools you need are built into the app's functionality. If you like the content and functionality of the TCB website but you prefer the convenience and portability of a book or e-reader, we highly recommend switching to the app!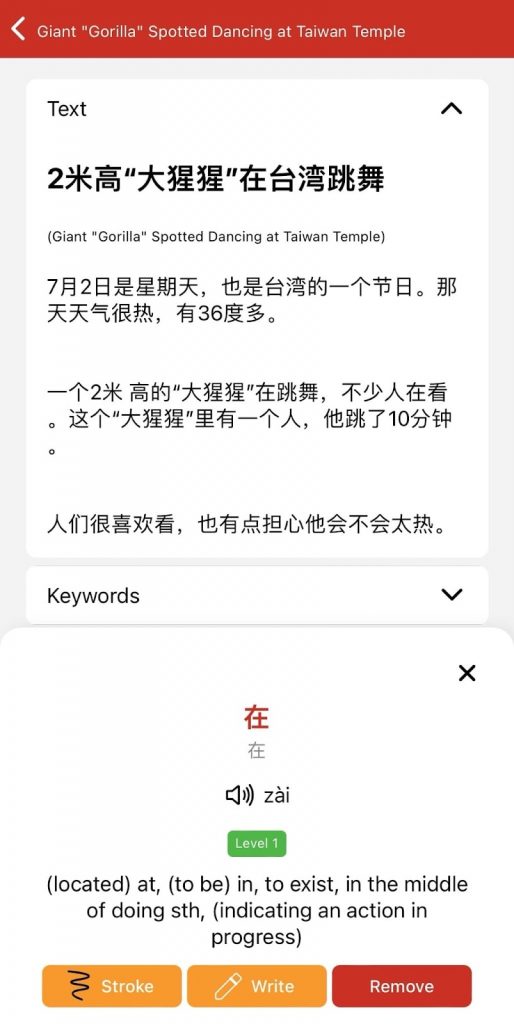 The TCB app functions similarly to the website, in that it includes the following interactive features that support efficient learning and comprehension:
A one-tap Chinese to English dictionary
Audio recordings with every article (native speakers – no computer-generated voices here!)
Chinese characters (simplified and traditional) stroke order and writing practice tools
Flashcards (save new vocabulary, test yourself, and track your progress)
Reading and listening comprehension quizzes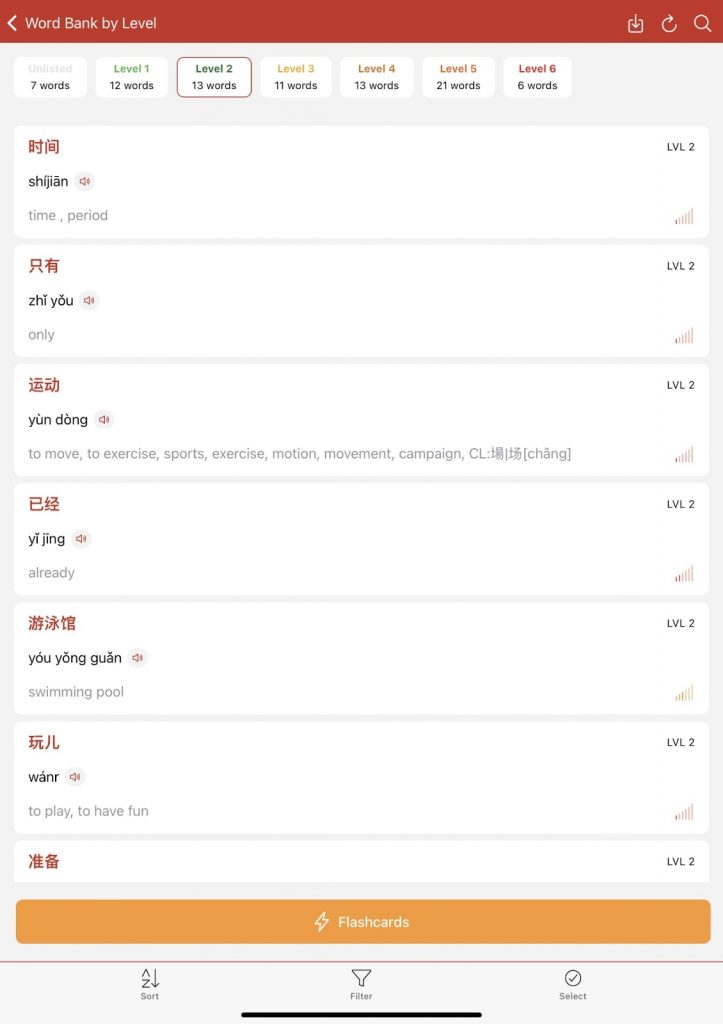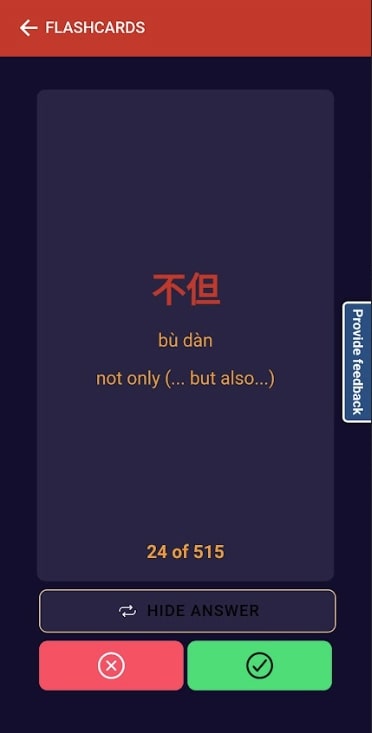 Integrated reading, listening and writing practice
The Chairman's Bao is not just a reading platform, it helps to strengthen other key skills that contribute to overall Chinese mastery. We've already noted the inclusion of native speaker audio recordings and listening comprehension exercises with every lesson. Meanwhile if you're learning to write Chinese characters, you will benefit from repeated exposure to those characters in the texts that you read, and you can also practice writing characters within the app. Practice makes perfect!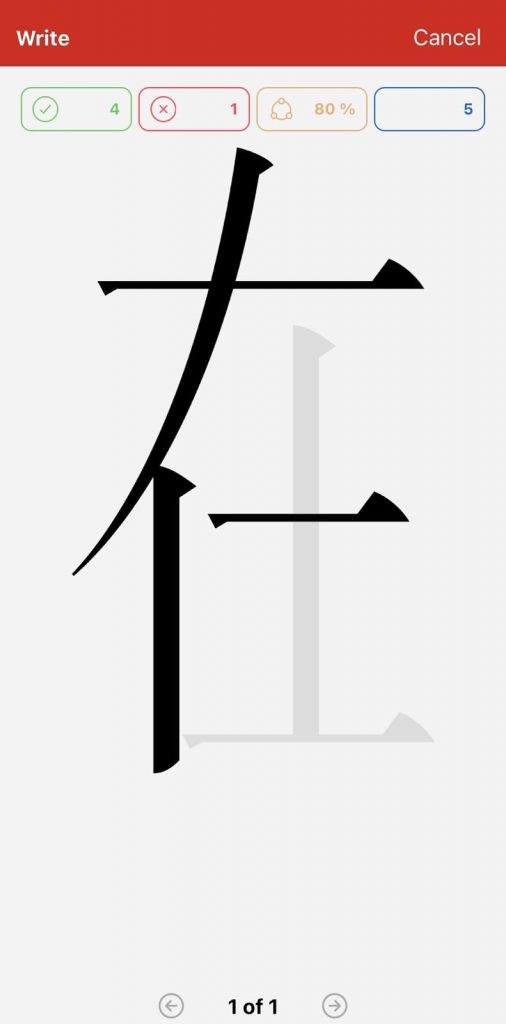 Learn Chinese vocabulary and grammar in context
Put the grammar books aside and learn in a more intuitive way. Every lesson in the TCB app comes with a vocabulary list and an explanation of key grammar points. Viewing the vocabulary and grammar in a meaningful context supports greater understanding and retention, and you can then consolidate your knowledge by taking the quizzes included with every article.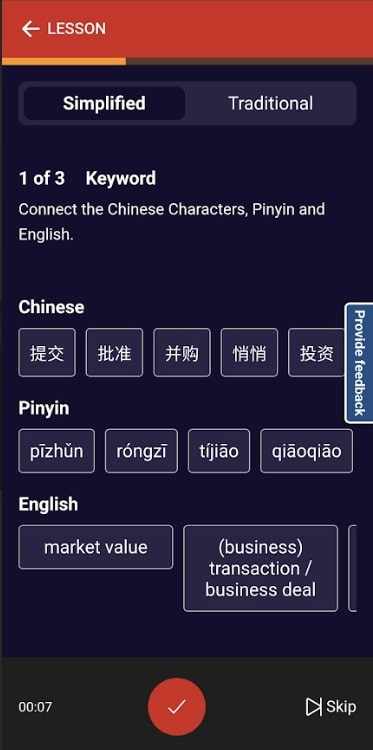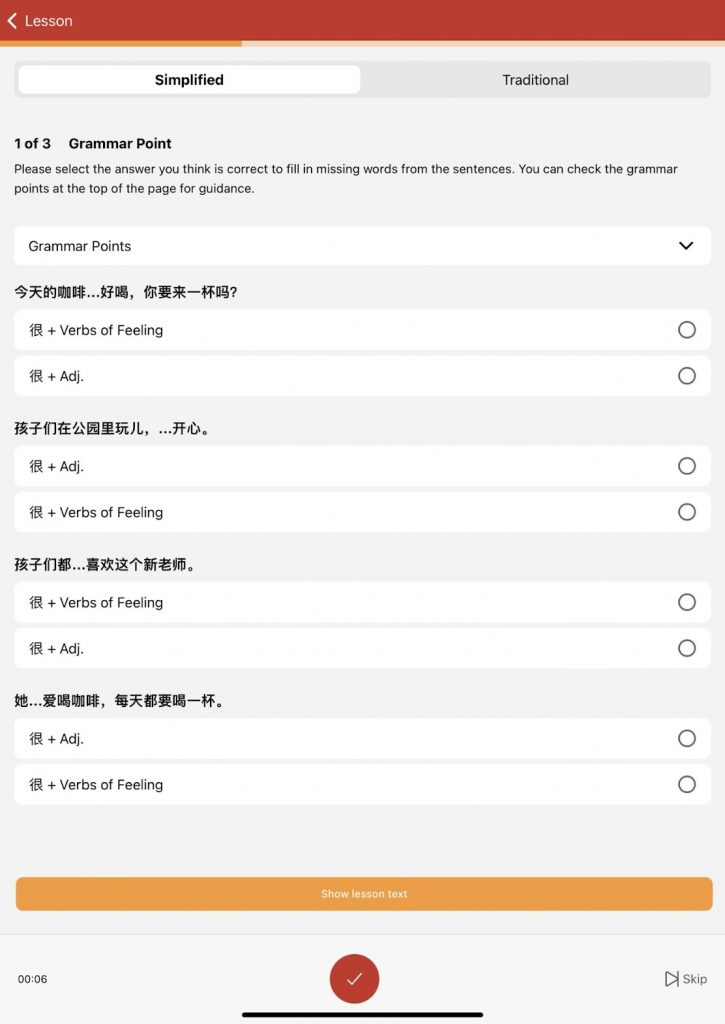 Track your progress in Chinese at a glance
Keep an eye on your study habits and visualize your progress via monthly stats. These give an indication of your vocabulary and flashcard metrics, lesson data and quiz results, providing instant insight into how and what you've been doing, and which areas to focus on in the future.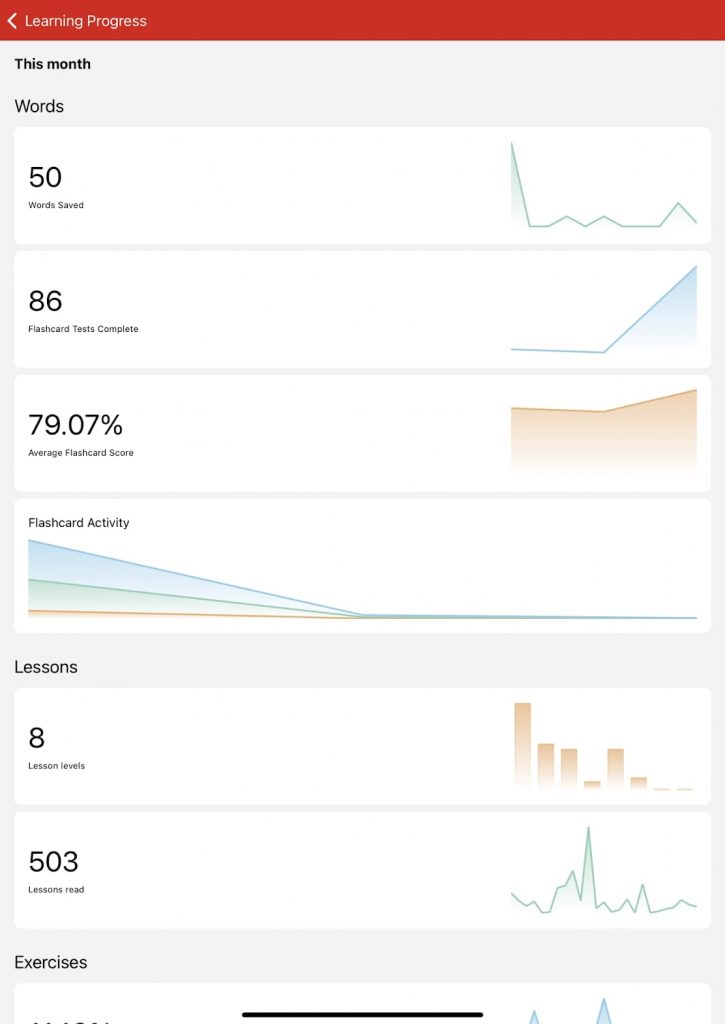 Offline mode for studying on the go
Now it's even easier to take your Chinese learning with you, thanks to the TCB app's offline study mode. In offline mode, all the lesson materials including audio and quizzes will be saved – so there's no need to worry about having your study time interrupted by loss of connection, or being forced to use up your mobile data when on the move.
Video lessons for intermediate-advanced learners
Our Frank Talks video series has proved popular among intermediate and advanced Chinese students, and these videos are now available in the TCB app as well as on the website. Chinese teacher Frank engages in high-level discussions with a fellow Chinese speaker about contemporary issues related to society, technology, education, and more. A comprehensive vocabulary list is provided with each lesson.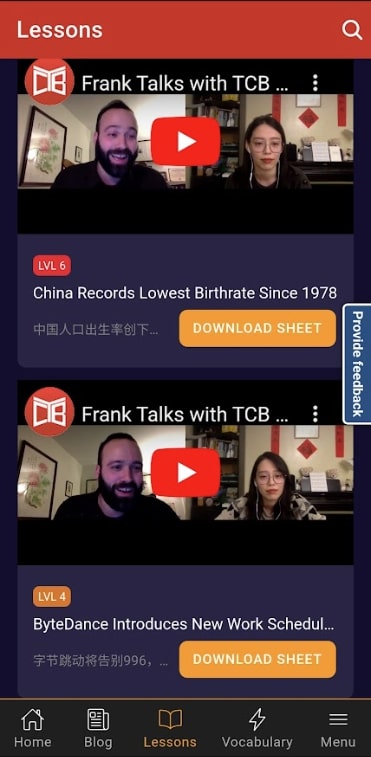 Frank Talks content can help you grow your vocabulary in preparation for Chinese exams, when you might be required to write or speak on advanced topics. Watch Frank Talks videos and download the lesson material from within the new TCB app.
Set your notification preferences
Some of us require an extra boost to stay motivated, and there's nothing wrong with needing a bit of positive reinforcement. TCB app users can turn on a range of notification options in order to keep on track and maintain optimal study habits. Notifications are optional, but if you choose to, you can get notified about the following:
New lessons at your level
New lessons in your selected category
Study reminders
Vocabulary review reminders
New sample lessons
Your study streak (and how to maintain it!)
Personalize your reading experience
A smooth and enjoyable reading experience can increase your motivation to read in Chinese. In the new TCB app, we've included a range of personalization options so that the user has more control over the reading experience. Adjust the font size and style, switch between simplified and traditional characters, turn pinyin on or off, and increase the spacing between words – your settings will be applied to every article that you read, and can be altered by the user at any time.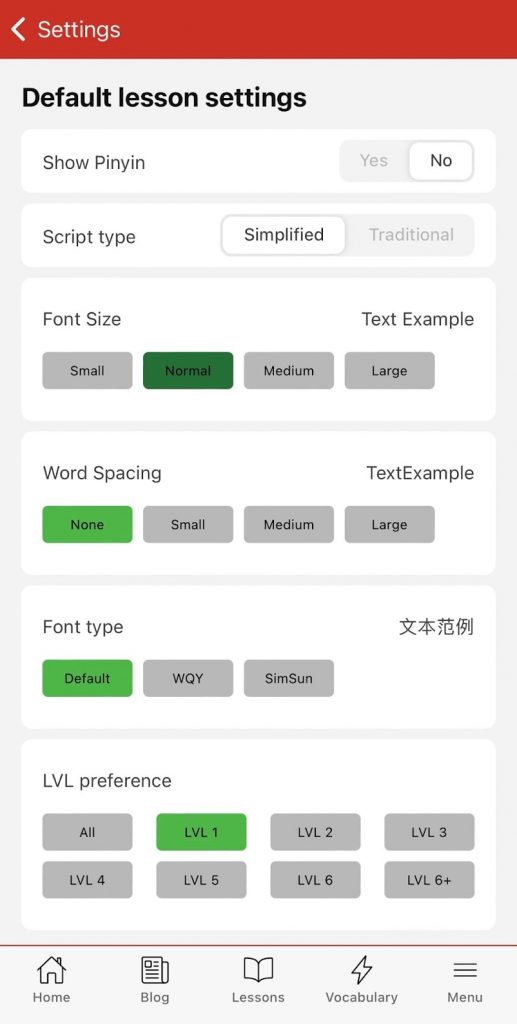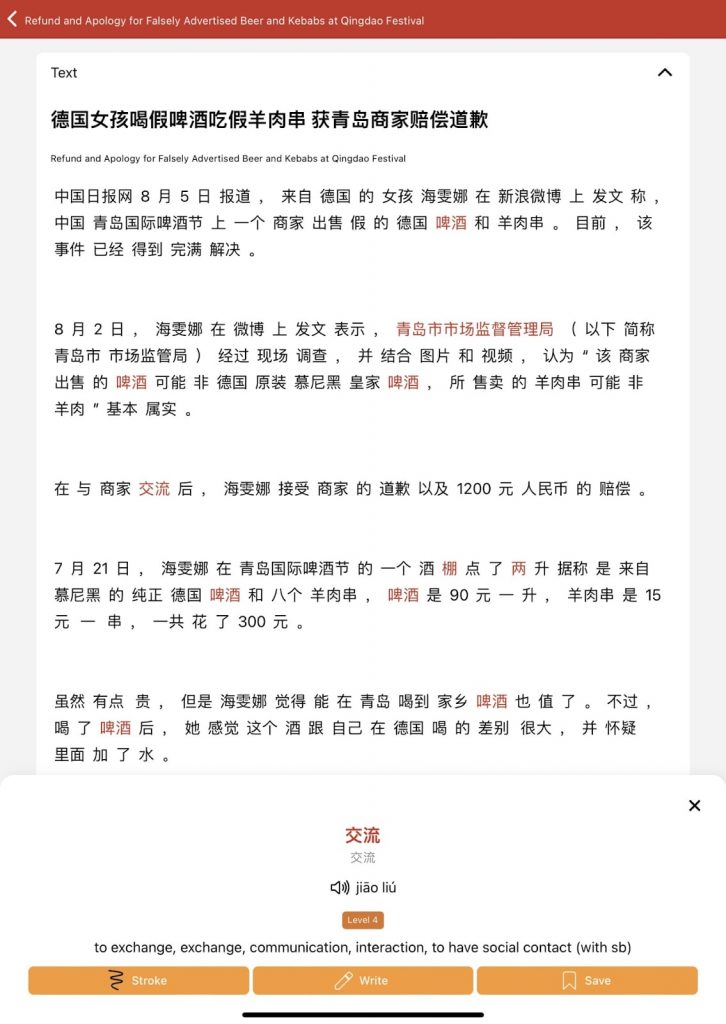 Smooth cross-platform integration
Your activity in the TCB app will be automatically synced with the website, and vice-versa. So if you start reading an article on our site and bookmark it to finish later, your bookmarked article will be saved in the app too. Your activity history is also saved, so even if you forgot to bookmark an article, you'll have no problem finding it again via the History page in the app.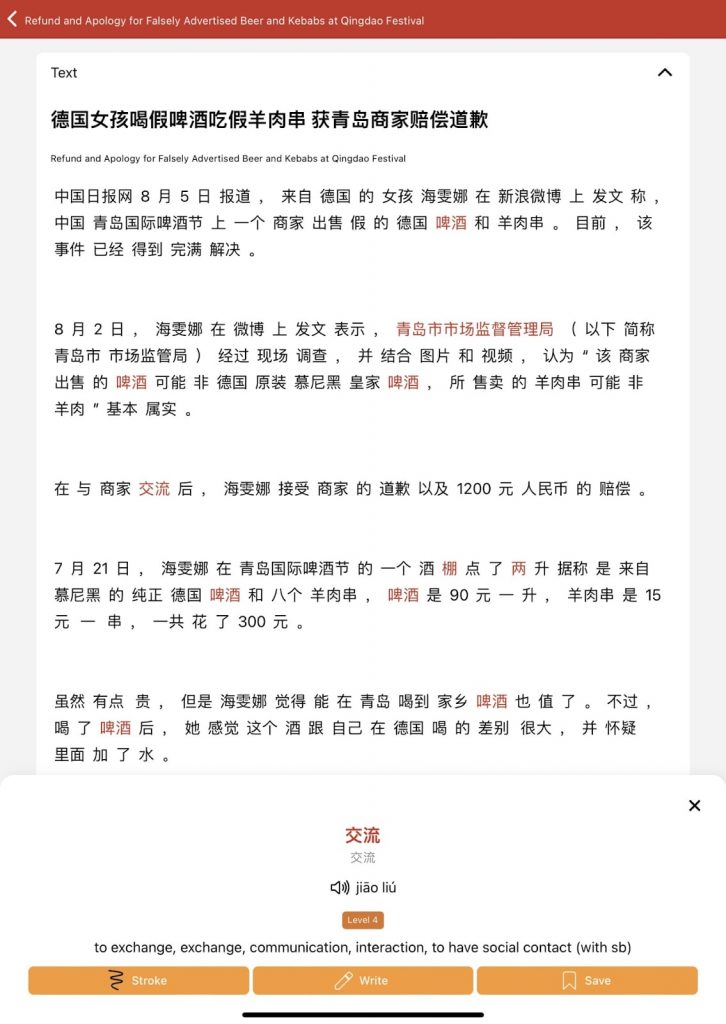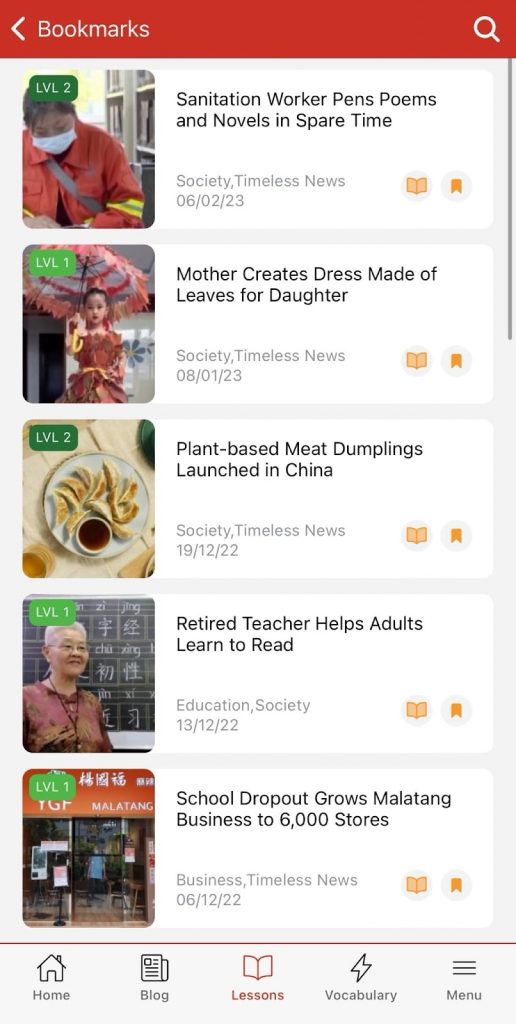 Why download The Chairman's Bao Chinese reading app?
We've already detailed some of the top benefits of the new app… and did we mention it's now live on the app stores! Here are a couple more reasons why Chinese graded reading apps, and The Chairman's Bao in particular, are unparalleled tools for Chinese learners.
Harness the power of reading
There is new research constantly emerging about the benefits of reading for language learning. Grow your skills in Chinese by cultivating a daily reading habit. The Chairman's Bao makes reading in Chinese accessible for every student: beginners, advanced students and everyone in between are well catered for on the app.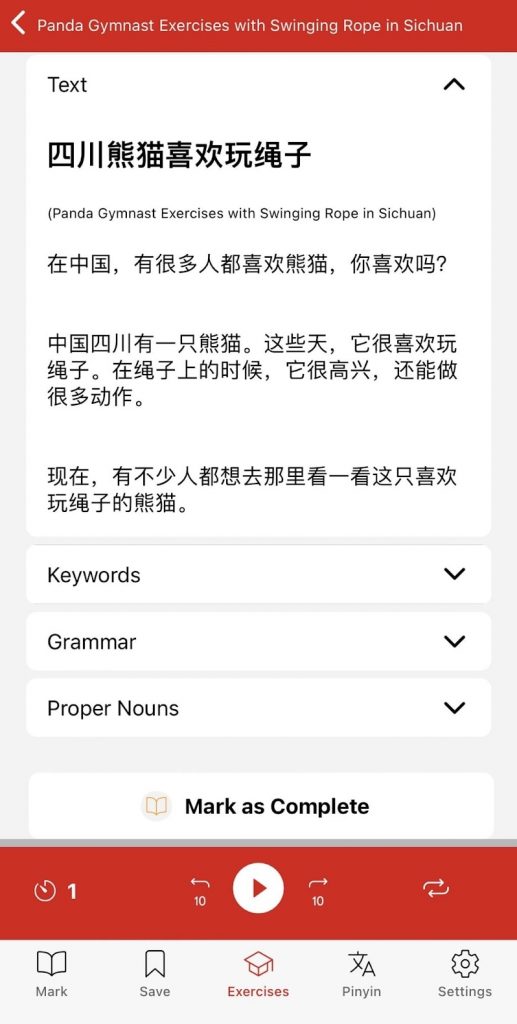 A serious study tool
Some language-learning apps are highly gamified and designed to provide a quick dopamine hit, but they fall short of their promises to actually improve your language proficiency. The Chairman's Bao, on the other hand, is intended as a more serious study tool that enables you to grow your language skills over the longer term. As well as the quality content that you expect from TCB, we have really focused on delivering an optimal user-friendly reading experience via the new app – immersive reading in Chinese has never been so enjoyable!
New sample lessons for free users
To extend the benefits of immersive Chinese reading to everyone, we will now be updating our sample lessons on a more frequent basis. So even if you haven't become a subscriber yet, you can still take advantage of TCB resources by downloading our app and exploring the selection of graded Chinese lessons that are accessible for free. You can also get notified when a new sample lesson becomes available.
A range of subscription plans
For unlimited access to our 9,000+ articles – with up to 4 new lessons added every day, all year round – subscribe to The Chairman's Bao. We offer a range of plans starting from one month up to a lifetime subscription, so TCB users can subscribe for as little or as long as they choose. There are thousands of news articles, video lessons, Chinese legends and folk tales waiting to be discovered in our app.
Give the app a try – and tell us what you think…
Now that we've spent some time outlining the key features and benefits of the new TCB app, we'd like to conclude with a reminder that the app is available to download for Android and iOS devices. Find it in your app store, or if you're based in China, you can download it via the APK link provided right here on our site.
When you try the app, be sure to share your feedback and let us know what you think! There are numerous ways to get in touch: either via the contact form on our website, within the app itself, on our social media, or in the TCB Facebook discussion group. We value your feedback, as it helps us to continue to improve and better cater to your needs. We hope you love The Chairman's Bao app and find it an invaluable tool in your Chinese-learning toolkit.