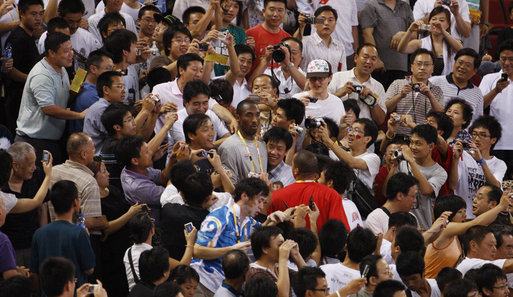 The passing of basketball legend Kobe Bryant sent shock waves all around the world, China included. China is the NBA's biggest market; it is the most followed sports league in the country. In fact, the NBA has had a long history and large impact in China. Furthermore, Bryant was well known in China due to his Nike sponsorship and campaigns. After all, China is the Nike's second largest market in the world. However, Kobe Bryant's influence in China runs deeper than that.
Kobe Bryant Was a Superstar in China
Due to his impressive career and sportsmanship, his appearances in the country would draw out crowds in the tens of thousands. On one occasion 15,000 fans waited outside for hours just to get a glimpse of him. The level fandom for Kobe Bryant in China, surpassed his popularity in America. In a now famous viral video, fans would become overwhelmed and cry from just looking at him.
Furthermore, Kobe Bryant's Jersey has been the most popular player's Jersey in China year after year. In the aftermath of his death, a Chinese fan returned one of Bryant's stolen Jerseys. Someone had stolen the Jersey in 2017, along with Bryant's other possessions. They sold the items to Chinese fans desperate to have a piece of their idol.
China Was Kobe Bryant's Second Home
It's not just his on-court skills that made him so popular; it's also what he did off court. He made efforts to visit China every year since his first arrival in 1998. During these visits he would also travel across the country learning about the culture and customs. His relationship with China was so close that he admitted the country felt like a "second home". Chinese people loved his commitment to learning about their culture and customs. He wasn't just invested in China commercially, but from a genuine interest in the country. This made him very admirable to the Chinese public.
Kobe Bryant Has a Chinese Charity
Kobe Bryant's extensive links in China go as far as him starting the Kobe Bryant China Fund in 2009. It is focuses on promoting education, sports and culture between Chinese and American children. Also in America, he had a Family Foundation which provided Mandarin lessons for American children. Initiatives like this were his way bridging the cultural gap between the two countries. Beyond his charitable contributions, his investment company Bryant Stibel was also involved in China. He invested in Alibaba, as well as Chinese education company VIPKID.
How Did China React to Kobe Bryant's Death?
Weibo amassed more than 2 Billion views with the hashtag "Kobe is Dead". People throughout China shared their shock, sadness and condolences via WeChat. In fact, the news of his passing surpassed news of the Coronavirus in Wuhan. The People's Daily, the official newspaper of the government, also made a tribute statement. Besides being a great athlete, he was also an unforgettable cultural icon and ambassador.