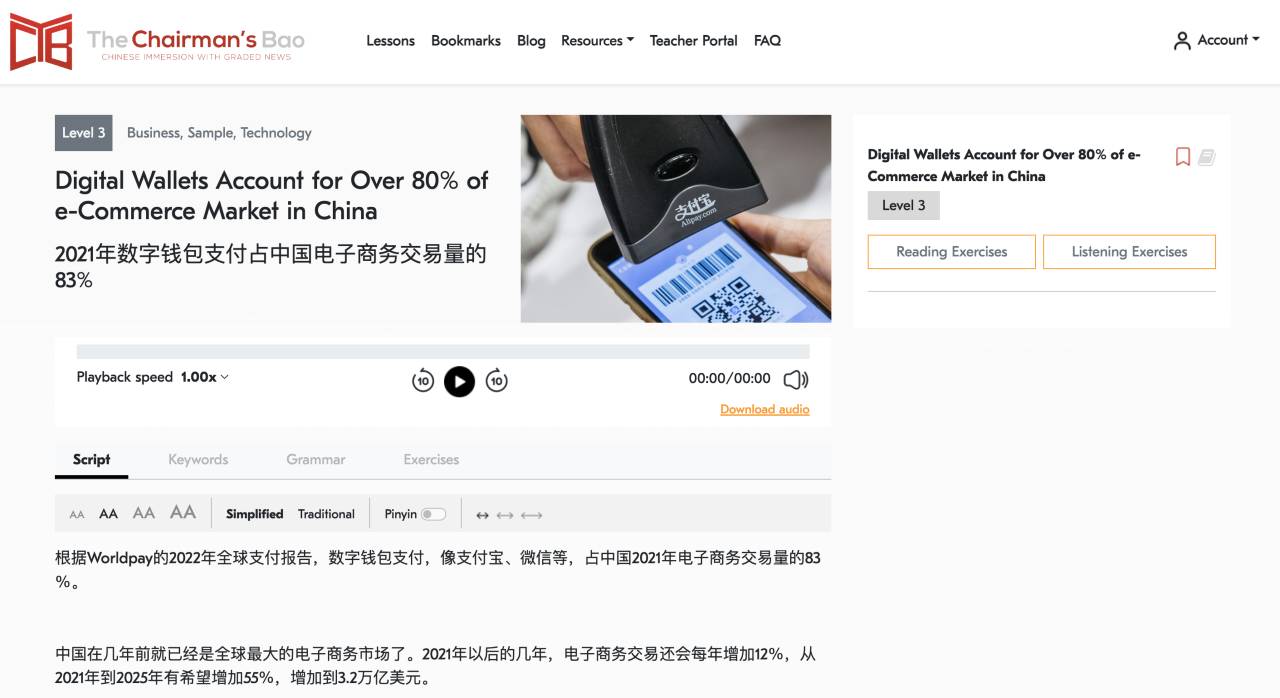 Why do K-12 teachers search for supplementary materials?
Teachers in the K-12 school system are among the busiest people on the planet. With duties extending far beyond just teaching their classes every day, teachers also have to correct homework, conduct parent-teacher conferences, supervise extra-curricular activities, fill out paperwork, and prepare students for nationalized tests. The days can seem endless and might extend far into the evening. Of course, most teachers choose this profession out of genuine love for the work and the chance to make an impact on young lives. Teachers strive to go the extra mile, to extend their lessons beyond simple textbook curricula and to guide their students to feel truly enthusiastic about their subject. For this reason, teachers often search for supplementary teaching materials. 
Finding supplementary materials can be difficult for K-12 Mandarin teachers
While teachers of other subjects such as STEM or language arts will find plenty of "ready-made" resources which they can simply present to their students, supplementary materials for Mandarin teachers are more difficult to find and limited in scope. Teachers might need to get a bit creative regarding how they integrate online materials such as Mandarin reading sites, YouTube channels or online dialogues into their day-to-day classes. The following article presents a list of resources for teachers which they can introduce into their classes in order to make them livelier and give the students more confidence with non-textbook materials. 
What are the best Mandarin reading websites?
Since 2015, The Chairman's Bao has been presenting news articles in Mandarin curated to match levels from HSK1 to HSK 6+. What make TCB unique is that each article actually presents an intact lesson with audio practice (read by a real native speaker, not a machine) content questions, grammar explanations, character writing practice and more. The format includes a "mouse-over" dictionary which translates each word in a pop-up format. Teachers will find thousands of articles at all levels. Teachers from about Grade 4 or 5 (in Chinese immersion programs) all the way to Grade 12 will find plenty of material which their classes can do as a whole, or perhaps small groups can present one article to the rest of the class. While teachers will find some free materials, this is a subscription-based service which specialized in working with schools (as well as individuals).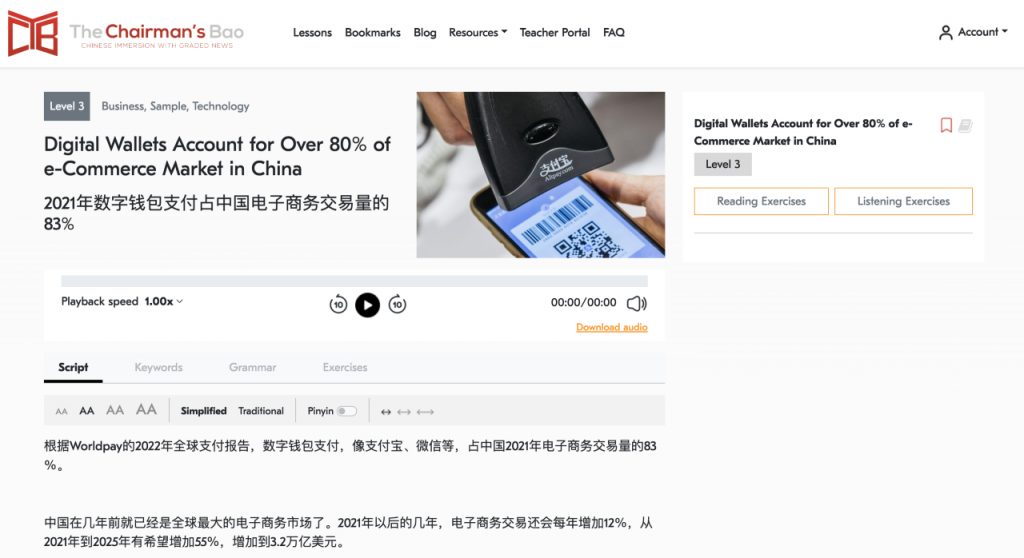 Mandarin Bean features many articles with pop-up dictionaries and audio recordings (also read by a real person) suitable for students from Grade 3 and up. Teachers can also find additional grammar explanations, exercises and test preparation materials for the YCT (Youth Chinese Test). materials. Premium member extras include lesson notes, translations of the texts and additional YCT preparation materials.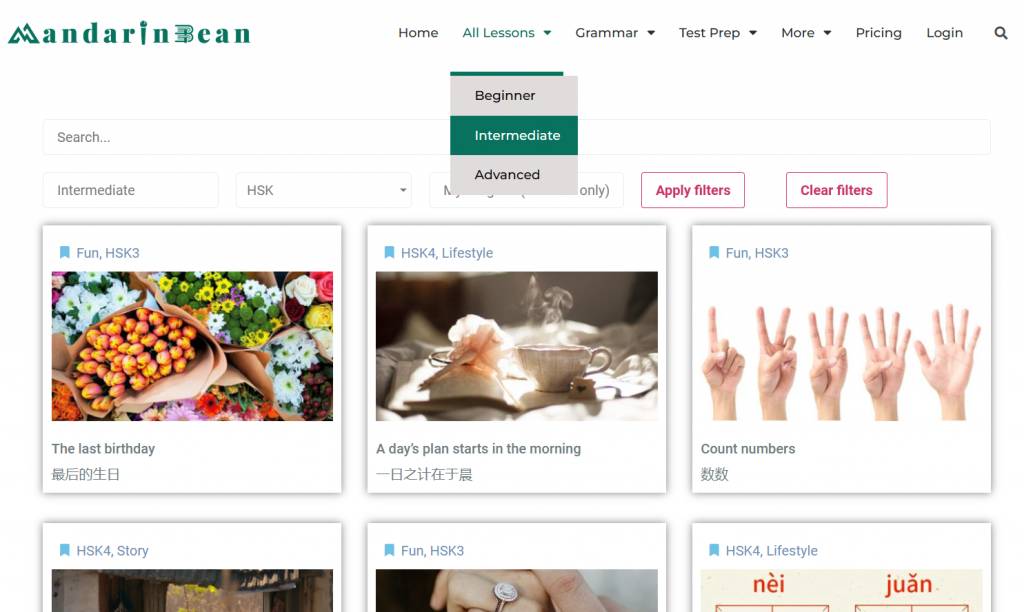 3. Du Chinese 
This is also a subscription-based resource specializing in providing reading material to schools (as well as individuals). Teachers will find many articles suitable for students from about Grades 3-12. The unique feature of the site is that the stories are presented as series with several episodes each. The site classifies articles from Newbie to Advanced.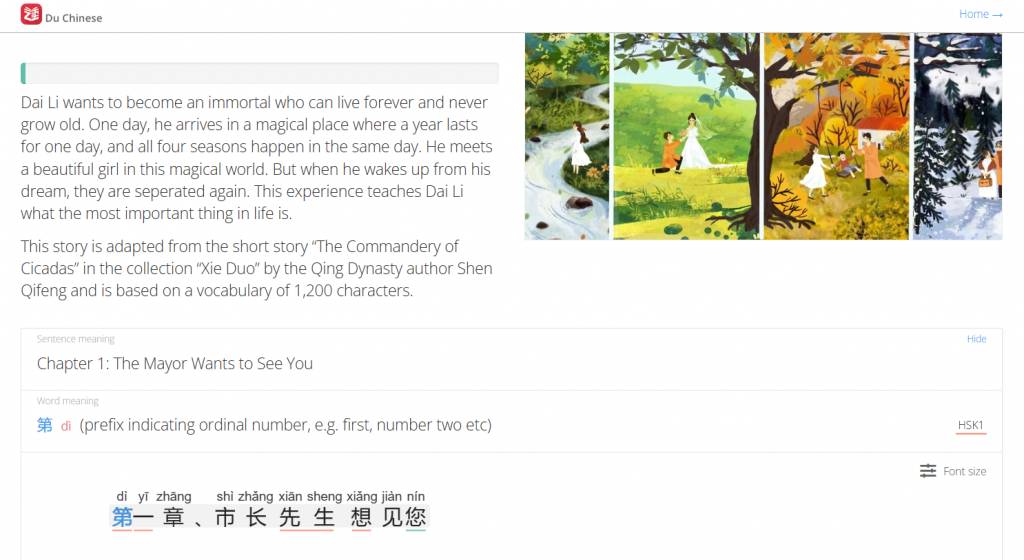 This site provides interesting stories and fables suitable for children in from about Grade 2 on. There is no audio recording of the stories but in place of that students will find a side-by-side translation of the text which they can turn on or off. There is also a very good explanation of key vocabulary before reading the text. The beginner texts are harder than The Chairman's Bao or Mandarin Bean which is why this site might be more suitable for K-12 Mandarin immersion programs. Unfortunately, they haven't posted new stories since 2020.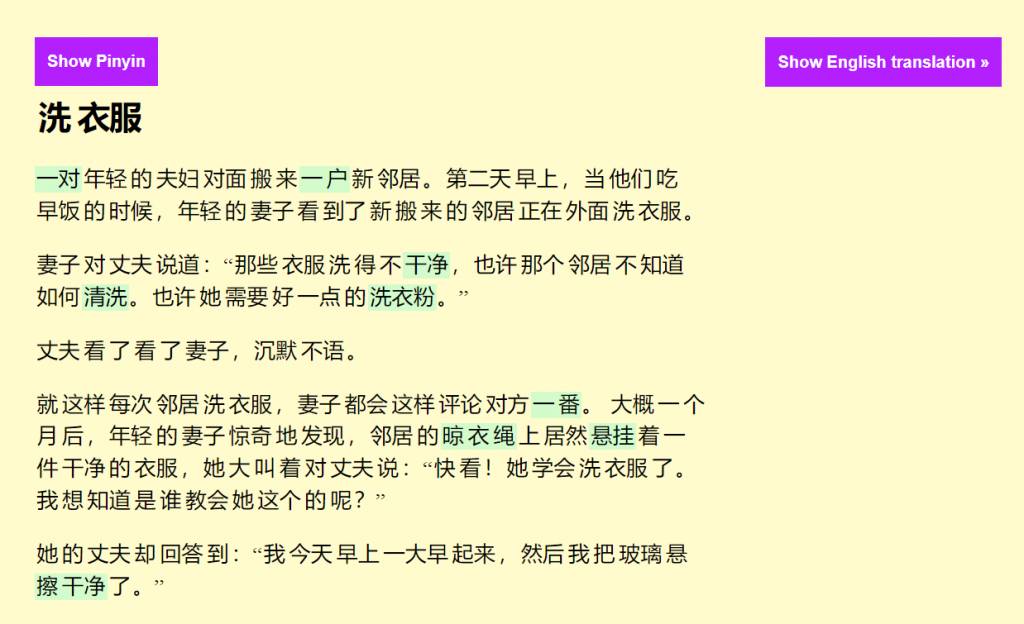 5. Gushi 365 
This site, written only in Chinese, presents children's stories accompanied by delightful illustrations. Since these stories are written authentically, and not in a simple style which targets foreign language learners, they will be more suitable for heritage Chinese speakers or children in Mandarin immersion programs. There are no pop-up dictionaries (although there are Chrome browser extensions which serve this purpose) or vocabulary lists, just lots and lots of stories.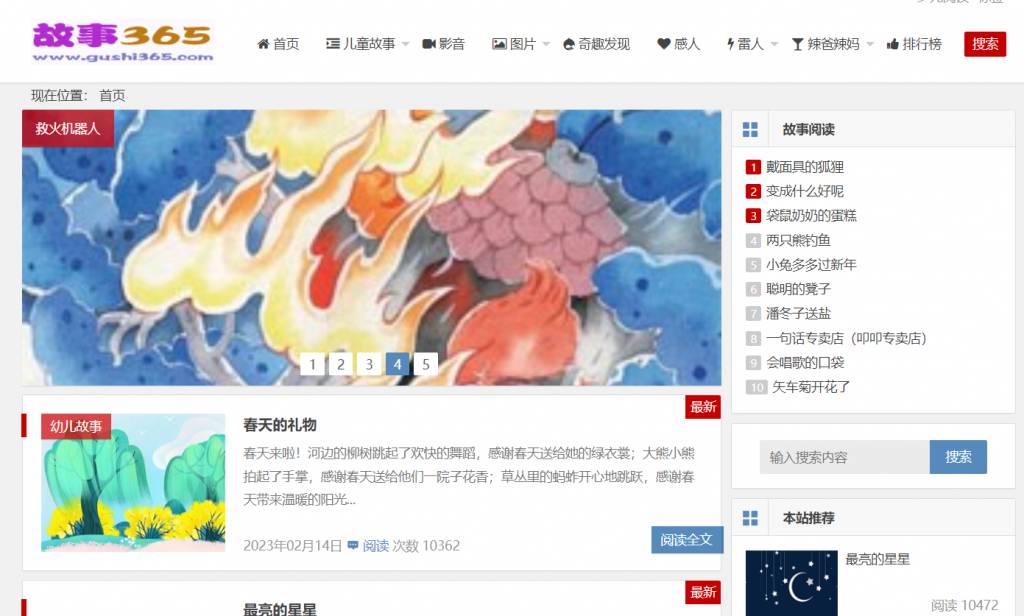 Youtube Channels 
Teachers will find many channels on YouTube created by professional Mandarin teachers who provide material for all ages. Here are a few of the best ones:  
This channel, suitable for grades 7-12, presents videos with many aspects of learning Mandarin. My favorites are "on-the-street" videos interviewing real people, speaking real language. The interviewer has excellent skills coaxing people to speak in understandable Mandarin. You will also find videos analyzing the language spoken in interviews with popular Chinese stars, detailed explanations of Chinese idiom stories and much more.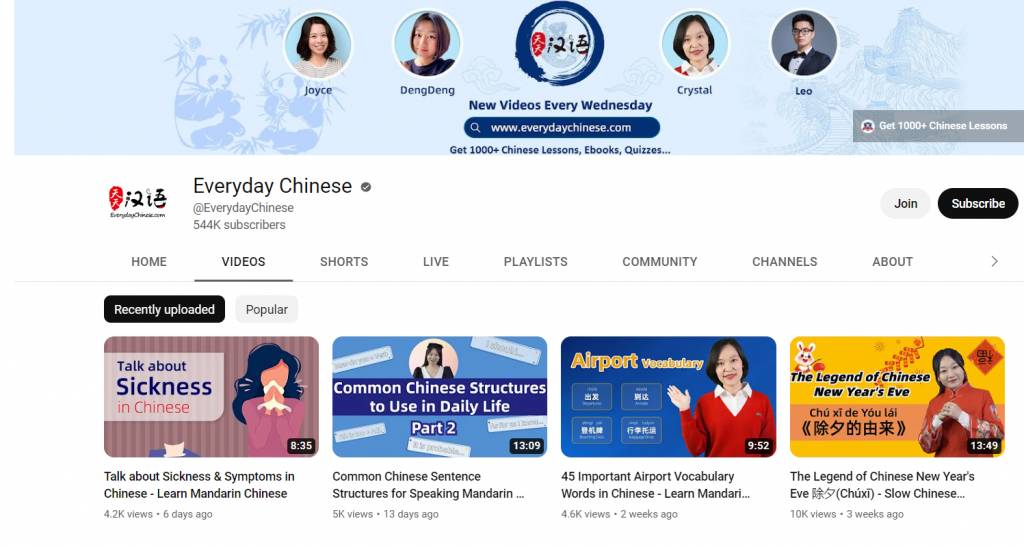 This channel features Eileen, who cheerfully interviews fascinating people from all walks of life in understandable Mandarin. Her channel targets more advanced learners and provides subtitles to all videos in English, pinyin and Chinese characters. This is not subscription-based, but if viewers provide a one-time donation, they will receive access to extra materials such as PDFs. Teachers from about grade 7-12 will find good resources here for intermediate and advanced students. 
Extremely slow and well-phrased videos, suitable for beginners to intermediate with captions in pinyin, characters, and English. Suitable for students Grades 5-12. The second part of the video speaks same text at normal speed, giving students a great feeling of success if they can understand everything. 
YouTube Channels for
小朋友
(
Xiǎopéngyǒu
)/Children
4. Chineasy  
Videos which present writing characters and radicals in short, well-made animations, among other content for elementary students.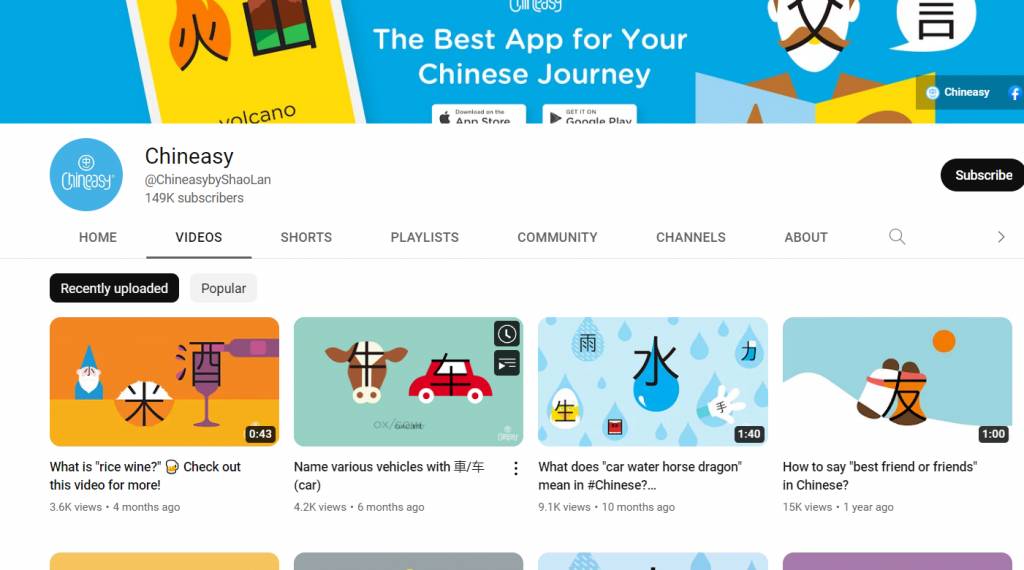 This children's channel is suitable for kindergarten up to grade 3. The videos present catchy songs which effectively teach lists of vocabulary, such as parts of the body, vehicles, toys, etc. It's very easy to understand even though it's all in Chinese (with English subtitles). 
6. Beckybunny  
Provides videos suitable for children in immersion programs or heritage learner children from grade 2 on with songs, stories, chengyu gushi (idiom stories) and more. Actually, this approach is effective for adults too. In my own HSK 6 class, our teacher often uses similar videos to teach chengyu.
Another channel featuring songs for elementary grades. This channel targets English-speaking children who speak beginning-level Chinese. The videos are very funny.  
8. Yoyo 动画 (Dònghuà)/Animated stories 
Provides an extensive database of stories, Chinese idiom stories, history. For young Chinese heritage learners or children in immersion programs. 
9. Little Fox Chinese stories and songs for learners  
This concept takes familiar stories like "Jack and the Beanstalk" or the "Three Little Pigs" and tells them in Mandarin in well-produced animated videos for all grades. The voices are not too "cartoon squeaky", but exaggerated in a way that makes learning tones easier. Teachers will also find a few Chinese stories like "Journey to the West".  
Resources which provide printable or interactive materials such as worksheets
1. Twinkl  
This huge teacher database is available for a paid subscription of about 5 dollars/month. There are many resources for Mandarin teachers, especially at the elementary school levels. Teachers will find PowerPoints, worksheets, crafts, flashcards, etc.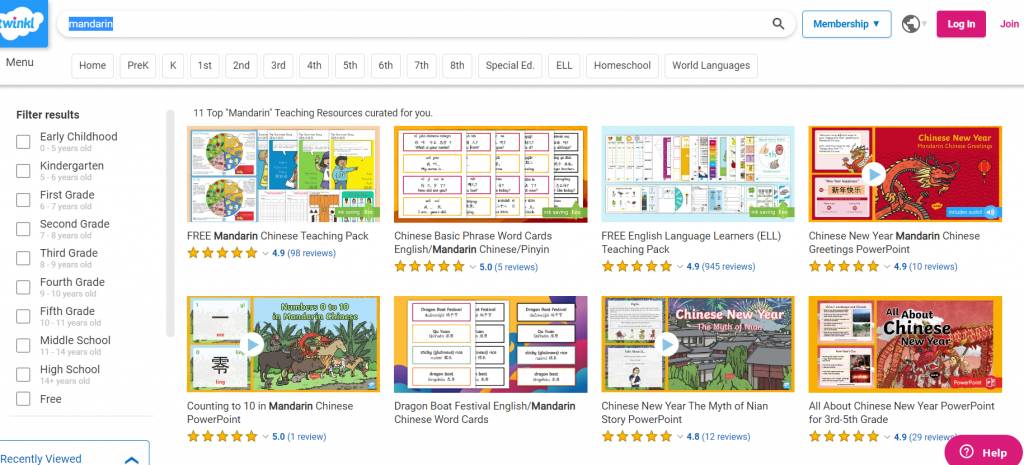 2. Tes.com  
Similar to Twinkl, but not a subscription service. Teachers can purchase supplementary materials which they would like to use. They will find interactive presentations, worksheets, crafts and more. 
A comprehensive resource that's completely free to use. All Mandarin grammar points are clearly presented with lots of examples. The site provides a few ready-made free resources for learning vocabulary and grammar, and additionally teachers can easily convert the information and example sentences on the website to create their own worksheets. Especially recommended for grades 7-12.  
This website is also subscription based, but offers a lot of free resources, especially suitable for beginners. Teachers grades 5-12 will like the free, colorful and printable "Cheat sheets" which group vocabulary on a multitude of topics such as supermarkets, travel and romance. 
Provides a variety of interesting tools. Dialogues with audio files on subjects such as hospital visits could be used as supplemental practice for students. There are also recipes for Chinese food, Chinese astrology, various dictionaries, e.g. sentence dictionaries, thesauruses, daily Chinese horoscopes (in English), Chinese calligraphy, painting and many other fun activities. 
This is the official website for the HSK tests. The site provides a lot of free text preparation materials such as sample tests. The YCT (Youth Chinese Test) exam is especially designed for primary and middle school children. The site provides free resources such as vocabulary lists and sample questions. Teachers can also pay for packs of past exam papers. 
Don't forget using the Internet as a classroom resource
Teachers can train the class to do Google searches in Mandarin to discover everything from online shopping to panda cams (video cameras with live feeds of pandas all over China.) 
Another useful device is a voice-controlled device like Alexa. Change the setting so that it speaks only in Mandarin. 
Finally – ChatGPT
ChatGPT is hard to ignore nowadays. Many language teachers are afraid that chatbots and other AI technology will signify the beginning of the end for all language teaching and language learning! Therefore, it might be difficult for teachers feel friendly towards this new technology. However, it is also true that foreign language learning across the globe is at an all-time high due to apps and other resources. One thing is certain: This technology is here to stay and will only develop further so we will have to learn how to integrate it into our lives and schools. 
Having said that, I tested ChatGPT for the purposes of this article. I asked the bot to give me an explanation of how to use the Mandarin character 在 (zai) and the answer was extremely comprehensive and impressive.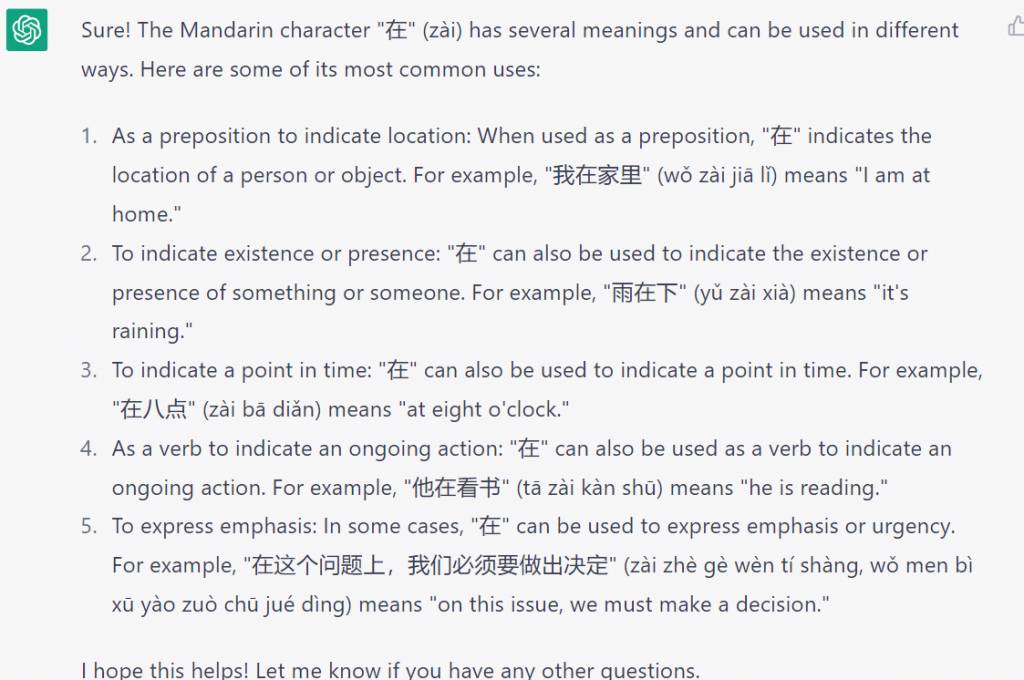 I also asked it to correct a quickly written sentence in Chinese and it did a perfect job.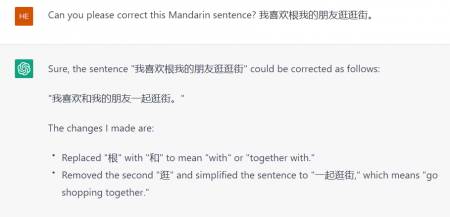 I then requested the chatbot to provide me with a lesson plan to teach how to use the word 把 (ba).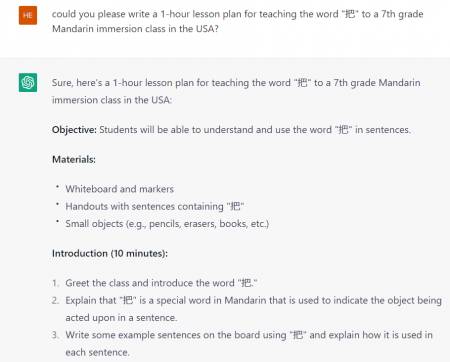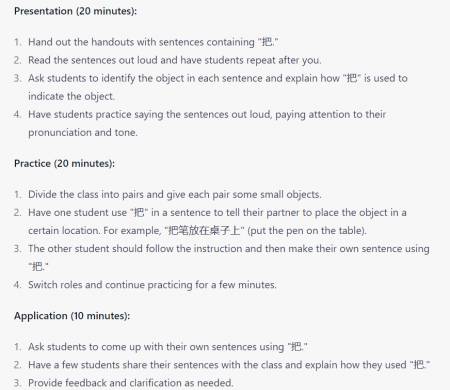 At first glance, I was amazed by the plan it presented which gave step-by-step instructions for a lesson. However, upon closer examination I realized that the plan was actually pretty basic, something an experienced teacher could do instinctively. However, one thing that it did supply was a useful list of example sentences.  
Ultimately, teachers and schools will have to decide for themselves how much of this new AI technology they will want to use as well as allow their students to use. It will probably be a similar situation to when students use calculators in math classes, meaning that students will need to acquire a certain level of competence in the basics before teachers can begin to integrate the new technology into classroom work. 
Author
Heather Buchanan-Schrader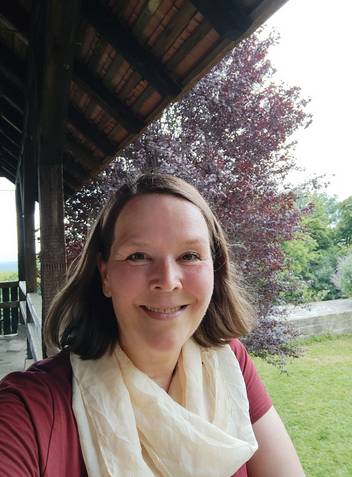 An unashamed language nerd from Anchorage, Alaska, Heather's life has led her to a degree in German and International Studies from Willamette University and a three-year stay in Taiwan with her German husband at the end of the eighties. In Taipei she took intensive Chinese courses at the Mandarin Training Center of Taiwan Normal University and also taught English at the Taipei Language Institute. After the fall of the Berlin Wall in 1989, she became intrigued by the life in a former East Bloc country and finally decided to relocate to Leipzig, Germany in 1991. There she and her husband established the FAE Fachinstitut für Angewandtes Englisch, a private English institute focusing on teaching adults, translations and language coaching. This has been a successful venture for over 30 years.