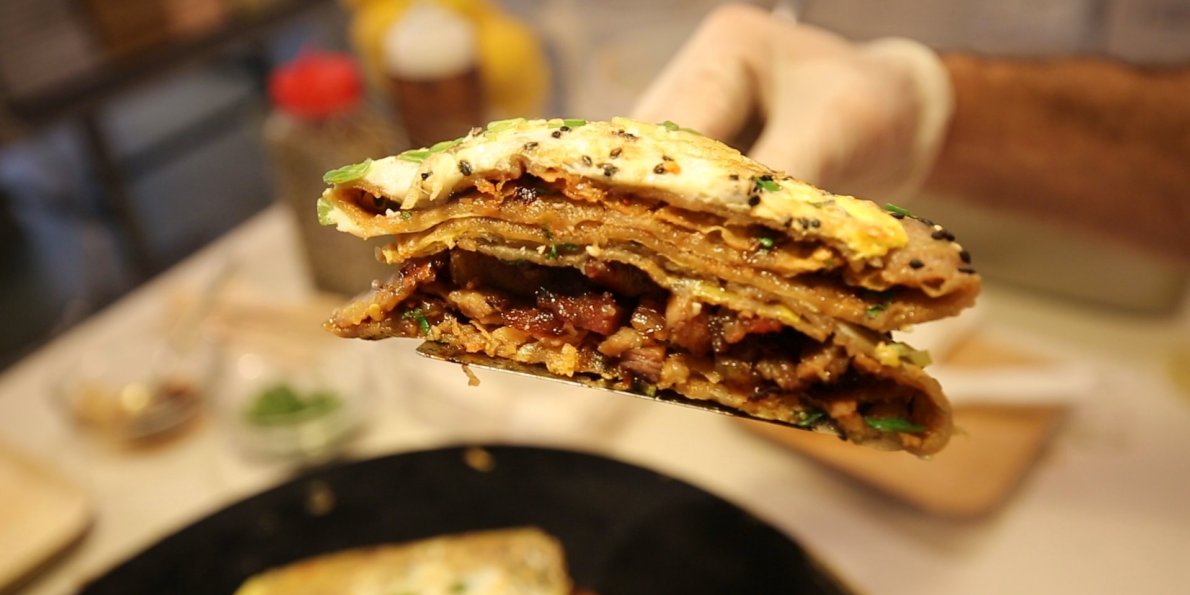 Jianbing (煎饼, TR: 煎餅) is a popular street food breakfast in China that is comparable to crepes, but oh so much better! It's by far my favourite Chinese breakfast and would come close to being one of my favourite Chinese foods. I haven't managed to find it in the UK yet, but with a Jianbing stall opening in New York recently (HSK 2 premium article), there's hope for us all yet!
What is Jianbing?
Jianbing is a savoury pancake-style breakfast which is delicious and full of flavour. A wheat and mung bean base with a filling of egg, coriander, fiery spring onion, pickles, a sweet and spicy layer of sauce, and extra spicy chili sauce if you're feeling brave! A crispy fried cracker or deep fried dough stick can be added to preference.
History
The history of Jianbing can be traced back over 2,000 years in China. According to popular legend, chancellor Zhuge's troops during the Three Kingdoms period (220-280 AD) lost their woks. Tired and hungry in Shandong – where grains and wheat are abundant – they mixed water with wheat flower to make a batter, which they spread over their shields above a flame. The soldiers, bellies full and moral boosted, went on to win the battle and the story of Jianbing was born. Over the years, the recipe and tradition has spread to other parts of China and it is now a popular breakfast throughout the country.
Jianbing has also gained popularity outside of China – we can thank returning travellers for that – but part of the reason that it has failed to really take hold is the skill involved in cooking it. The laoban are experts at making it look easy, but I can promise you that it isn't!
Best Things About Jianbing
Super fresh! Jianbing are always cooked fresh in front of you, but make sure you get in early to avoid a long queue – particularly during rush hour.
Cooked to Preference. Jianbing can be served in a variety of ways (see below), so you can order to your preference. Vegan? Order without the egg!
Where to Find Jianbing
Jianbing can be found on street corners, outside metro stations and popular tourist attractions throughout China. Usually served between 6 and 9am, it may vary slightly from place to place. Jianbing usually cost between 3-3.5 RMB, although additions such as the dough stick or an extra egg will cost you more (usually no more than 1.5 RMB).
How to Order Jianbing in Chinese
(不)要鸡蛋, TR: (不)要雞蛋 – (bù) yào jīdàn – (don't) want egg
(不)要辣椒酱,TR: (不)要辣椒醬 – (bù) yào làjiāo jiàng – (don't) want chili sauce
(不)要葱,TR: (不)要蔥 – (bù) yào cōng – (don't) want spring onion
辣椒,TR: 辣椒 – làjiāo – spicy sauce
油条 ,TR: 油條  – yóutiáo – deep fried dough stick
脆饼 ,TR: 脆餅  – cuì bǐng – deep fried cracker
脆脆的 ,TR: 脆脆的 – cuì cuì de – crispy
甜酱 ,TR: 甜醬  – tián jiàng – sweet hoisin sauce (a must for Jianbing!)
两个蛋 ,TR: 兩個蛋 – liǎng gè dàn – two eggs
If you're yet to try Jianbing, make sure you order one on your next trip to China! Not only an incredibly tasty breakfast, it'll be great practice for your Chinese too!
Be sure to let us know how you like your Jianbing on our social media channels.