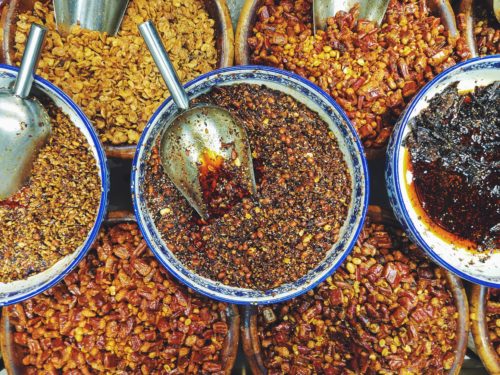 Hunan Cuisine is one of China's 8 Great Cuisines – let's dig in!
Food is a huge part of cultures around the world. So it's no surprise that a diverse country like China is home to so many different types of cooking. Regional cuisines in China can be influenced by location, climate and local culture. Today we'll be giving you a quick introduction to Hunan Province's food culture. We also have Changsha City resident, Francis Mo, onboard to provide us with an insight into local eats. The avid cook will also share one of his recipes with us.
Hunan Cuisine: What are the main flavours and ingredients?
The key flavours in Hunan Cuisine are hot, sour and salty. Hunan and Sichuan are known for their extreme spiciness. However, Hunan cuisine claims to be the spiciest. The region is known for its agriculture, especially the cultivation and export of chilli.  It is thought that chilli was first introduced to the region by Spanish or Portuguese traders centuries ago. Some common combinations are chilli and vinegar or chilli and citrus. If you've ever ordered Orange Chicken from a local takeout then you can thank Hunan cuisine.
Spice is so loved in the region that there is even a Chilli Pepper Festival where people compete to eat the most chillies. The love of spice also has political significance, Mao Zedong who hailed from the region often said that those who could not handle spice were not fit to be revolutionaries.
Hunan Cuisine: Why so spicy?
So we know that Hunan cuisine is spicy. But why do people love it so spicy? One of the main reasons could be climate during damper seasons. Through a combination of local beliefs and Chinese medicine, some believe that eating spicier foods will help regulate body temperature. This in turn will help them manage during damp and cold seasons.
Hunan Cuisines: What do locals like to eat?
So what does Francis say to this question?
"My regions speciality is its spicy Stinky Tofu which has a unique black colour. Our tofu is unique because it is made with a brine made of koji wine, bamboo shoots and dried mushroom.  The fermented tofu dish is a popular street food if you can handle the smell."
Hunan Cuisine: Franci's Mo's quick recipe for steamed fish with Chilli
When he asked him what his favourite food to cook he gave us the recipe for Steamed fish with Chilli:
" For the basic recipe, all you need is: fish (weever fish if possible), garlic, chilli, oil, spring onion, salt.

"First, season fish with salt and cut into thin diagonal slices;

"Second, Fry chilli, onion and garlic in oil until fragrant

"Third, Add water to create broth for boiling fish

"Add fish to broth and removed from heat when cooked."
Still hungry for more? Why not try out our recipe for Chinese Stewed Chicken.