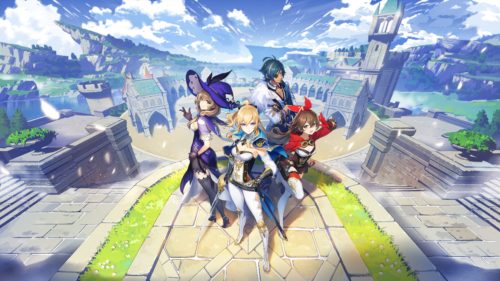 Genshin Impact is an online open-world adventure role-playing game (RPG). Genshin Impact is made by a Chinese company called miHoYo that is headquartered in Shanghai. Genshin Impact is one of the most successful online games of all time and earnt over $2 billion in its first year from mobile game sales alone. As well as being a roaring success for the Chinese online games market, playing Genshin Impact is also a great way to study and teach Chinese! Let's explore the game in more detail and look at the ways in which you can use Genshin Impact to further your Chinese studies.
What is Genshin Impact?

Genshin Impact is an open-world RPG. This means you get to play different characters, while exploring the fantasy world of Tevyat. The game features various storylines, battles, missions, and puzzles to keep users hooked. Within the game, users can interact with their surroundings and even invite friends to join along on the adventures.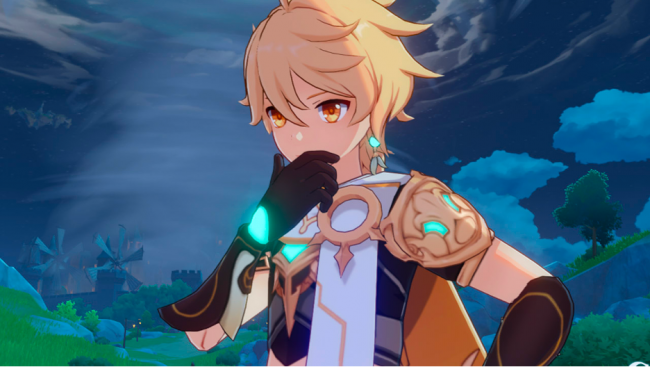 Why is Genshin Impact so popular?

For a game initially available on mobile, Genshin Impact has impressive graphics on par with regular consoles games. Many have compared the game to Nintendo's hugely popular Legend of Zelda: Breath of the Wild. These comparisons have also created heated online debate, especially about the future of Chinese and Japanese game development. However, unlike Zelda, Genshin is free to download. The game's mechanics also mean that it is widely addictive.
Like many popular mobile games, Genshin operates using a "Gacha" system. Like a vending machine, users constantly play (and sometimes pay) in the hopes of winning in-game prizes. Also, the open-world game experience means unlimited exploration so people can spend hours playing.
Who made Genshin Impact?

Genshin Impact is made by Shanghai-based video game development company miHoYo. Genshin Impact was launched in September 2020 and was an overnight success for its developers. The studio began as a project by students at Shanghai's Jiao Tong University so that they could share their love for anime and video games. However, Genshin Impact is not their first successful game. They released a similar game called Honkai Impact in 2016 and have since released other popular games.
Is Genshin Impact a Chinese game?

Genshin Impact is designed, developed and produced in China by company miHoYo. The game is an anime-style open-world environment and is enjoyed by users globally. Although the game originated in China, on any given day there will be over 9 million people playing Genshin Impact around the world.
What is Genshin Impact's name in Chinese?

Genshin Impact's Chinese name is 原神 (Yuánshén), which translates as 'original God'. In the concept of the game, Genshen are visions that are granted by the Gods and bestowed on characters, but not all of them appreciate the visions.
Why is Genshin Impact so important for China?

The success of Genshin Impact and its developers miHoYo has elevated China's presence in the gaming development world. Genshin Impact was reported to be 'the biggest ever global launch' for a Chinese game. In the past, mobile games such as Genshin Impact have often been the success stories of Japanese game developers. However, now that Chinese game developers are multiplying their success, China could soon have a complete foothold on the market which will create fierce competition. For years, Chinese consumers have been the main drivers behind the mobile gaming boom, but now Chinese developers will be too.
Countries where Genshin Impact is popular

Genshin Impact has been a roaring success globally. The top five countries for downloads of the game are shown below:
China (24%)
USA (11%)
Brazil (7%)
Japan (6%)
Indonesia (6%)
Other (46%)
Can I learn Chinese by playing Genshin Impact?

Playing Genshin Impact in and of itself should not be your primary source of learning Chinese. However, playing Genshin Impact can be a good way to supplement your Chinese language. By playing Genshin Impact every day, you will have daily exposure to Chinese language which is such an important aspect when learning a language. As we always highlight, studying little and often and in a form that you enjoy is one of the most powerful ways to learn a language. Genshin Impact is not appropriate for beginner and foundation learners of Chinese.
Another issue with learning Chinese through Genshin Impact is that a lot of unfamiliar Chinese vocabulary is used, and the English translations are not always accurate. Therefore, in the same way many games in English use 'mythical' or 'old' language to help convey a message or feeling, Genshin Impact does the same in that it employs some out-of-date Chinese words and phrases. Users should therefore take care when learning vocabulary from Genshin Impact.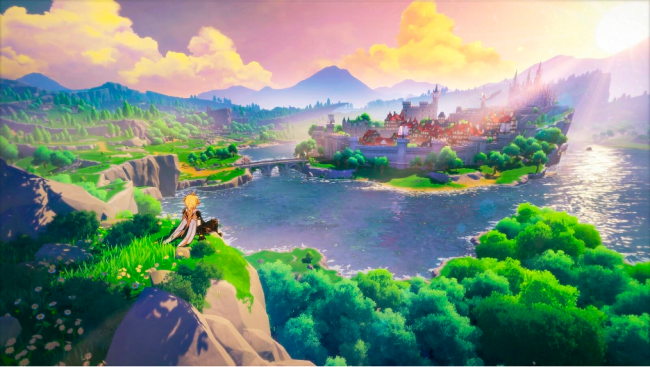 Does playing Genshin Impact help Chinese heritage speakers learn Chinese?

Playing Genshin Impact and other online video games is a popular way for Chinese heritage speakers and second-generation Chinese learners to improve their Chinese language. Consuming media in Chinese will improve your vocabulary and is most powerful for people who already have a solid understanding of Chinese language and grammar. If you encounter too many new words in the game, it may interrupt gameplay, so it's important to have a strong start before playing games such as Genshin Impact.
For maximum effect, Genshin Impact should be used in combination with other resources, such as The Chairman's Bao, that are more powerful tools for improving Chinese literacy. Studying through daily news-based lessons, alongside exposure to vocabulary in context with games such as Genshin Impact, is a helpful way to reinforce language and learn new words.
How to use video games to learn Chinese

Learning Chinese by playing video games is a popular method for reinforcing Chinese in context and learning new vocabulary. As we've mentioned, it's important to have a good understanding of Chinese before making the switch to playing a video game in Chinese language. Here's some tips for how you can use to use video games to learn Chinese:
Study with gamification. Gamification helps to keep interest in learning Chinese and can be a great way to learn vocabulary in context.
Play with and meet friends who are learning Chinese or are native speakers. Join an online community of people who play popular games such as Genshin Impact. Play with another language learner as you tackle the game together!
Keep track of new vocabulary. Make a note of new vocabulary and add word and phrases to your flashcard decks. You could then practice the new vocabulary with your friends online!
Play on the go. All you need to get started is your phone, tablet, or computer. Not all games require internet access, so you can pre-download some games to play on your travels or on your way into school or work.
Learn through repetition. Video games feature repetitive actions and activities, so you are likely to encounter the same vocabulary over time. Exposure to vocabulary in context like this can help you to improve your Chinese.
Have fun with positive associations! Video games are a great way to make your Chinese study more fun and aids with positive associations when studying the language. Video games can be a great supplementary resource to study Chinese!
How to teach Chinese with video games
You can use video games as a method to teach Chinese. Research suggests that teaching through video games helps to improve student interest in the language. Teaching Chinese through video games should not be employed as a primary teaching method, but it can be beneficial as a supplementary activity.
It is important to choose level- and age-appropriate games for students to study Chinese and it important to check that the games are approved for use in the classroom by the school and district, and whether parental consent is required. Teaching through video games may therefore be most appropriate for adult and extra-curricular learners of Chinese, so consent can be more easily attained, and students can be better supported with one-to-one time with the teacher.
Conclusion
In short, you can certainly use games such as Genshin Impact to supplement your language study and have fun in the process. Building video game play into your weekly study routine can help with positive associations and learning new vocabulary. Be sure to use video games alongside other resources for maximum effect, don't just rely on game play as your primary study material when studying and teaching Chinese!
Author: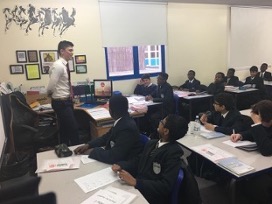 Sean McGibney speaking to students at Beths Grammar School about his experience of learning Chinese, living in China and founding Newsdle and The Chairman's Bao. 
Sean studied Chinese and Spanish at University of Leeds and founded The Chairman's Bao alongside Tom Reid in his final year of study in 2015. Current Managing Director of The Chairman's Bao, he has overseen the company's growth from university bedroom concept to an international force in the EdTech industry with over 200,000 individual users and over 400 global partner institutions. Sean also launched Newsdle alongside Tom Reid and Oliver Leach in 2021, for students and teachers of Spanish and French. In his spare time, Sean is still a keen language learner and runner. He also sits on the Board of charity Leeds Irish Health and Homes in the UK.