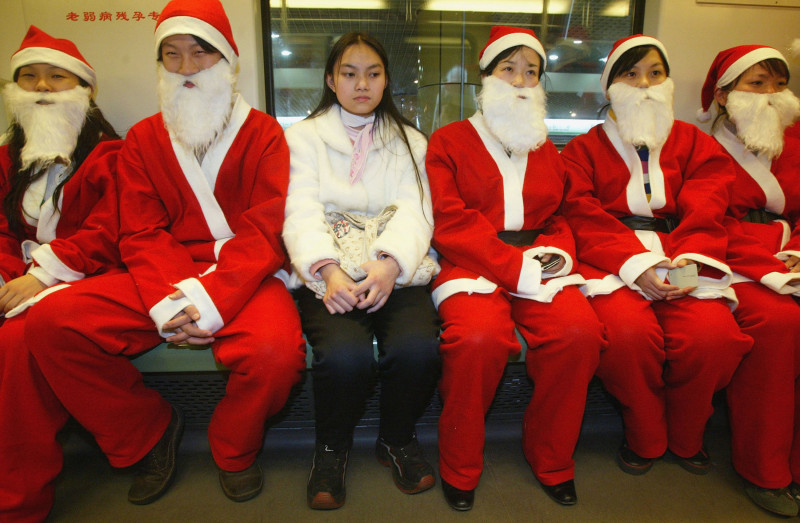 From Xi Jinping's visit to Santa's official cabin in Finland back in 2010 to the festive carol singers at this year's Santaville event in Shanghai, China is slowly starting to embrace Christmas. In fact, research from China Social Survey Institute (CSSI) indicates that it may now be the second most-celebrated festival after Chinese New Year amongst young Chinese – a bi-product of billions of yuan spent on overseas education for the little emperor and empress generation, no doubt.
Whilst decorations at home remain relatively uncommon, large shopping centres, banks and restaurants often usher in the holiday with festive trees and lights, many of which remain hung well past the Twelfth Night (although I suspect there is already enough auspicious tradition in China to worry little about a few baubles that have overstayed their welcome).
Let's start with some Chinese Christmas vocabulary to get us in the festive spirit:
Christmas – shèng dàn jié – 圣诞节 (Holy Birth Festival) [TR: 聖誕節]
Santa Claus – shèng dàn lǎo rén – 圣诞老人 (Christmas old man) [TR: 聖誕老人]
Christmas Tree – shèng dàn shù – 圣诞树 [TR: 聖誕樹]
Merry Christmas – shèng dàn kuài lè- 圣诞节快乐 [TR: 聖誕快樂]
Christmas Presents – shèng dàn lǐ wù – 圣诞礼物 [TR: 聖誕禮物]
Stocking – shèng dàn wà – 圣诞袜 [TR: 聖誕襪]
Christmas Eve – ping ān yè – 平安夜 (Peaceful Evening)
Sleigh – xuě qiāo – 雪橇 [TR: 雪橇]
Reindeer – mí lù – 麋鹿 [TR: 麋鹿]
Angel – tiān shǐ – 天使
Snowman – xuě rén – 雪人
Christmas for Christians in China:
Despite the fact that most people who celebrate Christmas in China overlook its religious roots, services are held at state-run churches in China and at houses of worship in Hong Kong, Macau and Taiwan. There are now an estimated 100 million Christians in China, so you won't have to look far to find the 'traditional' meaning of Christmas. For anybody visiting during the festive period, services are held in a variety of languages there's no need to learn the Lord's Prayer in Chinese (although props to anybody who puts in that kind of effort).
Christmas Eve in China (平安夜):
Christmas Eve is an important day for Christians in China, as they pack church congregations for carol singing, dance and drama performances. Its name (Peaceful Evening) comes from the Chinese translation of the popular Christmas Carol, Silent Night, which will feature later.
In recent years a more unusual tradition has developed, where people give gifts of apples to their friends and relatives. Apple in Chinese is 苹果 píngguǒ, which sounds like 'peace' in Mandarin.
For an even more Chinese Christmas Eve, many Christian families also choose to gather around the karaoke machine to sing their favourite hymns – not sure I would be taking the mic before a few bottles of Tsingtao, though.
Is Christmas a Public Holiday in China?
Christmas isn't a public holiday in China, the next of which falls from January 1st-3rd. In Hong Kong, Christmas Day and Boxing Day are both public holidays, whereas in Macau offices shut for Christmas Eve and Christmas Day (due to British and Portuguese influences respectively). Christmas isn't a public holiday in Taiwan, but is usually celebrated more than on the mainland.
A Chinese Christmas Carol:
Silent Night in Chinese (平安夜)
Silent Night, Holy Night
平安夜圣善夜 píng'ānyè shèng shàn yè
All is calm, all is bright
万暗中光华射 wàn ànzhōng guānghuá shè
Round yon virgin, mother and child
照着圣母也照着圣婴 zhào zhe Shèngmǔ yě zhào zhe Shèng Yīng
Holy Infant, so tender and mild
多少慈祥也多少天真 duōshao cíxiáng yě duōshao tiānzhēn
Sleep in heavenly peace
静享天赐安眠 jìng xiǎng tiāncì ānmián
Sleep in heavenly peace
静享天赐安眠 jìng xiǎng tiāncì ānmián
How do young people in China celebrate Christmas?
For young people in China, Christmas often presents an opportunity to get together with friends for (you've guessed it): Karaoke, McDonalds and drinking! As we know, China needs little incentive to go on an online spending spree, although an ever-increasing number of annual festivals provide a welcome excuse, and Christmas is certainly no exception. Retailers offer discounts in the spending lull between Double Eleven and Chinese New Year, so Christmas is often viewed as a chance to pick up a bargain.
Christmas Food in China:
Traditional Christmas feasts are on offer at Western hotels and restaurants throughout China and Hong Kong, Macau and Taiwan. One other Chinese Christmas tradition that I really want to get on board with is八宝鸭 (bā bǎo yā, eight treasures duck), the Chinese version of a stuffed turkey. It's a whole duck stuffed with diced chicken, shrimp, smoked ham, chestnuts, bamboo shoots and dried scallops, stir fried with other treats. Yes please!
Got any traditions that we have missed or spending the festive season in China? Be sure to get in touch via social media or our contact form with pictures and comments – we love to hear from you!
One last thing, thank you to all of our users for making 2015 an incredible year from all of us here at TCB. We can't wait to see what 2016 has in store and we have some very exciting announcements to make in the near future – 圣诞节快乐!