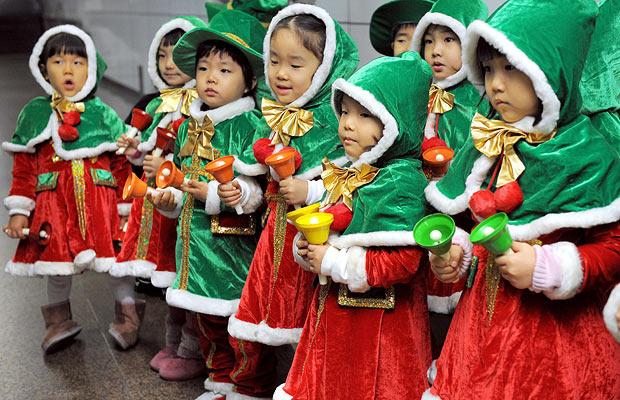 Although not a traditional holiday celebrated in China, Christmas has become much more popular in recent years. Chinese cities now have lots of Christmas decorations in public areas for people to enjoy. Particularly among young people, it's also a good opportunity to grab a bargain in the stores!
We already brought you the essential list of Chinese Christmas vocabulary. There are also a whole host of Christmas greetings in Chinese that you can use with your family, friends, teachers and classmates this festive season.
5 Christmas greetings in Chinese
圣诞节快乐 – shèng dàn jié kuài lè – Merry Christmas
This is the most common Christmas greeting in Chinese which when put together means 'festival of the holy birth'. The compnents are made up as:
圣 – sheng – saint
诞 – dàn – birth
节 – jié – holiday/festival
How about giving the song We Wish You a Merry Christmas a go in Chinese? It uses the above phrase!
我们祝你圣诞快乐
Wǒmen zhù nǐ shèngdàn kuàilè
我们祝你圣诞快乐
Wǒmen zhù nǐ shèngdàn kuàilè
我们祝你圣诞快乐
Wǒmen zhù nǐ shèngdàn kuàilè
祝你新年快乐
Zhù nǐ xīnnián kuàilè
祝福您,新年快乐 – zhùfú nín, xīnnián kuàilè – Seasons greetings and happy new year
佳节快乐! – jiā jié kuài lè!) – Happy holidays
心想事成 – xīn xiǎng shì chéng – May all your wishes come true
寒假快乐! – hánjià kuàilè! – Happy winter holidays
Did you enjoy the intro to the Christmas carol above? If so, why not study these Chinese Christmas carols? A great way to practice your festive vocabulary in Chinese in a fun way.
Merry Christmas!