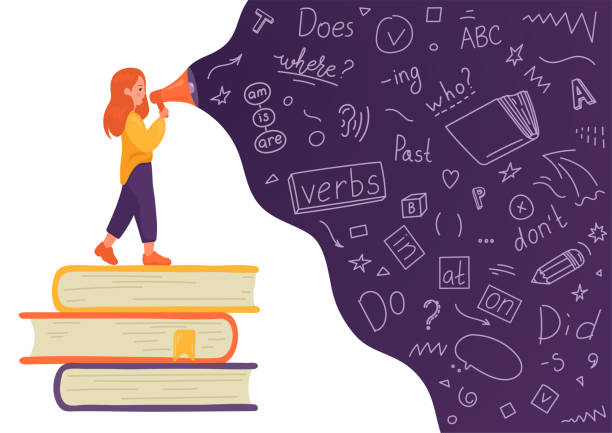 Everybody knows that learning Mandarin is no picnic. Not only are the pronunciation phonetics completely different from most Western languages, there is also the completely new aspect of learning to use the four tones. Of course, the one feature of Chinese which seems almost insurmountable for beginners to learn is reading Chinese characters.
What is the best way to learn to read Chinese?
The answer is simply to read as much as possible in Chinese. Practice reading good material at your correct level in Mandarin every day if you can. Soon all those characters which seemed impossible learn will become familiar. What is the correct level for you to practice reading Mandarin? Not too easy, not too hard. You are going to want to develop the skill of guessing at the meaning of words from the context. This is only possible if you hit the sweet spot of having to look up a maximum of one word every sentence or two. It's also important to make clever use of the technological features which many modern Chinese reading websites offer such as pop-up dictionaries, audio files, turning on/off Pinyin and translation functions so that you can make your reading sessions even more effective.
How can beginners find good Chinese reading materials which are free of charge?
As most students soon discover, there are truly a wealth of materials available for Chinese reading practice such as websites or podcasts with transcripts. Many of these provide excellent, well-thought-out materials. Often, however, these offerings are only available for the price of a subscription, which puts them out of reach of many Mandarin learners, especially university students. Even for those learners who can afford to subscribe to one or two services, the costs will soon add up if they don't begin to make choices. That's why I have highlighted the best Chinese reading practice resources for beginners which are available free online in this article.
Excellent Chinese reading materials for beginners – and for more advanced students too:
1.     Mandarin Bean
Mandarinbean.com lists a great variety of free Chinese reading materials, including very many Chinese articles for beginners. This site offers all of the best features that websites for Chinese reading practice can provide. These include a button to turn Pinyin on or off, a similar button to switch between traditional and simplified characters, a pop-up dictionary when you mouse over a word and finally a recording of the text made by a real person reading in a clear voice at a speed appropriate for the level. Additional, paid (about 30$/year) features include lesson notes and a translation of the text.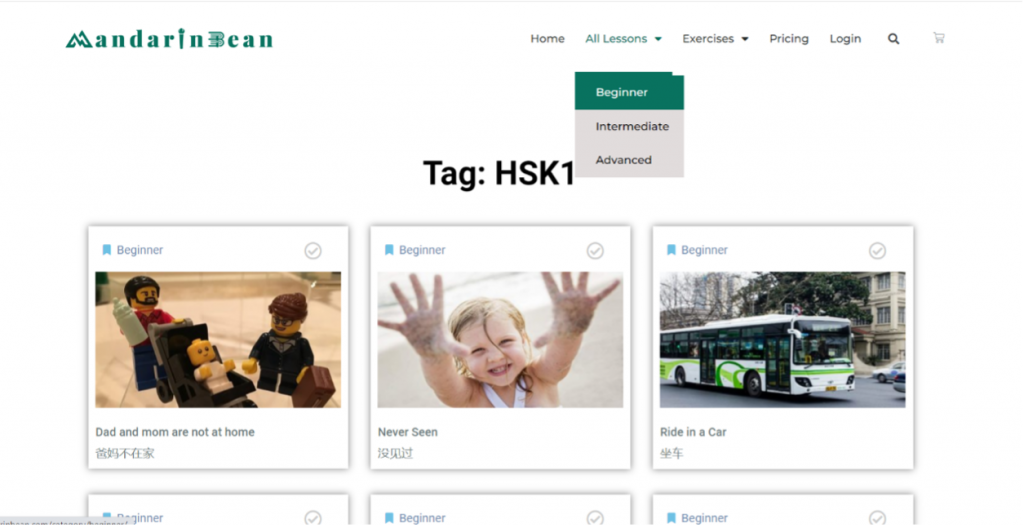 How to use Mandarin Bean for Chinese reading practice
This site offers so many possibilities for you to learn to read Chinese materials: Try reading first with the Pinyin on, then turn it off and read the text once again. Listen to the text while you read along. Give yourself a dictation exercise by pausing the recording to practice writing the characters. All of these methods have the advantage of activating different parts of your brain, which will make your Chinese reading practice much more effective.
2.     Chinese Reading Practice
Chinesereadingpractice.com provides interesting stories using simplified characters and offers most of the features of Mandarin Bean (pop-up dictionary, Pinyin on/off). There is no audio recording but in place of that you will find a side-by-side translation of the text which you can turn on or off as well as a very good explanation of key vocabulary before reading the text. Texts are available for all levels from beginner to HSK 6+. The beginner articles seem to be a bit more difficult than Mandarin Bean, perhaps more suitable to HSK2 learners. One thing I noticed is that this site hasn't posted new stories since 2020.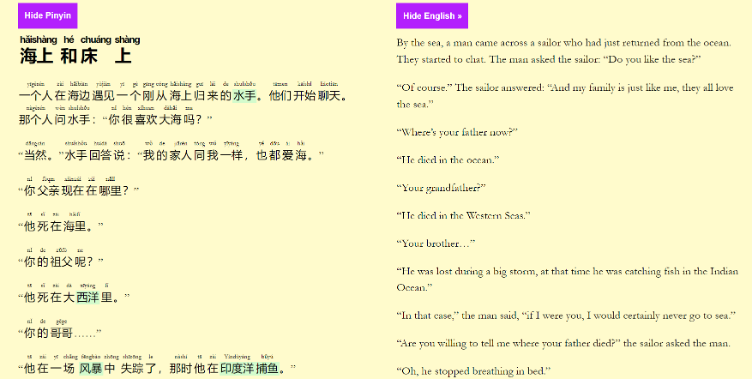 How to use Chinese Reading Practice
Take advantage of the explanations of key vocabulary to prep yourself before you learn to read the Chinese materials. In addition, test your translation ability by turning on and off the translation feature.
3.     My Chinese Reading
Mychinesereading.com offers a very good but a slightly quirky selection including everything from stories about baby swallows to the regulations for football pitches. I love the selection of Chinese songs complete with lyrics and videos. You will find something for all levels, including true beginners' Chinese reading materials. In other words, it's worth taking a look at the articles just to see if something might strike your fancy. The site features pop-up definitions and a discussion of key words as well as translations of difficult sentences. Some of the reading texts have sound (authentic recording) but many do not. Recordings sound like they were not made in a studio and the tempo is often quite fast.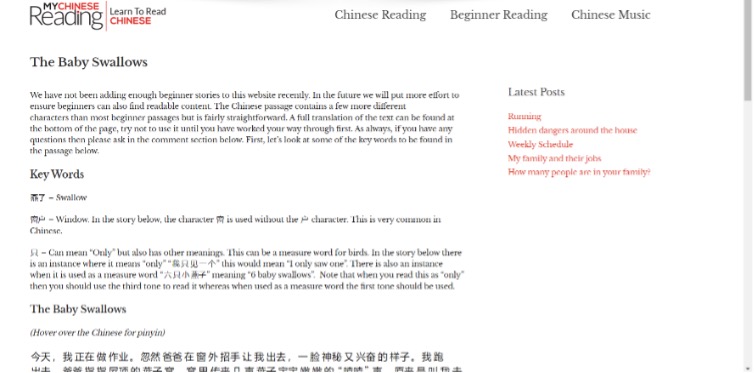 How to use My Chinese Reading
The various tempos, sound qualities, etc. of the recordings can be more challenging than typical slow "teacher language", but you can use this to your advantage. Try listening to the recording first, then reading and studying the text and finally listening again.
4.  Hskreading.com
HSK Reading provides a huge bank of Chinese reading practice texts for all levels with a lot of content for beginners. The site features a pop-up dictionary. All of beginner Chinese reading texts and many of the more advanced ones are supplied with an authentic recording spoken at a slow tempo. The Chinese reading texts for beginners are also supplied with a translation which can be turned on or off.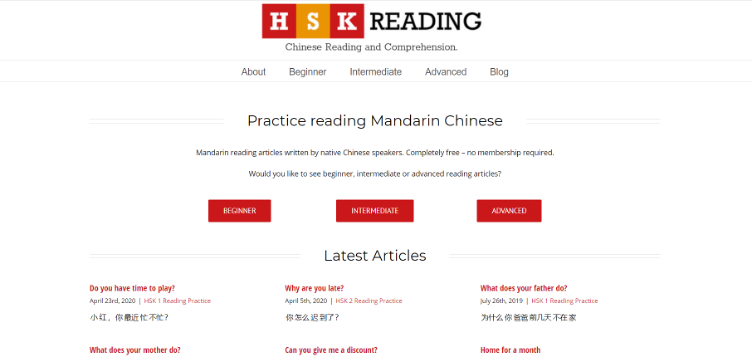 How to use HSK Reading
These texts all tend to be on the short side, so they are perfect for a quick study. The recordings are also worth listening to on headphones since they are read in a clear, slow language.
The Chairman's Bao is not a free site but it does offer some free sample content which changes every week. This website offers a huge database of news articles expertly curated to match all HSK levels including countless Chinese articles for beginners. The articles feature all of the top technological features you would expect from a good site for Chinese reading practice (pinyin on/off, translation, professional audio recordings, etc) and moreover provides such excellent tools for each article as flashcards, Chinese character writing practice and text or audio testing. These tools are available for the free articles as well.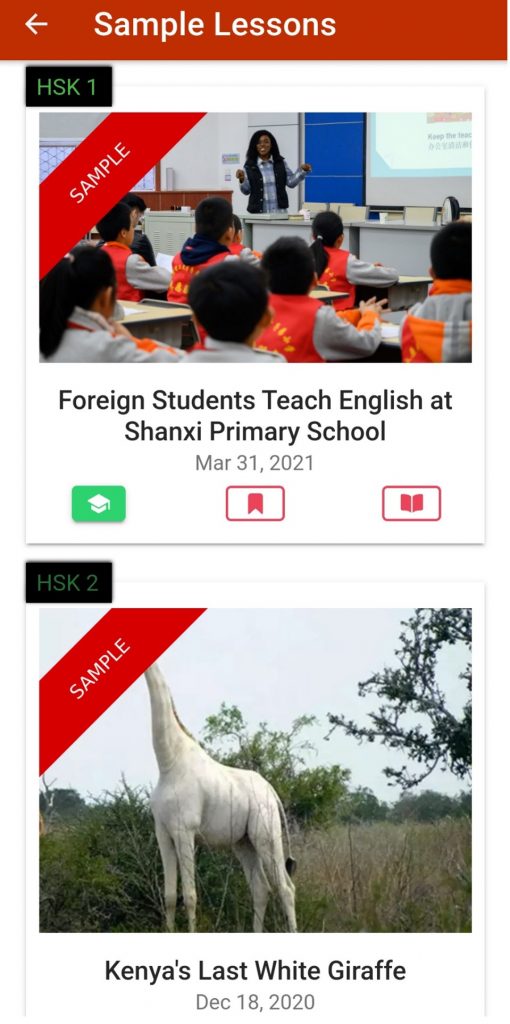 How beginners should use The Chairman's Bao for the best Mandarin reading practice
Check the site/app frequently because the free articles will change very often. Once you find an article at your level (or below your level is also good because this promotes speed and fluency in reading Mandarin), use all the features such as flashcards, writing practice and tests to milk it for what it's worth so that you can reinforce all the synergistic learning effects.
6. Chinese Class 101
Chineseclass101.com is also subscription based, but offers a lot of free resources, especially suitable for beginners. Check out their free list of key phrases which includes a nice feature of magnifying the Chinese characters to a huge size if you mouse over them. I especially like the free, printable "Cheat sheets" from this site covering a multitude of topics such as supermarkets, travel and romance.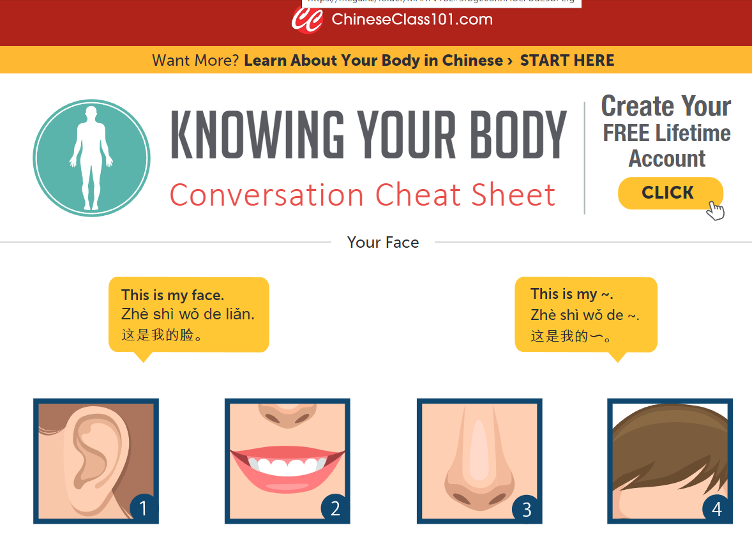 How beginners can use Chinese Class 101 for your Mandarin reading practice
Test your Chinese reading ability by turning off the Pinyin when you read the key phrases in Chinese. Print out one of the "Cheat sheets" at a time and use it to study Chinese reading when you are on the go.
7. M Mandarin App
This unique app is not completely free, but seems to offer a bit of free content for all HSK levels, and quite a few for beginners. The app, uses the medium of comics/mangas to teach Chinese reading. Mangas, of course, would seem like the ideal way to practice reading Mandarin – after all, there are pictures to illustrate everything that is written. Most manga apps or online mangas, however, do not allow the reader to mark and copy words or sections of text so you can then look them up in an online dictionary, making the process of reading and translating quite cumbersome. This app solves that problem by offering all of the technical features (excellent audio, pop-up dictionaries, etc.) that facilitate the process of practicing Chinese reading and embedding them in the engaging format of comics. The reading is then reinforced by tests, exercises and a useful self-recording audio feature.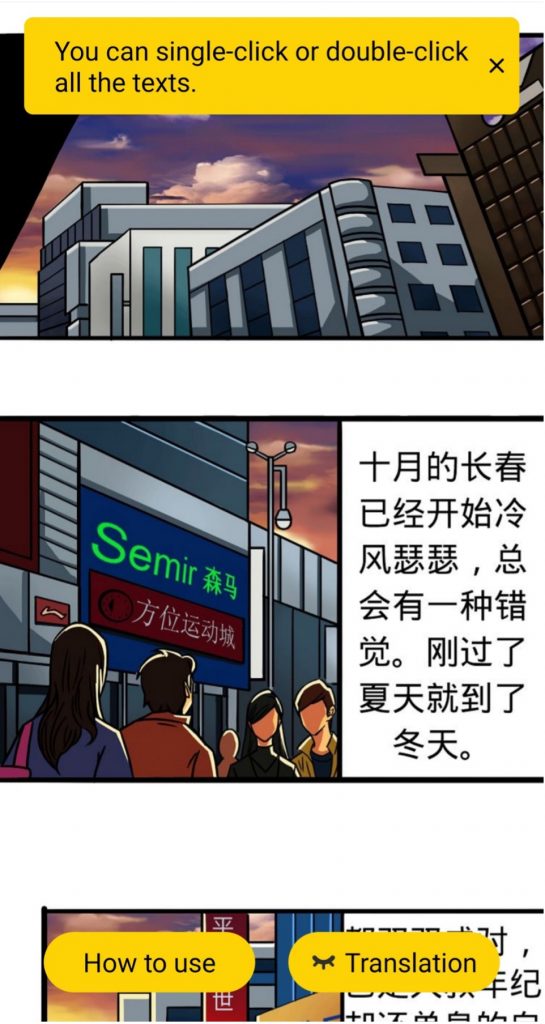 How to use M Mandarin
Try reading the content line by line and then listening to the audio. For the second reading, reverse the process and just listen to the audio as you look at the pictures and then read the text.
8. Chinese-Tools.com
While this site is outdated and cumbersome to use, I have included it because it has a good stock of beginner Chinese reading resources for students who are in their first few months of learning the language. You can't turn off the Pinyin.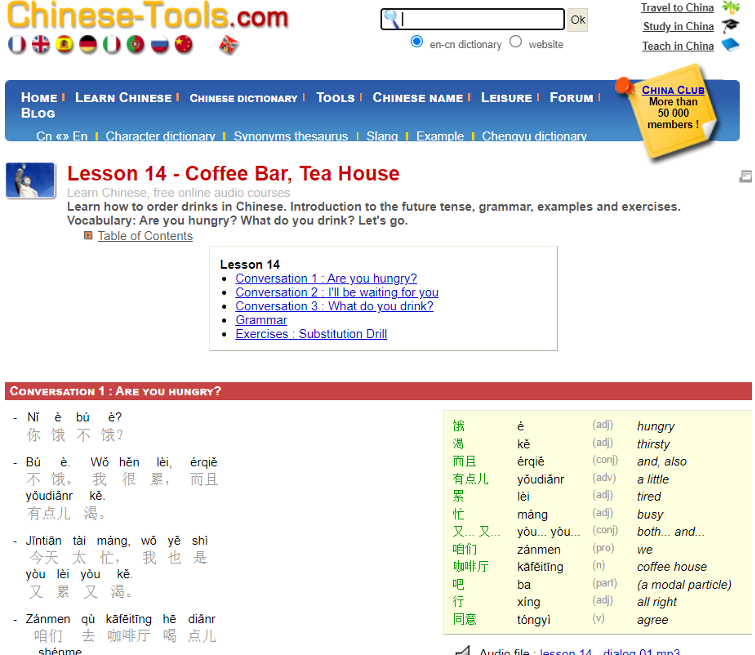 How to use Chinese-Tools
Go to this site if you are a true beginner and looking for some reading practice in addition to your textbook.
The last two sites offer some good reading materials, but they don't supply the technical tools such as pop-up dictionaries which the other sites have. If you get stuck with your reading, remember you can always copy/paste text sections into such online translation tools as Google Translate or DeepL. There are also some excellent apps such as DuShu or Readibu which will convert your text into a format with pop-up dictionaries, translation, pinyin, even machine generated audio.
9. Yes! Chinese
Yes-chinese.com features a huge stock of nicely illustrated material which seems to be aimed at very young learners and there is also a lot of Chinese reading material which would suit complete beginners. Unfortunately, all of their nice features such as pop-up dictionaries and audio files won't work because they are all powered by Flash, which is now out of date and no longer supported by Adobe. This site seems to be very well-designed, so there's a good chance that they will update their features with more current technology.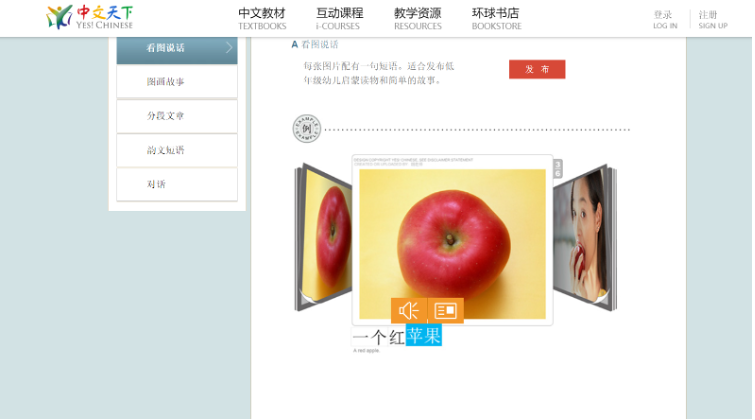 How to use Yes! Chinese for effective Chinese reading practice
If you are a complete beginner, you can still use this site for Mandarin reading practice even if the Flash functions don't work. I suggest working with your PC so that if you get stuck with a translation or need to see the Pinyin, you can open another tab with Google Translate, then copy the text section and paste it the program which will provide you with a translation and Pinyin transcription. Even the machine-generated audio isn't as terrible as it used to be and will serve the purpose of modelling the correct pronunciation.
10. Ipanda.com
Finally, after all that reading, I suggest you take a break and venture into an authentic Chinese website that is all about – pandas! This features pictures and videos of pandas, pandacams at the various panda locations around the world. By reading the picture captions, you will be using a simple method to venture into an authentic Chinese reading experience. Feel free to use a translation program to help you!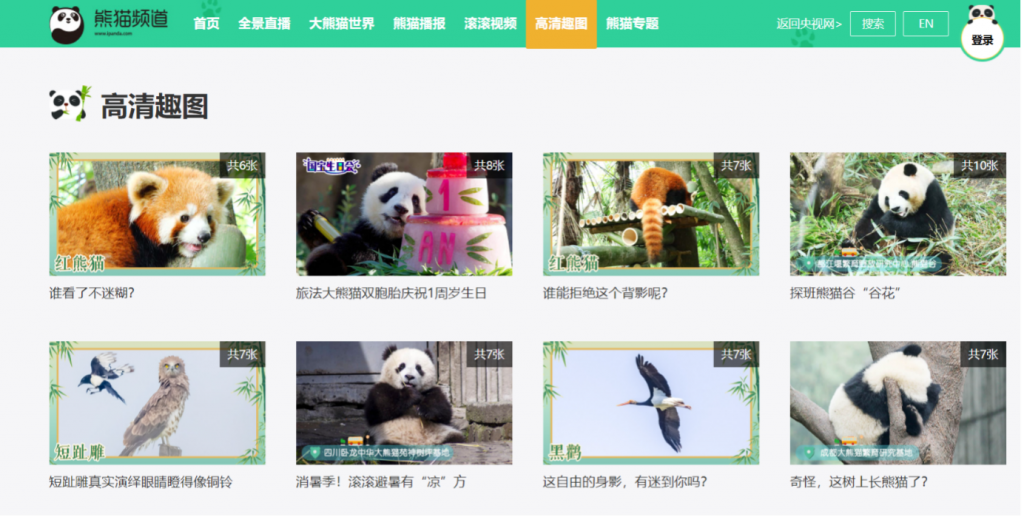 How to use Ipanda.com
If you are a true beginner, try to see how often you can spot the word Panda 熊猫 (xióng māo) on the page! Basically, you can use this approach with any topic that interests you, such as cooking or sports. Use your knowledge of Chinese characters to do a search on the topic and see what results you get. In the beginning, use a translation program to help you.
Author
Heather Buchanan-Schrader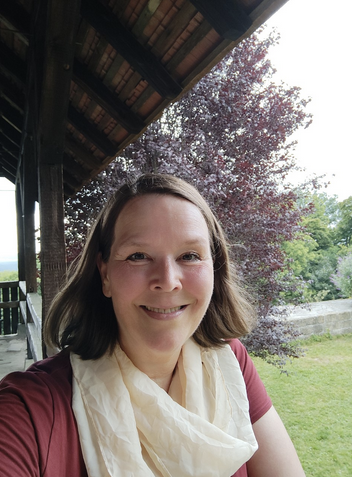 An unashamed language nerd from Anchorage, Alaska, Heather's life has led her to a degree in German and International Studies from Willamette University and a three-year stay in Taiwan with her German husband at the end of the eighties. In Taipei she took intensive Chinese courses at the Mandarin Training Center of Taiwan Normal University and also taught English at the Taipei Language Institute. After the fall of the Berlin Wall in 1989, she became intrigued by the life in a former East Bloc country and finally decided to relocate to Leipzig, Germany in 1991. There she and her husband established the FAE Fachinstitut für Angewandtes Englisch, a private English institute focusing on teaching adults, translations and language coaching. This has been a successful venture for over 30 years.