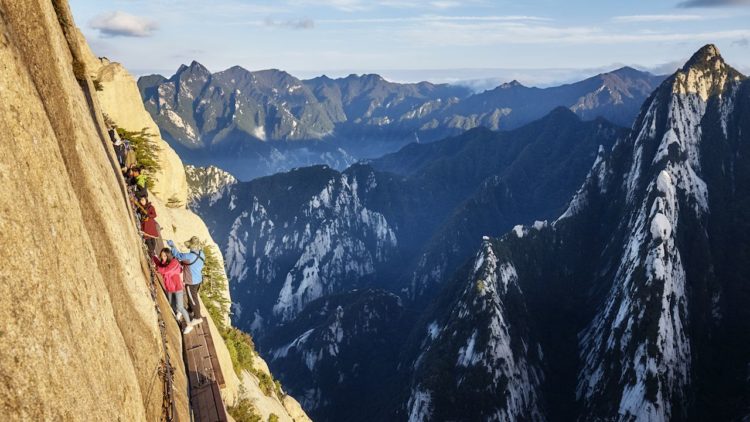 When you think of China, you probably think of its bustling metropolitan cities like Shanghai or Beijing. However, China is home to some of the most beautiful landscapes in the world, which are best accessed through hiking.
Hiking in China might seem daunting as it's such a big country. However, to ease you into the idea, here is a list of some of China's best hiking spots throughout the country.
1. Guilin/Yangshuo

Guilin is one of China's most popular tourist destinations as it's home to so many beautiful sights, from the Li River to Longji Rice Terraces. There are a variety of different hikes to choose from, covering different parts of the area and can take as long as 5 days to complete. Hiking in Guilin is a good way to escape the usual tourist masses and enjoy viewpoints that you wouldn't get to see on a regular tour. Yangshuo is a nearby town renowned for its karst peaks. It has numerous walking paths and different treks of varying difficulty levels.
2. Mount Hua

Mount Hua (or Huashan) has 5 peaks and is known to be one of the most dangerous hikes in the world. It is located close to Xi'an, home of the Terracotta Warriors. It is one of China's most sacred mountains and is renowned for it's "thrilling" trails that in some cases leave you walking over a plank of wood at 2,000m.
If you're not into terrifying hikes, you can still enjoy a tough 12km climb up which is before it starts to get scary, or take a cable car up and still be able to enjoy the views!
3. Jiuzhaigou Valley National Park

Located in Sichuan Province, Jiuzhaigou Valley National Park is known for its multi-level waterfalls, colourful lakes and snowy mountain peaks. With a new bullet train, the national park is now easy to get to from Chengdu. The base elevation is 1,800m and can go up to 4,500m. This hike is more leisurely and goes at a slower pace, allowing you to take in all the diverse and colourful sights around you.
4. Zhangjiajie National Forest Park

Located in Hunan province, this national park is one of China's most unique and special sights, which actually inspired Avatar's floating forest! The sandstone pillars can be up to 350m tall. Hiking around the national park is the best way to avoid the crowds. However, if you're feeling tired you can ride on the world's tallest lift, over 300m tall!
5. The Great Wall of China – Jiankou Section

The Great Wall offers so many different types of treks that suit everyone and definitely an absolute must do when visiting China! If you're looking for a challenge, look into hiking the Jiankou section in the Huairou District. This section is known for being one of the most difficult sections to hike as it's not been fully restored like other parts of the wall. It's only 45 miles north of Beijing and is generally easy to access. Hiking the whole Jiankou section, from the Nine Eye Tower to the Ox Horn Edge Wall can take approximately 2 days.
Thinking of going to China but want something off the beaten path? Click here to find out the best spots outside of China's bustling cities.