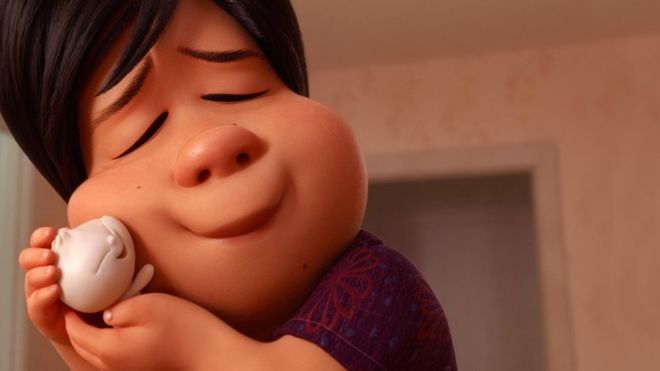 This year, the Oscars were full of surprises as unexpected wins from a variety of major categories. However, our favourite win of all was 'Bao', winning the Academy Award for Best Animated Short.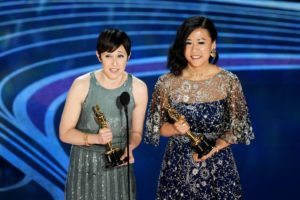 'Bao' is a Disney Pixar short film by Chinese-Canadian director Domee Shi. This is animator Domee Shi's directorial debut, and the first time a female has directed a Pixar animated short film, never mind winning an Oscar as well!
'Bao' had tough competition, it was up against four other animated short films. This included Animal Behaviour by directors David Fine and Alison Snowden, and Weekends by Trevor Jimenez.
'Bao' tells the tale of a lonely Chinese woman, suffering from empty nest syndrome with a busy husband. She receives a second chance at motherhood when her small homemade bao comes to life at the dinner table after her husband rushes to work.
The animated short film shows little Bao growing up fast and quickly leave their home. The short film demonstrates all the woes experienced by a mother seeing her child grow up too fast that leads to an eventually lovely, but unexpected ending. (We won't spoil that part for you!)
The short film was inspired by Shi's relationship with her own mother. She previously said she felt prideful in representing her Chinese culture and heritage through her short film.
Pixar's short films usually gather as much attention as their feature length movies. They are renowned for their intricate details which is especially articulated in 'Bao'. Shi's mother, a Chinese-Canadian immigrant was a "cultural consultant" on the film, and her dumpling making skills were used to help perfect the film. They made sure that the dumpling making scenes in the film were as accurate as possible from watching her mother make them.
Asian communities around the world celebrated the animated short and congratulated Shi for her great achievement. Social media was taken by storm, particularly Twitter as fans expressed their delight.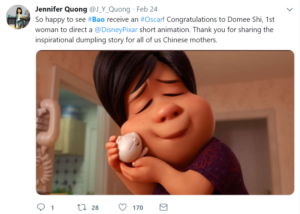 Enjoyed 'Bao' and want to know more about Chinese film? Click here to find out about popular Chinese TV shows.