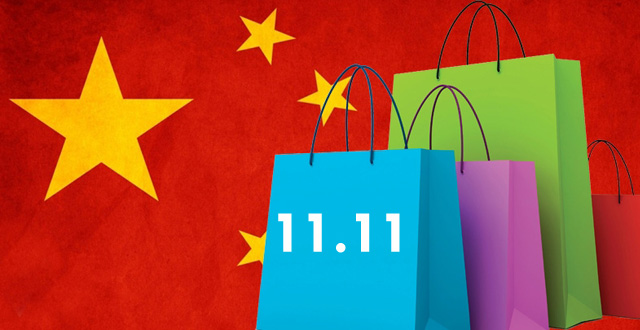 Keep your Black Friday and Cyber Monday, China's Double Eleven goes one better.
If '1' means single, then 11·11 (11 November) is a sight for sore, single eyes around the world. Historically in China single men have been referred to as 光棍 (guānggùn – smooth sticks), the stick symbolic of loneliness. It was said that single men used to play Mahjong from 11 in the morning until 11 at night, without anybody to love. The number '1' came to symbolise the stick and 11 November became a day to spare a thought for all of the single bachelors out there, but hold back the tears…
双十一 (Shuāng Shíyī – Double Eleven), Singles' Day, China's Anti-Valentine's – call it what you will, last year Alibaba's transaction value exceeded RMB57.1 billion (US$9.28 billion) on 11 November. Alibaba's revenue has also risen by 32% in the last quarter – an eye-watering statistic even by China's standards, and savvy foreign retailers are clamouring to get on board.
It all started back in 2009 when Alibaba's Tmall hatched a plan to turn Double Eleven into a mega-discount day for online shoppers in China. What single person doesn't like a spot of retail therapy to cure their lonely blues? Even better – what if those poor souls didn't even have to leave the comfort of their own homes to do so, and could instead wrap up in a blanket of imported chocolates and inflatable lovers? After all, no singleton likes to be reminded of their loneliness by witnessing other couples playing tongue tennis in the street, right? Genius.
Conveniently placed in the spending lull between National Day and the Chinese New Year holiday, the day has developed an almost cult following in China. Alibaba's ability to tap into the pockets of China's emerging middle class and affluent young population has undoubtedly been the cornerstone of its success.
This year over 40,000 merchants, 30,000 brands and 6 million goods are expected to join the campaign, in what is the biggest online shopping day in the world. This includes over 5,000 international brands from 25 different countries. Alibaba has been aggressively recruiting overseas companies – even the U.S. Meat Export Federation got involved at a recent event at Alibaba's headquarters to promote the sale of U.S. pork in China. I'm not sure that cut-price pork is the way I'd choose to celebrate my Singles' Day though…
Other international brands such as Estee Lauder, Mars and British supermarket giant Sainsbury's will team up with local retailers to offer discounts of up to 70% for the promotion. However, some netizens have complained in recent years that the festival just leads to an artificial price hike in the build up to the campaign, so retailers can offer deceptively large discounts on the day. Regardless, the day remains vastly popular throughout China.
This year Alibaba plan to celebrate with an extravagant party at their headquarters featuring a line-up of undisclosed stars, who will perform in a show directed by Feng Xiaogang – one of China's hottest directors. As competition from other online e-commerce giants such as JD and Jumei hots up, Alibaba has tightened its rein on proceedings by threatening legal action and forcing media outlets from using its phrases – 'Double Eleven' (which they trademarked back in 2013) and 'Double Single'.
In China for 11 November? Don't forget to look out for Tmall's 'red envelopes', online red packets containing money to be spent online, with values ranging from RMB1 to RMB1,111.
Single this Double Eleven? We promise to keep The Chairman's Bao stacked full of love to keep you company!