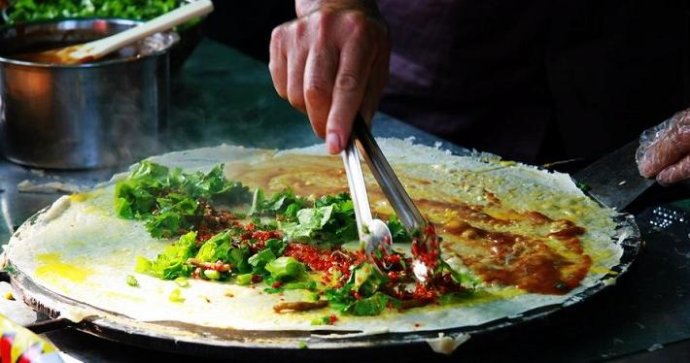 It's a part of cuisine that is often overlooked during conversation, but there are as many choices for breakfast in China as any other meal. In a country where people like to start the day early (anybody who has taken an morning stroll through any park in China will echo that sentiment), breakfast is extremely important and, as with other meal choices, taste varies between provinces and there is a north/south divide. The most important meal of the day perhaps, or just my favourite… either way, here's our guide to the 5 best Chinese breakfasts. First, let's clear up the difference between tastes in the north and south:
North: People in the wheat-growing north of China tend to eat more wheat. Breakfasts include steamed buns (包子 / bāozi) and deep fried dough sticks (油条 / yóutiáo). Fancy a big bowl of dried wheat noodles for breakfast? Head to Wuhan in Hubei province for 热干面 ('hot, dry noodles' / rè gān miàn), which is served with spicy condiments – sure to wake you up!
South: In the rice-growing south of China, rice noodles are more common for breakfast, as well as baked sweet potato. Guilin rice noodles (桂林米粉 / Guìlín mǐfěn) are a popular favourite, again often served spicy. However, if like me noodles don't particularly whet your appetite in the morning, here's our lowdown on the 5 best Chinese breakfasts:
1) Jianbing (煎饼 / jiānbǐng) – a savoury-crispy crepe-like breakfast delight!
My all-time favourite Chinese breakfast is Jianbing, pictured in the featured image. It's a crepe made from a batter of wheat and grain flour that is cooked in front of you on a large circular griddle. It can be topped with a variety of ingredients including scallion (葱 / cōng) and crispy fried cracker (薄脆 / báocuì). It is made to order and folded before serving – the perfect breakfast on the move and incredibly tasty! Feeling brave? Ask for plenty of chilli sauce. Extra hungry? Ask for a deep fried dough stick (below) to be added.
2) Steamed buns (包子 / bāozi)
Coming in a close second in our list of favourite Chinese breakfasts is steamed buns, which can be served with a variety of fillings. They can be filled with meat or vegetables and are sometimes used as an alternative to rice and noodles. We recently published a story about a Hangzhou baozi chain setting their sites on America, so they might be coming soon to a town near you (although not with the prices you might have come to expect in China). There are almost endless varieties and flavour combinations – be sure to send us your favourites!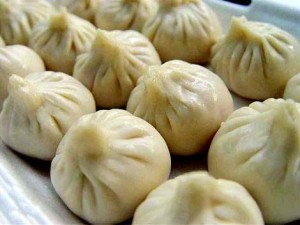 Ever wondered where TCB got its name? It's a play on the word 'bao' in Chinese, which can mean both newspaper and steamed bun (check our logo!).
3) Sticky rice bundles (粽子 / zòngzi)
Sticky rice bundles are made of glutinous rice, stuffed with different fillings and wrapped in bamboo leaf or other flat leaves. They are cooked by steaming or boiling and are a really filling breakfast treat! Zongzi are especially popular during Dragon Boat Festival and fillings include red bean paste, lotus seed, egg yolk and pork fat. Yum!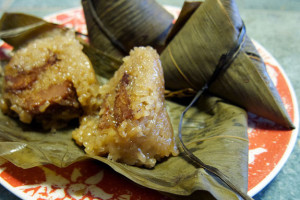 4) Dim Sum (点心 / diǎnxīn)
Dim Sum originated in southern Cantonese-speaking China, but is now what most people around the world come to think of at the mention of Chinese breakfast. Dishes are small, delicious and were originally served during tea drinking time (饮茶 / yǐnchá). At restaurants, customers are invited to choose from a long list of snacks and they are served alongside an equally indulgent list of tea choices. Popular dim sum snacks include dumplings, pastries or, for the more adventurous, chicken feet. Although I doubt anybody has ever woke up thinking 'mmm, I just really fancy some chicken feet this morning!'.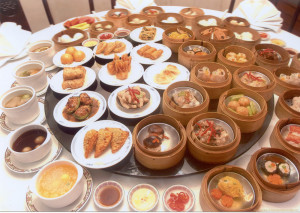 5) Deep fried dough sticks (油条 / yóutiáo)
Not everyone's most popular choice and certainly not the most healthy breakfast, deep fried dough sticks are a popular choice for breakfast in China. An occasional treat, they are sure to keep you full until dinner time!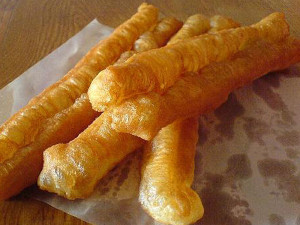 To wash it all down, why not have a glass of soy milk (豆浆 / dòujiāng), which is usually made using a blender. You can choose to have it sweet or savoury and it is most popularly enjoyed warm with deep fried dough sticks (油条 / yóutiáo).
That's our round-up of the best Chinese breakfasts complete. Did we miss your favourite from the list? If so, get in touch and we will give you a shout out on our social media channels! All that talk of food has made me hungry…