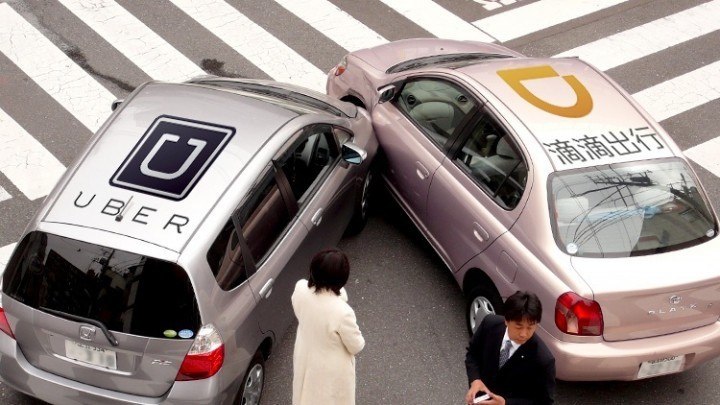 China's Transport Minister, Yang Chuantang, spoke on Monday regarding the battle for market share in China's taxi app market. Without directly naming any firms, he spoke out against subsidies that lead to unfair competition in the marketplace. The taxi app market in China is currently dominated by two giants, Uber and homegrown Didi Kuaidi, who are locked horns in a fierce battle to win the wallets, hearts and minds of Chinese drivers and consumers.
Yang said that he had trialled taxi apps, and that had urged his colleagues to do the same. He added that taxi app services were 'welcomed by some passengers' and that private cars will 'be able to provide profit-making transportation services', providing they conform to certain regulations. News that was welcomed by Didi Kuaidi as showing the ministry's '…openness towards voices from the marketplace', he also had some choice words for the big firms trying to buy up market share:
'The subsidies provided by some companies are a short-term move to grab market share and pose unfair competition to the traditional taxi industry in a certain period of time. In the long run, (they) will harm the healthy and sustainable development of the market'.
Subsidies include free rides, driver wage 'top ups' and the purchase of or contribution to driver vehicle registration, which is particularly expensive in larger cities such as Beijing, Shanghai and Guangzhou, where the government is fighting hard to limit the number of cars on its already congested roads.
Uber's controversial CEO said that Didi Kuaidi has spent up to $4bn in the past year on subsidies, a claim dismissed as 'wildly creative' by the Chinese firm. Uber, which is currently active in 40 Chinese cities and losing $1bn per year – a large but undisclosed amount of which is spent on subsidies – has plans to expand into 100 more cities in China within the next 12 months, as it looks to put the brakes on Didi Kuaidi's 80% run-away market dominance.  With a further $2bn secured from local investors back in January, Uber's China expansion shows no signs of slowing down despite ongoing controversy.  Didi Kuaidi, Uber's local rival, uses an approximately even split of private drivers and registered taxis, also allowing users to 'tip' drivers a predetermined fee when they respond to ride requests.
Uber, which recently expanded into Thailand and India with a rickshaw and motorbike service, is competitive elsewhere in Asia. In Singapore for example, Uber ran a successful Chinese New Year campaign that allowed users to purchase a lion dance through the app. Although the move to give the green light to China's taxi app market as a whole has been widely well received, Yang's strong words also cast doubt over Uber's international 'enter first and deal with problems later' approach.  The firm would argue that they have little choice when faced by the heavily subsidy-driven strategy of firms such as Didi Kuaidi, backed by internet giants Alibaba and Tencent. However, it is a tactic that could prove problematic for the firm going forward in China.
There have also been reports of drivers taking the firm for a ride, only accepting fares when the firm promises to double what the customer pays, or even 'ghost booking' friends' taxis to split the profit. Is it all a case of too much, too fast for Uber in China? Will they manage to eat into Didi Kuaidi's market dominance, or will local know-how prevail? Only time (and government leniency) will tell… zan men da che ba!