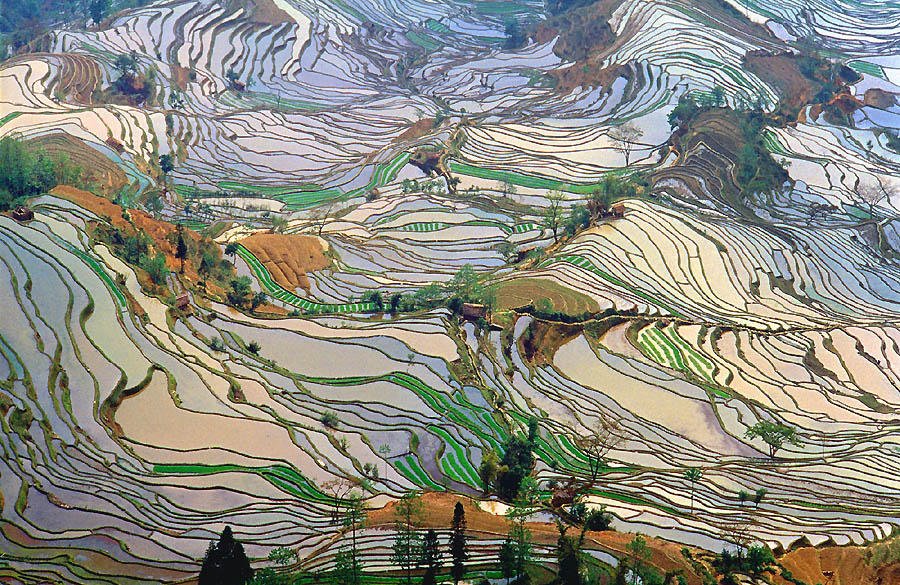 When the hustle and the bustle of the big cities in China gets you down, the seemingly never ending smoggy grey days become all too normal, and you simply just need an escape, Yunnan province is the place to be.
Yunnan is located in the southwest of China, in a mountainous area with soaring mountain peaks and sweeping river valleys. It borders Vietnam, Laos, and Burma in the south, Tibet and Sichuan in the north, and Guangxi and Guizhou to the east. With the majority of China's minority peoples and cultural influences from Southeast Asia, it's a very colorful place with traditions such as the Bai people's tie-die, the Naxi tribe's hieroglyphic language, the beautiful red clothing of the Miao, the maternal hierarchy of the Mosuo people where women have the rightful ownership of land, houses, and children; as well Lao's most famous export, Beer Lao. Simply put, Yunnan is unlike any other place in China.
It's hard to make generalizations, but the food in Yunnan is very different from the east coast of China, with an emphasis on mushrooms and eye watering spices. Banana flowers and ferns as well as insects, cheese, and yogurt can all be found there. Don't forget to chow down on plenty of yak skewers or Granny's spicy mashed potatoes – they're delicious! Each cultural group in the massive province has their own specialties and variations on dishes, so it's up to you to try them all.
In addition to the people and the food, the topography is completely unlike the landscape of my adopted home in Shanghai. There are pristine mountain lakes with pine forests and log cabins, soaring snow peaked mountains that reign over roaring river valleys, karst mountain ranges with limestone caves, and tropical rain forests with waterfalls. It even ushers the Mekong River, the lifeblood of Southeast Asia, down towards its meandering course south through Myanmar, Laos, Thailand, Cambodia, and Vietnam.
After an arduous first year working in Shanghai, a rollercoaster trip with exhilarating highs and pack-my-bag-right-now lows, my parents came to China. We revisited spots I had already been to and had experience with navigating: Suzhou, Hangzhou, Xi'an, and Beijing. They flew back to the United States after Beijing. I hopped a plane to Yunnan.
I landed in Yunnan's capital city, Kunming, for a few days of fun before taking a train to the beautiful old town of Dali, biking around scenic Lake Er and visiting the less touristy villages along the shore. I then traveled to the well-preserved and well-packed ancient town of Lijiang. From there I bussed it over to Lugu Lake for more biking around large bodies of water, this time with pine forests. After returning to Lijiang for some more rest and relaxation, I went to Tiger Leaping Gorge and hiked along the Jinsha (tributary of the Yangtze) River with stunning views of the 5,596-meter tall Jade Dragon Snow Mountain and the slightly shorter but no less impressive Haba Snow Mountain. After finishing the hike, I jumped on a sleeper bus to visit Shangri-La, a heavily Tibetan influenced town near the border of Tibet. Sadly, a fire in 2014 burned much of old wooden part of town down to the ground. Continuing on with the journey, I returned to Kunming on a sleeper bus before a harrowing 20-hour voyage to Luang Prabang, Laos. Even with my month long trip, there was so much I didn't get to see. One day, I will return.
Tune in to The Chairman's Bao soon to get a detailed look into what to see and eat in the first stop of my journey – Kunming.