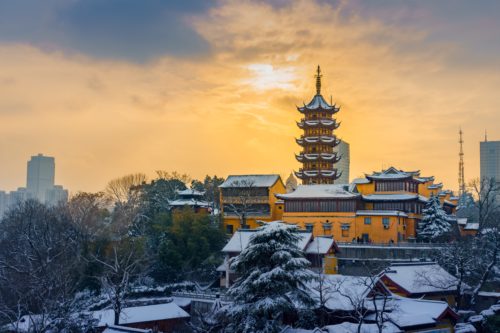 Winter in China might just be the next trend in international travel. Until then, here's our list of the top destinations in China this winter season. Have you visited any of these before?
Winter in China: Harbin
Harbin is the capital of the scenic Heilongjiang province which shares a border with Russia. So, what makes this city the perfect winter destination? Harbin is home to the Harbin International Ice and Snow Sculpture Festival. The festival is the longest-running ice festival in the world! In addition to this, it features the world's largest ice sculptures. The festival features everything from fantastical ice beasts to full-on buildings made from ice. They are beautiful at night when they become illuminated by various coloured lights. Other activities include skiing and an ice lantern festival.
Winter in China: Sanya
Sanya is the perfect winter destination if you want to escape the cold! Sanya is a southern city on Hainan Island. The city's geographic location means that you can enjoy a warm and tropical climate. It has now become home to multiple national and international resorts. One of the most famous destinations in Sanya is Yalong Bay. Yalong Bay is a peaceful, clearwater beach that offers a variety of water activities. If you want to experience some culture, you can visit the Nanshan Temple and the giant Guan Yin Buddhist statue.
Winter in China: Beijing
If you want to enjoy winter in a metropolitan city, then look no further than Beijing. Tourism goes down during winter, meaning it's the perfect time to go if you don't want to queue for the summer palace or want to enjoy the great wall without rushing. Like Harbin, Beijing hosts an ice and snow festival. In need of some adventure? There are plenty of ski resorts in Beijing as well as open-air ice skating rinks. Though temperatures can get as low as -15 °C, you can warm yourself up with a classic Beijing hotpot or wind down in a hot spring.
Winter in China: Huangshan
Huangshan, also known as the Yellow Mountains, are symbolic in Chinese culture. In the Chinese creation myth, Huang Di (the Yellow Emperor) ascended to heaven from those mountains. Huang Di is central to China's cultural mythology as he is the origin of all Han people. History aside, Huangshan is the perfect winter getaway. The snowy peaks become the perfect backdrop for nature lovers and avid hikers. If you're lucky, you can also enjoy what locals call the "Buddhist Light" – a full circle rainbow. Other activities include visiting local artistic villages, hot springs and the gorgeous emerald valley. The beauty of the mountains is why they are a UNESCO world heritage site.
Are you suffering from wanderlust and want to add more Chinese cities to your bucket list? Why not read our other recommendations for travel destination in China.