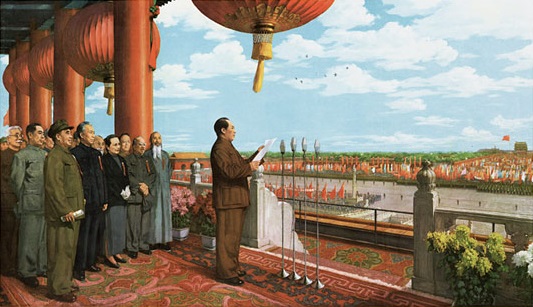 In light of China's National Day 国庆节 【國慶節】 guóqìng jié last week – Sunday 1st October – it seems only fitting to take a look back at October 1st 1949, the day of the formation of the People's Republic of China (PRC).
That day saw Chairman Mao Zedong and the Communist Party of China (CPC) take centre stage and establish a united China.
Mao Zedong 毛泽东 【毛澤東】 was born on December 26th 1893 in Shaoshan village, Hunan Province, China. He was one of the founding members of the Communist Party in China, and was involved in their development and revolutionary rise to power from the very beginning. Having been one of the key figures that steered the party though the Civil War with the Chinese Nationalist Party 国民党 【國民黨】 guómíndǎng (intermittently between 1927-1949/50), as well as the Japanese invasion during World War II, it was clear he was made for leadership.
China in 1949 was still a torn and damaged country; after a civil war and a foreign invasion, this was perhaps to be expected. It was under the leadership of the CPC that structure and national stability appeared to reemerge. The first step was to reverse China's economic habits and drive forward progress through government institutions and the strength of the people.
The Proclamation of the Central People's Government of the PRC made by Chairman Mao Zedong at Tiananmen Square on October 1st 1949, reflected not only the new power of the government but also China's new identity on the world stage:
'The Central People's Government Council decided to declare to the governments of all other countries that this government is the sole legal government representing all the people of the People's Republic of China. This government is willing to establish diplomatic relations with any foreign government that is willing to observe the principles of equality, mutual benefit, and mutual respect of territorial integrity and sovereignty.'
China's nationalism and unity is epitomised in it's National Anthem 'March of the Volunteers'.  Originally written by Tian Han in 1934, it became China's official anthem in 1949.
Simplified:
起来!不愿做奴绿的人们!
把我们的血肉,筑成我们新的长城!
中华民族到了最危险的时候,
每个人被迫着发出最后的吼声。
起来!起来!起来!
我们万众一心,
冒着敌人的炮火,前进!
冒着敌人的炮火,前进!
前进!前进!进!
Traditional:
起來!不願做奴綠的人們!
把我們的血肉,築成我們新的長城!
中華民族到了最危險的時候,
每個人被迫著發出最後的吼聲。
起來!起來!起來!
我們萬眾一心,
冒著敵人的砲火,前進!
冒著敵人的砲火,前進!
前進!前進!進!
Pinyin:
Qǐlái! Bù yuàn zuò nú lǜ de rénmen!
Bǎ wǒmen de xiěròu, zhù chéng wǒmen xīn de chángchéng!
Zhōnghuá mínzú dàole zuì wéixiǎn de shíhòu,
měi gèrén bèi pòzhe fāchū zuìhòu de hǒushēng.
Qǐlái! Qǐlái! Qǐlái!
Wǒmen wànzhòngyīxīn,
màozhe dírén de pàohuǒ, qiánjìn!
Màozhe dírén de pàohuǒ, qiánjìn!
Qiánjìn! Qiánjìn! Jìn!
English:
Arise, ye who refuse to be slaves!
With our flesh and blood, let us build a new Great Wall!
As China faces its greatest peril
From each one the urgent call to action comes forth.
Arise! Arise! Arise!
Millions of but one heart
Braving the enemies' fire! March on!
Braving the enemies' fire! March on!
March on! March, march on!
Check our blog section for everything learning China, life in China, Chinese food, and more!