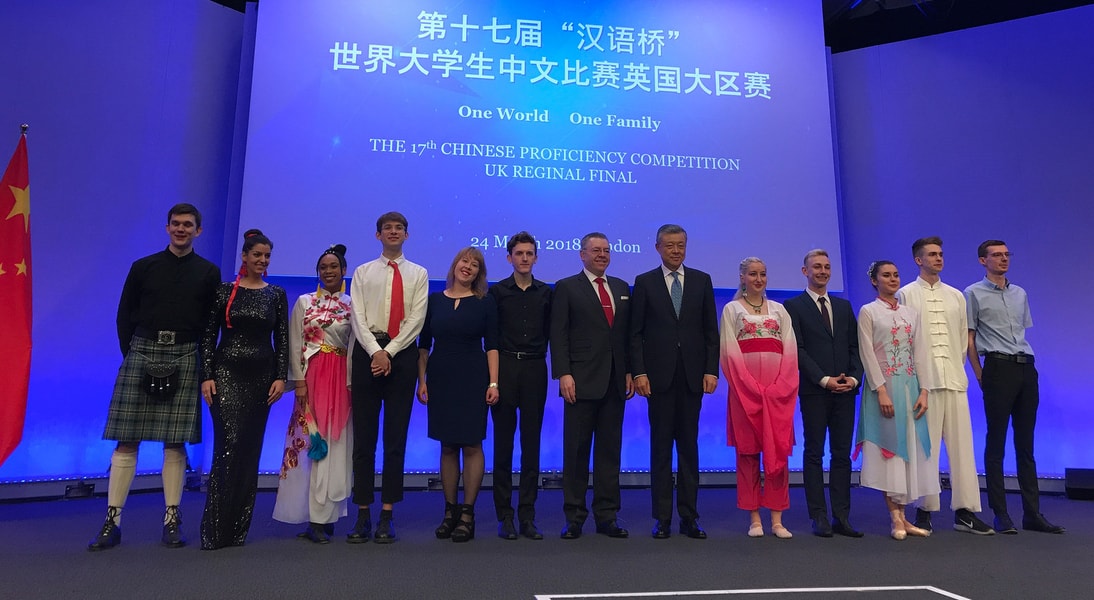 The Annual UK Chinese Bridge Competition took place this year on the 24th of March at the Queen Elizabeth II Centre, London. This event brings together university students from around the UK and gives them the opportunity to display their Chinese Mandarin language skills in the form of a prepared speech, a cultural question and answer session as well as a cultural performance of their chosen skill.
This year saw around 30 students come together to compete in the UK semi-finals of the Chinese Bridge Competition, of these semifinalists the top 11 contestants went through to the UK finals. The diversity of performances and level of language proficiency skills were exceptional; with performances ranging from traditional Chinese fan dances to self-composed musical pieces. All the contestants brought their own style and flair to the competition.
After months of hard work and preparation under the guidance of an assigned university Confucius Institute teacher, the students presented themselves in front of a panel of judges, an auditorium of Chinese teachers, businessmen, members of the public and supportive family.
All of the finalists performed a high level of Chinese Mandarin, displayed extensive knowledge of Chinese culture and history, as well as exhibited their creativity in their use and knowledge of the language.
The final also hosted presentations from two chosen outstanding semi-finalists; the first being a self-written performance of a form of traditional Chinese comedy known as a dankouxiangsheng 单口相声 , and the second being a fusion of cultural traditions in the form of a musical rendition of a popular Chinese song performed on the steel drums.
Two students from the School of Oriental and African Studies University in London achieved particular success as joint 1st place winners. They were not only awarded generous cash prizes but will go through to represent the UK at the International Finals in China this summer and will have the opportunity to receive a fully funded scholarship to attend university in China.
Throughout the spring, countries around the world also hold parallel competitions and this summer China will welcome the national winners from each of these countries to the 2018 Annual International Chinese Bridge Competition. Each country will send their competition winner as their national student representative and they will be invited once again to present their Chinese Mandarin language skills in this renowned competition.
The international final of this competition is extremely popular across China and will be aired on Chinese national TV. We wish all of these competitors the best of luck as they prepare for the International Final of the Annual Chinese Bridge Competition.
If you are currently a student of Chinese Mandarin and wish to find out more information on the Chinese Bridge Competition you can contact your local university Confucius Institute to find out more information.
Please find below a brief summary of the competition as provided by the University of Leeds Business Confucius Institute:
'Since its launch in 2002, this annual event has attracted nearly 300,000 college students from over 80 countries to participate in the competition, of which more than 1,300 have been invited to China to attend the semi-final and finals. The 'Chinese Bridge' has become an important platform for international college students to learn more about Chinese language and culture. It is also a bridge of understanding that links China to young people worldwide.'h