China, despite only following one timezone, spans five. One of the biggest countries in the world, China can seem daunting and you might not know where to start. Beijing Capital International Airport is Asia's busiest airport, and one of the most accessible – so it's a great place to start your trip! Here's a list to help you get started in planning your travels for Beijing.
Beijing / Běijīng / 
北京
1. Forbidden City / 
Zǐjìnchéng / 
紫禁城
The Forbidden City is located in central Beijing and of course is an absolute must visit when visiting the capital city. It was the imperial palace, housing the Chinese government for nearly 500 years! Once the home to emperors from the Ming dynasty to the end of the Qing dynasty, it now is the home to the Palace Museum, which receives about 15 million visitors each year.
The Forbidden City gets its name from when 'commoners' were prohibited from entering the palace. Each person needed permission to enter and only imperial families and high officials could enter.
2. Tiananmen Square / Tiān'ānmén / 天安门广场
Named after the "Gate of Heavenly Peace", Tiananmen Square is treasured and famous to not just Beijing, but China. It is one of the largest squares in the world!
3. Chairman Mao Memorial Hall
After Mao died in 1976, this Soviet-style memorial hall was built in his memory, and is a prominent landmark located in Tiananmen Square. This is the resting place of Mao Zedong, with his body on display.
4. Temple of Heaven / 

Tiāntán / 天坛

Built around the same time as Forbidden City in the early 1400s, the Temple of Heaven is a religious site in Taoism. It was visited annually by emperors from the Ming and Qing dynasties, praying for good harvests. Located in one of China's busiest landscapes, the Temple of Heaven is a peaceful oasis.
5. 798 Art District / 798 Yìshùqū / 798艺术区


798 Art District is located in disused factories from the Mao era. It is concentrated with contemporary art galleries, art bookshops and cafes. The area rose to prominence in the late 1990s, and has an East German style about it, with its industrial routes reconfigured into art galleries which would excite any contemporary art fan. You could spend up to half a day wandering around the site, it should not be missed!
6. Panjiayuan Market / 
pānjiāyuán

 / 潘家园
Located in southeast Beijing, this is Beijing's biggest arts, crafts and antiques markets. There are over 4,000 shops in the market and has almost 10,000 traders! One day can see up to 70,000 visitors, with 10,000 of those being foreigners. Important figures including Hilary Clinton have even visited this market.
7. Summer Palace / 

Yíhéyuán / 

頤和園
The Summer Palace is a beautiful and elegant ensemble of lakes, palaces and gardens covering nearly 3km in Beijing. During the Qing dynasty it was the imperial gardens, a playground for emperors to escape the summer heat. The Summer Palace can take a whole day to explore and is definitely worthwhile.
8. Lama Temple / Lǎma miào / 喇嘛庙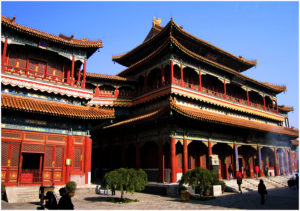 Lama Temple is a beautiful Buddhist attraction, so if you only have time to visit one temple – make it this one! It's beautiful traditional roofs, decorated arches and clouds of incense make it a truly authentic experience. Built in the 1700s, it is the most well renowned Tibetan temple outside of Tibet.
9. Drum Tower / Gǔlóu / 鼓楼

Standing in front of the Bell Tower, the Drum Tower used to be the cities official time keeper, painted in magnificent red. Bells and and drums would chime the hour. It was originally but in the 1200s but was destroyed in a fire and rebuilt in 1420, and it still stands today.
10. National Museum of China
When in China! The National Museum of China is located on the Eastern side of Tiananmen Square. It claims to be the largest museum in the world in terms of display space. You'll need to take your passport to get in!
Want to visit China but want to avoid the hustle and bustle of its major cities? Click here to see how to escape the cities of China!