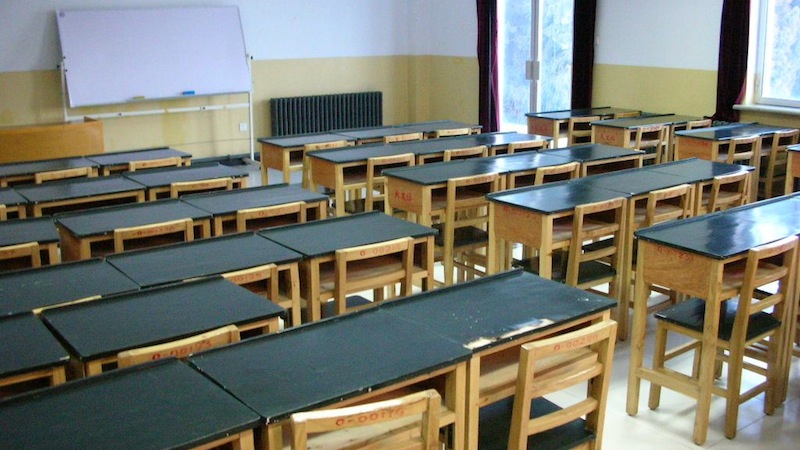 We are delighted to bring you an interview today with Olle Linge, the Chinese learning and teaching extraordinaire whose blogs and reviews surface all over the web. Olle is the mastermind behind Hacking Chinese, a website focused on teaching how to learn Chinese that has now been visited over two million times, and his knowledge is second to none when it comes to teaching Chinese to non-native speakers. In his own words: 'Following a teacher, textbook or language course is not enough', which is a strategy we have also tried keenly to embrace here at TCB.
When speaking recently at a conference about reading Chinese online, I jested that Olle would have been a much better booking for the presentation (certainly true). Here's what he had to say when we caught up with him recently:
What do you think a non-native teacher of Chinese can bring to the table that perhaps a native speaker can't?
Many things! Most importantly, a non-native speaker knows what it's like to learn the language as an adult. This means that it's much easier for us to identify problems students face and find good ways of solving them. A good example of this is my article series about how to improve listening ability. Competent native teachers with long teaching experience can learn some of these things, especially when it comes to language production (word choice, grammar, pronunciation). I have yet to meet a native speaker who has a broad arsenal of learning strategies and can apply them accurately for specific student problems, though. The problem is that don't really know what it's like to learn Chinese as an adult.
What inspired you to found Hacking Chinese?
I've learnt Chinese in many different situations, including immersion programs, foreign language teaching, internet courses, language schools and so on. I noticed lots of problems and weaknesses with the way I was taught and how students (including myself) learnt. Through analysis, reading, discussing and experimenting, I started to find ways of improving my own learning. Then I realised that the problems I faced seemed to be wide-spread and that perhaps other students would be interested in knowing about my insights and solutions. Thus, Hacking Chinese was born.
Have you had any particular feedback from readers of Hacking Chinese that has brought a smile to your face? Any great success stories?
I seldom hear stories that are actually funny, but I do smile a lot when I read e-mails from students who learn Chinese, notice the same frustrating problems that I did years ago, read Hacking Chinese and find that it helps them solve their problems. That's the whole point, of course. What I think is most rewarding personally is to be able to help someone who is already treated as a lost case. This is most common when it comes to pronunciation. I've had many students who have (almost) given up on some aspect of pronunciation, and nothing makes me happier than successfully helping them to pronounce correctly what they thought impossible. I've so far never met someone who can't learn, but I have of course met many who don't have the time or determination to overcome and solve problems. Nothing is impossible, it just takes time, effort and the right approach. And no, you're not too old!
Any funny stories you can share about being misunderstood in Chinese?
Yes, of course, if you don't have any funny stories, you probably haven't left the classroom! One favourite is when I got to know my fiancée. We had just chatted a bit online and met once or twice. One day, I lost something, can't recall what exactly, but I mentioned it in a text message. She wrote 你找我吧 (come see me) which I thought sounded like an excellent idea even though I didn't know her very well, so I went over to her place (about 10 minutes by bike). I called her and said that I was downstairs and that would she please let me in. She was very confused and had no idea why I showed up outside her door. It was all a bit awkward because we didn't really know each other. I couldn't for the life of me figure out what was wrong. After letting me in and giving me something to drink, we looked through the messages to see what had gone wrong. It turned out that she had actually said 你找找吧 ("look for it"), not 你找我吧 ("come and see me")! Much laughter followed and everything turned out well. We're still together now, four years later.
What's the biggest/most common mistake you see non-native speakers of Chinese making?
I'll split this question in two! First, when it comes to actually using the language, the most common problem is tones. Pronunciation in general is neglected in many courses and teachers seldom focus on it beyond the first week or two. Those who do often give up on "hopeless cases" or students who are already "good enough", which just means better than the average, which in turn means nothing at all. Some students even think that they can someone get away with not memorising the tones of all the words they learn, which is a serious mistake, albeit not that common. Tones are very important!
Second, when it comes to learning methods, the most common problem is that too many students rely on rote learning. That's when you learn something by repetition without really understanding what you're doing. An example would be to learn characters by copying them many times, without being sure about what they mean, how they are constructed and so on. All research points in the opposite direction. You learn by engaging the content, understanding it and connecting it to things you already know. You remember things by actively searching for them in your memory, not by copying. Yet this is what many teachers advocate, which ties back neatly to the question above about non-native teachers.
I know that your experience lies in teaching adults how to learn languages more effectively – what changes would you make when teaching youngsters? Is it something you would ever consider?
The younger the learner, the more you can rely on natural acquisition of the language (i.e. first language acquisition). Kids learn their native language by being immersed in it and by using it to communicate. That's true for adults too, but we also benefit from explanations and some theory. Understanding what's going on is important both for remembering and for keeping things interesting. For example, while kids can pick up pronunciation just by listening and mimicking, this is not true for a majority of adult students. Thus, if I taught younger learners, I would focus much less on explanations and theory. However, that would remove most of the edge I have as a non-native speaker and I think others could teach such a class better than I could.
At what stage would you consider a non-native speaker to be 'fluent' in another language?
When they can converse about most topics an ordinary native speaker could converse about (i.e. not including niche topics or technical language) without language being an obvious issue. In other words, it needn't be perfect, varied or anything like that, but it needs to be flowing in both directions without too many hitches because of misunderstandings or pauses to search for words. You can actually practise fluency using certain word games, something I've written more about here.
Do you have a favourite word/phrase in Chinese? How about in English?
I really like the phrase "你這個人", literally meaning "you this person". This is pretty hard to translate, but it's used to express that someone is the way she is and that whatever she just did, it's typical of her and not appreciated. I probably like it because it sounds hilarious in English. I actually use it English too, sometimes: "You…. person!" When it comes to English, I have many, many favourite words. One of the more unique ones is "spindrift", which I think has a nice connection between meaning and sound (that's a feeling, mind you, not something I expect other people to agree on or even understand).
We know that you have just launched your how-to-learn-Chinese course. Would you like to tell us a little more about it? What sets it apart from your website and the competition?
As you said, the main focus of the course is how to learn. I don't give you characters, words or grammar patterns to memorise. Instead, through video, text and audio I teach how to learn. I discuss methods for learning characters, words, pronunciation, reading ability, composition and much, much more. The course also includes how to set goals, schedule and organise your learning and how to increase productivity. You can read more about the course here: Hacking Chinese – A Practical Guide to Learning Mandarin.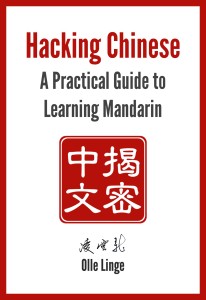 What does the future look like for Olle Linge?
That's a big question! In the near future, I will continue as I have before, combining Hacking Chinese with a part-time job at the Centre for Professional Development at Uppsala University where I'm responsible for Chinese, along with some other projects, including Skritter and WordSwing. I also have plans to take my academic journey to the next level. Which of these I end up spending the most time on depends on where I think I can do the most good, but also what enables me to pay my bills. So far, I've seen no reason to discard any of the options, but I might have to one day.
Thank you very much to Olle for taking the time to answer our questions. Be sure to give Hacking Chinese a social follow and visit regularly, it's a must for anybody looking to improve their strategy for learning Chinese. We also wish Olle the best of luck for his new how-to-learn-Chinese course and hope to hear more from him in the coming months.