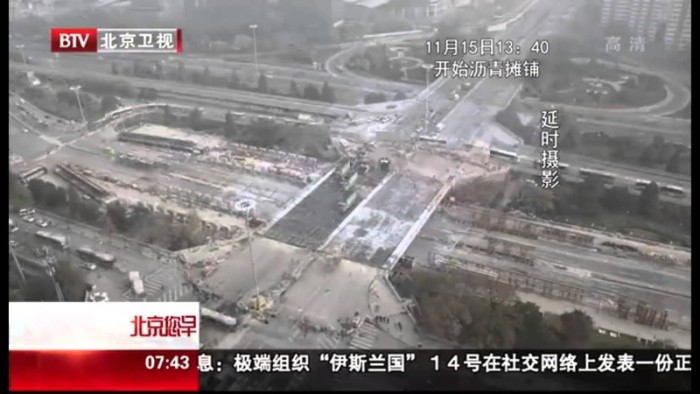 Need something building fast? China's got you covered! We've seen a 57-storey eco-friendly skyscraper shoot up in just 19 days and a 40 year old bridge destroyed in less than three seconds in a mountain of dynamite and detonators, but this latest video might just take the prize.
At around 11 p.m. on Friday 13th November, workers began replacing Sanyuanqiao Bridge in Beijing, along the city's busy Third Ring Road. The bridge also leads to the Flyover to the airport and has over 200,000 daily crossings. In other words, there was to be no room for error or overly costly delays.
Such is the importance of the route that 11 separate versions of the rebuild plan had to be submitted before the operation was permitted to go ahead. 
By 11.30 a.m. on Sunday 15th, the bridge was finished. The project was originally expected to be completed in just 24 hours, but was delayed due to the deteriorated condition of the central beams on the old bridge. Total time for the project came in at just under 43 hours, which included the bridge building and subsequent paving.
Next time you cross over the bridge, spare a thought for the construction workers who had to work through the night to finish the project! See the video below:
Back in the UK, it has taken my local council six months to replace the short section of road that leads from my house to the local shops. It begs the question, does something really need to be constructed over a longer time for it to be of better quality? Nice work, China!