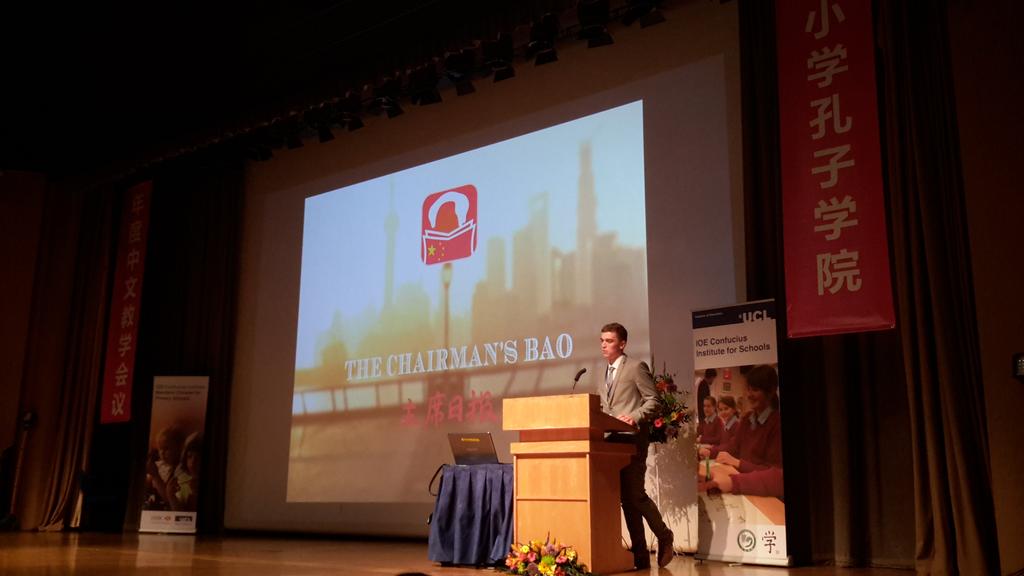 I am on the way back from a wonderful day spent meeting teachers and heads of departments from various institutions that teach Mandarin both in the UK and abroad at the 12th Annual Chinese Teaching Conference, held by University College London's IOE Confucius Institute for Schools. The day was focused on changes in the UK curriculum that means that schools are now required to teach literature in the target secondary language – of which newspaper reading is a part. This offers us an excellent opportunity to forge closer ties with schools and, more importantly, to get feedback from people who are using our resource to teach. Up until now, we have been very much reliant on our own experience of learning Mandarin to make changes, as well as user feedback, so this wealth of new information and suggestions will undoubtedly allow us to improve what we offer at TCB. I was also kindly offered the opportunity to present and gave a rundown of our progress since we launched five months ago. Nerve-racking, but I made it!
The one thing I have taken away from today is the pure passion and dedication showed by the teachers – both recently graduated and those who have been teaching Mandarin for many years. I was lucky enough to join a workshop on 'assessments in the classroom' and was delighted to hear the innovative approach that many teachers are taking to make Mandarin learning more accessible, particularly the way in which teachers are now using technology in the classroom (TCB included!) to aid learning. Whereas teachers were once required to create all of their own resources, an online community is beginning to emerge that allows them to share their resources and knowledge. One thing's for certain – Mandarin is on the up, and there is an army of passionate and enthusiastic teachers flying the flag.
Another thing that was widely discussed at the conference was the need to teach culture with language, particularly in Mandarin. I couldn't agree more. We always choose our articles with this in mind, however this is certainly something we will pay even closer attention to going forward. Watch this space for more blog content!
There are some other exciting developments from today that I will keep under wraps for now, but in the meantime we would be delighted to hear from any of you that have experience of using TCB as a teaching resource. We aim to create TCB into a tool that can be used in Mandarin classrooms around the world, so any feedback and suggestions we receive are gratefully received and appreciated. Any students who have used TCB as a supplement to their curriculum studies, or experienced TCB in the classroom, and would like to get in touch, please do!