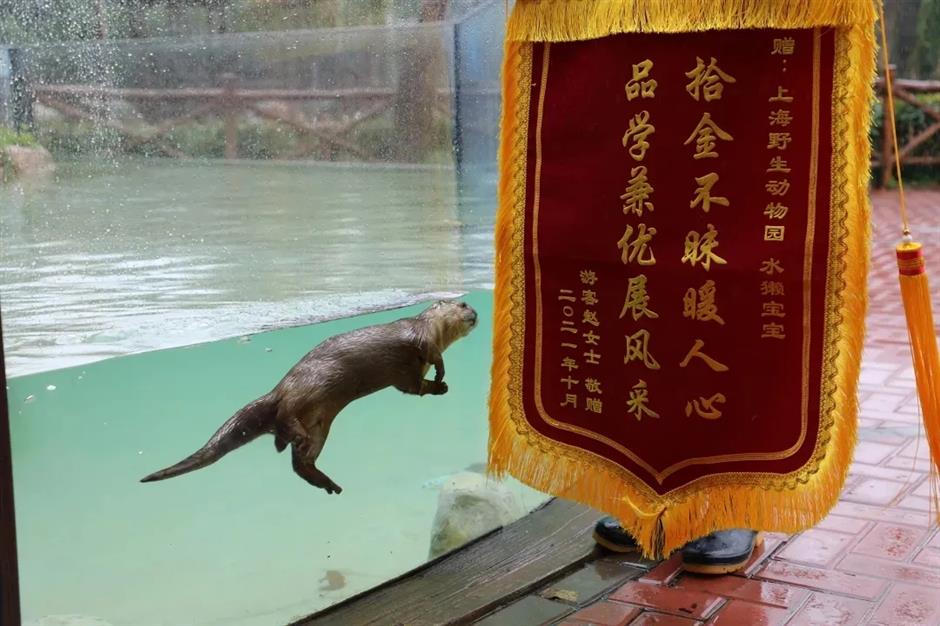 An otter made a visitor's day at Shanghai Wild Animal Park, as it rescued their mobile phone from the water! You Tiao, the small-clawed otter, acted quickly when a visitor accidentally dropped their mobile phone in the water.
The incident took place when people were listening to the science popularisation of otters at the park! You Tiao believed the mobile phone to be rubbish, and swiftly rescued it from polluting the water. The otters at the park have been trained to pick up rubbish from the pool, in order to promote environmental protection to the visitors! You Tiao is an active, naughty and the smartest otter at the park according to Ni Li, a park staffer!
The Rewards Roll In…
However, the story did not end there! You Tiao was rewarded for their efforts! To show her gratitude, the visitor surnamed Zhao, who had promised a reward to the otter after rescuing her mobile phone, swiftly delivered! The Park received a pennant, rewarding the otter for its efforts, making You Tiao the fist animal in the park to be honoured!
On seeing You Tiao via video chat, Zhao, who is back in Beijing, said she was very excited! "It's so cute" she said. "I just want to laugh whenever I see it! I'm so happy… I'll make a special trip to see this little guy again next time!".
The gifts however to You Tiao did not stop there, with the park also rewarding the other with an extra fresh fish in praise of its quick action!
Netizen Icon
The kind deed has turned You Tiao into an internet celebrity, even earning its own nickname. Netizens swiftly named the otter Lei Feng Otter, after the altruist icon. The young army officer who died while on duty and subsequently became a national symbol of selflessness, hard work, and devotion to the country!
Discover more quirky news in China in our latest blog, about the Chinese dancing aunties targeted by devices that silences speakers!