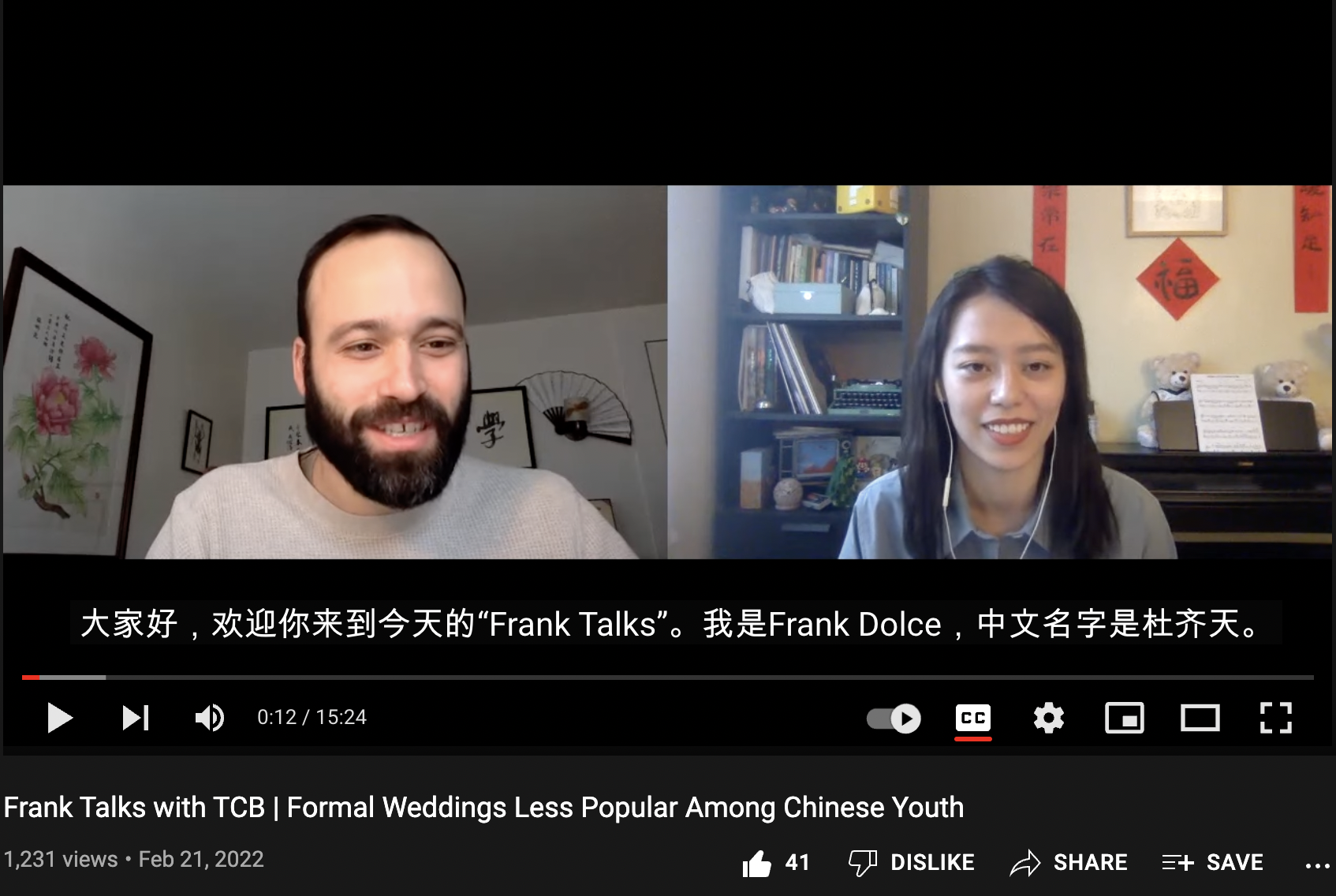 Have you seen our new series, Frank Talks with TCB, and wondered how best to use it to learn Chinese? If you are between intermediate and advanced level, Frank Talks with TCB is perfect to improve your Chinese! In each video, Dr Frank and his friend Huizhu, both qualified Chinese language teachers, will discuss a TCB lesson in more detail (unlocked for free!), adding both their own experiences, and cultural insights to the discussion.
Learning Chinese in context is a great way to bring your language learning to the next level. However the video series is so much more than that, and a fun way to learn Chinese!
Here we will detail some tips to help you get the most out of our new video series, with a new video releasing every Monday! Be sure to head over to our YouTube channel and subscribe to make sure you do not miss an upload!
Source Material
Every video in the Frank talks with TCB series comes from a TCB lesson, which is always linked in the description of every video! To best prepare for the video, we would recommend first going through the lesson in detail, and using TCB's features to their full extent. Any words you do not understand? Use the live dictionary! Same goes with grammar. Any complex grammar that has gone over your head? Scroll to the bottom of the lesson to see a detailed grammar explanation.
Be sure you to complete both the reading and listening comprehension questions to ensure competent understanding! Once you have completed the lesson, you can now tackle the video.
Video Bonus Features
Now you have moved on to the video, make sure you take your time when watching it. Do not be afraid stop, pause and rewind when using the video to learn Chinese. You're not in the cinema, so use YouTube's features to your advantage! If the conversation is moving too quickly, you can even slow down the playback speed, to ensure you don't miss a word!
Subtitles
This brings us on to our next feature, subtitles! All our videos are subtitled, allowing you to make the most out of Frank Talks with TCB when learning Chinese. Don't worry about pausing the video to make notes, or to transcribe new vocabulary and phrases. With subtitles, you can see exactly what Dr Frank and Huizhu are saying at any given time.
Support Sheet
With the support sheet linked in each lesson, no vocabulary or phrases are missed. If there is something that you don't understand, be sure to check the support sheet first, where you will find all the supplementary vocabulary listed. Add your newly discovered words to your learning materials, or even your TCB Word Bank, so that you can track your progress of learning the word!
Discussion Questions
Feeling confident? The support sheet also contains further discussion questions! Why not bring these questions to your language learning partner and take your new vocabulary with you! Discuss the lesson in detail, and have fun with a friend whilst learning Chinese!
Final Thoughts
Interested in using Frank Talks with TCB to learn Chinese? Check out our YouTube Channel here, as well as the second video in the series, including the support sheet and source lesson linked below! Best of all, they're free! Try the videos today and see if they help you learn Chinese.
Youtube link: https://www.youtube.com/watch?v=tABoO4q4-Zs
TCB lesson link (open access): https://www.thechairmansbao.com/children-given-daily-limit-on-douyin-chinas-tik-tok/
Support sheet: https://thechairmansbao.com/sheets/HSK5-Vocab-Sheet-1.pdf