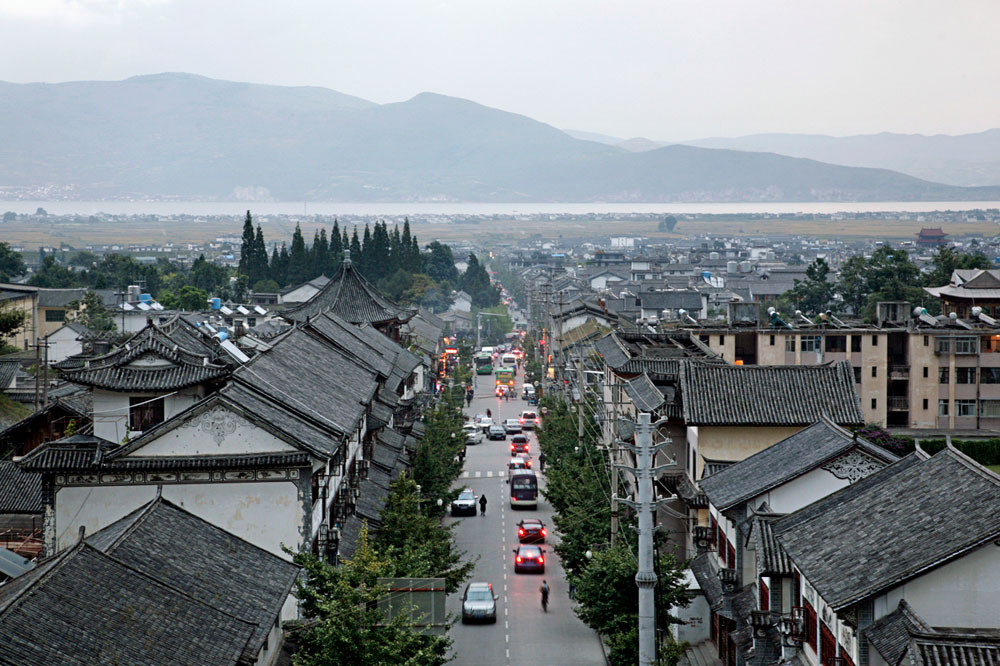 Dreadlocks, tie-dye, drum circles and even giant, wild cannabis plants jutting up around the shores of a beautiful lake – you'd be forgiven for thinking you'd stumbled into some cross-dimensional, patchouli scented time warp, but it's actually present day China. Although this city is popular with both foreign and domestic tourists, the natty locks are mostly composed of black hair and the shouts emanating from the drum circles are in Mandarin.

The setting is just about as perfect as it can get with the old town of Dali replete with cobbled streets, the Bai minitory people's whitewashed homes with beautiful courtyards, nestled smack dab in between the looming Cang Mountains and Erhai Lake. I couldn't help but feel a sense of wonder when looking past the ancient buildings to see the snow-covered mountains and an ethereal cloud cover hanging dreamily overhead. With some of China's cheapest accommodation and a plethora of affordable Western and even more affordable Chinese options, it's easy to keep prolonging your trip for another week, and another and another.

One great place to stay while enjoying life is Dali Hump. It's run by a community of artists and features cool trippy art all over the building ranging from a meditating Buddha in the tree of life, modern day phoenixes, Japanese style Koi fish with lotus flowers, to pandas eating bamboo and omniscient blind hipster jugglers from France. With a Bai traditional style communal courtyard complete with restaurant, bar, and nightly jam sessions, it's an incredible place to chill and meet traveling musicians, artists and otherwise likeminded people.

While you're in Dali, just wander the ancient streets and slow your pace. Watch the art students crafting watercolours of the old streets, drink fresh tea in teahouses, shop for local coffee grown in Yunnan, buy marble statues from the town; the Chinese word for marble literally means Dali Stone, visit the restaurants and bars of Foreign Street, and take in the gorgeous waterfall street where residents still wash their clothes today. Dali is incredible.

For an ancient village, the former capital of the Bai kingdom which flourished in the 8th and 9th centuries, Dali is absolutely loaded with hip bars serving Trappist Belgian brews, hostels with bumper crops of kittens living in their courtyards, vegan restaurants, art galleries, graffiti, and guesthouses serving coffee and pancakes. Banana pancakes to be exact, as it's part of the popular Southeast Asian backpacking route known affectionately as the "Banana Pancake Trail".
We arrived, refreshed and recharged, in the early morning after a 7-hour sleeper train journey from Kunming. Keep in mind that the train drops you off in Dali New City also known as Xiaguan. This is not the Dali you are looking for, move along. There's still a twenty-minute bus or taxi ride to arrive at the old part of town known as Dali Gucheng (ancient city). As we hopped off the bus, arriving at the old town in the soft pastel light of dawn, the white walls and stone streets of Dali were oozing with beauty. We were finally there!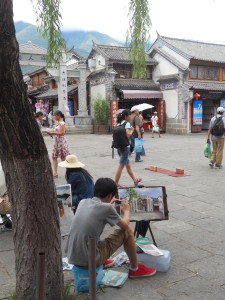 After finding a pleasant (and cheap) hostel, (but not the Dali Hump, that was later) we immediately secured a horse ride up into the nearby Cangshan Mountains. We first stopped off at the old Daoist Zhonghe Temple before moving on to stroll on foot along the Cloud Traveller's Path located at a 2,500m altitude. Alternatively, there are several places where it's possible to take a cable car up into the mountains if horse riding isn't quite your thing.
Walking along the path, I completely lost myself in the breathtaking nature all around me. After spending the last year and a half studying in Tianjin and working in Shanghai, two large hectic cities with dubious track records on air quality, there I was eating wild berries that I had picked from the side of the trail amongst rare camellias and azaleas that were the wild source of all the stock azaleas grown in Europe, soaking my feet in crystal clear mountain steams fed by waterfalls, and gazing out the majestic old town of Dali far below nestled alongside an enormous lake stretching as far as the eye could see, oh yea, and all that was complimented by a pitch perfect blue sky and giant, fluffy, white clouds. If the big cities get you down, come here, seriously. It's some of the best therapy available to mankind.

After a long day of horse riding, hiking, and endorphin releasing nature it was time for a Bai style feast….and some Belgian beer.

The next day, we were up bright and early once again. Ready to do the most logical and sane thing after the previous day's mountain hiking: circum-biking the entire 128km, 79.5mi route around Erhai Lake.

Using rented mountain bikes (I highly recommend getting a decent bike with working brakes and gears) from a bike rental agency in town, we set out from Dali's old town, passing the symbol of the town, the famous three pagodas, before stopping off at the tie-dye manufacturing town of Zhoucheng, swinging through Xizhou to gawk at the China's best specimens of traditional Qing dynasty architecture, then pedaling for hours to reach the halfway town of Wase for a stunning sunset, swimming, sleep and the farmers market where mountain people come down to hawk their wares. The next day, we continued through the more mountainous path, struggling uphill to then be rewarded with epic downhill speed bombs, stopping off to watch people play pool outside next to the lake in Haidong Village, passing nearby Dali airport, stopping for fresh street seafood in the new city of Dali aka Xiaguan, and then finally cruising on the, thankfully, flat lake road, battered and aching, back to old Dali. All in all, it was about a 24-hour trip, but if you grow tired or the weather turns foul, you can simply flag down a bus and they should be able to strap your bike on top.

If you want to learn more about biking around Erhai Lake, come back and visit The Chairman's Bao soon for a more detailed write-up. You can live vicariously without all the sweat and muscle aches.