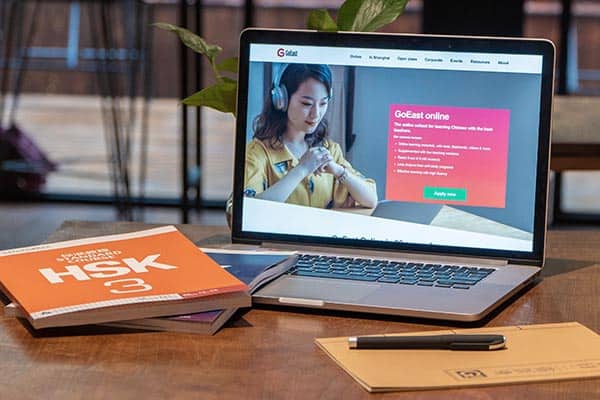 What is GoEast?
GoEast is a Shanghai-based language school that offers online and in-class tuition. The school provides a variety of teaching arrangements; you can opt for private tuition or group classes. The courses are built around a HSK framework, but you can also opt for Business Chinese classes. If you want more flexibility, you can also customize your own course.
We know that not everyone might not have the time or resources to fly themselves halfway around the world to learn Chinese. Especially during a global pandemic. Therefore online courses are a great alternative and today we'll be reviewing GoEast's online course. Let's begin!
Why should I use GoEast?
If you're learning Chinese by using our app or working through a textbook, you might be thinking "Why should I enrol on a Chinese course?". Well, who better to learn Chinese from than a Chinese language teacher? This is especially true for those of you who want to reach proficiency in Chinese or are learning Chinese for school and work. Okay, now you might be wondering "Why GoEast?". GoEast excels in the credentials of its teachers. All GoEast teacher go through training to teach and have accredited degrees ranging from Bachelor to PhDs. They also have substantial experience teaching Chinese to foreign students, both at home and abroad!
GoEast take your language learning seriously
GoEast are very thorough when it comes to your language learning. Before starting your lessons you will first have an assessment to gauge your level. However, the assessment is also a warm and inviting session for you to express to the language consultants what your language goals and struggles are. The assessment consists of an informal conversation with the consultants asking you questions in Chinese. Then it moves onto a short exercises that test your reading, listening and speaking. You'll immediately be given an estimate HSK level as well as a summary of your strengths and weaknesses.
Okay now for the actual course; here's what we thought:
GoEast teachers are friendly, yet professional
One thing that can greatly impact your learning experience is the teaching environment and attitude of teachers. Our GoEast teacher was very professional, yet warm and friendly. She fostered a warm environment where you were confident to makes mistakes or simply say "I have no idea what that is, can you explain?". Professionalism is shown through how our teacher took time to explain any and every point that we didn't understand. If we slightly mispronounced something we didn't get a free pass, but she kindly encouraged us to keep trying until we got it just right. In between rigorous exercises, our teacher would make genuine conversation (in Chinese) to learn more about us, our hobbies and interests. We liked how the lessons were conducted in Chinese to provide us with a fully immersive experience!
GoEast teaching resources are engaging and extensive
In order to be engaged in your Chinese language learning, you need to use a variety of resources. Different exercises and resources can help you consolidate different language skills. This helps you to have an even progression in your reading, writing and speaking. We loved that GoEast lessons weren't just one big conversation class. The conversation was combined with interactive activities on new vocabulary,  grammar, sentence structures etc. As the lesson progressed, we felt that we were really being challenged and it paid off because we learnt quite a lot! All their Chinese courses also include a combination of conversation and grammar videos, flashcards and interactive exercises. We think this holistic approach to learning is great for language learning!
GoEast sounds great, but is it right for me?
Overall, we thought that GoEast was a great option for those wanting to enrol in a Chinese language course. Our only reservation was that the lesson felt too short, however, this was mainly due to how engaging the lesson was – we wanted more!  The quality of accredited teachers, range of resources and warm environment gave us a really great impression of GoEast. However, GoEast isn't a quick solution to improving your Chinese. We loved that after our first lesson our teacher was already planning for the next session. If you want a Chinese course where you can dip in and out this might not be for you. However, if you're looking for structured and long-term engagement this is perfect. Just have the motivation to show up!