It's the Year of the Rooster and cities all around the world are celebrating. Here are 5 of our favourite festivals at this time of year in the Chinese speaking world.
Harbin Ice and Snow Festival
December 2016-February 2017
There's still time to catch this incredible festival.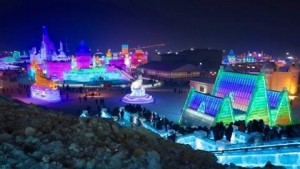 Thanks @hannahmeig
The ice city is like nothing else on earth.
Harbin is a city in the North East of China. If China can be said to look like a chicken, Harbin is its eye. There are really close links with Russian culture here, so alongside delicious Chinese food you can find borscht and potato dumplings.
Harbin is also one of the coldest places on earth. Get ready for temperatures that will freeze the inside of your nose.
As well as the famous ice and snow world. there is an ice lantern show, skiing, and ice sculptures.
Hong Kong Lunar New Year Fireworks Display
29 January 2017
Hong Kong never disappoints.
This stunning firework display blends the Eastern traditions of noise and the Western visual tradition in a beautiful display over the harbor.
There are also parades, performers, flower making events at the race track.
All major tourist attractions, like Hong Kong Disneyland, are open as usual so there is a whole host of things to do as you wait for night to fall.
Yuan Xiao Festival
11 February 2017
Yuan Xiao Festival is celebrated across China. It is a lantern festival celebrated on the 15th of the first lunar month, it marks the end of celebrations of the New Year.
As well as lanterns, people make and eat small dumpling balls made of glutinous rice flour called Yuan Xiao or Tang Yuan. They gave their name to the festival.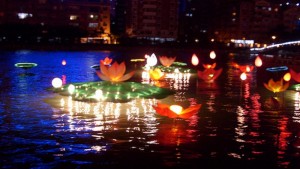 Yanshui Beehive Firecracker Festival (featured image)
10-11 February 2017
A completely unique version of the lantern festival is in Yanshui, Taiwan. Instead of releasing lanterns, firecrackers and fireworks are released directly into the crowd. Most people wear motorcycle helmets with towels around their necks to protect themselves, but some people wear traditional dress of just shorts and a bamboo hat.
This event dates back 130 years and is still incredibly popular.
My friends who have been told me that everyone is constantly hopping from foot to foot and patting out fires that spring up on each other. A fun and relaxing evening!
Pingxi Lantern Festival
11 February 2017
Pingxi is a small town near Taipei, Taiwan. The festival has been called something to see before you die.
As well as the lanterns there are stores of food and drinks, the town is very beautiful.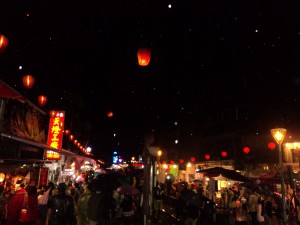 The lanterns are released at intervals, and trust me, it is worth the cold and the rain.