Where to explore outside of China's cities
China is best known for its bustling cities, but it is also home to some of the most incredible natural wonders on the planet. Here's our list of some of the best sights to travel to in China!
Guìzhōu 贵州
Nestled in southwestern China, Guìzhōu is rich in culture and natural beauty. It is one of China's most diverse provinces with minority groups making up 37% of the population. Its bordering mountains with Guangxi & Hunan are some of the most biodiverse hotspots in China, a must visit for any nature lover. Two great spots to visit in Guìzhōu are…
Huángguǒshù Falls
This is the country's most famous falls. Surrounded by caves and part of a group of 18 falls, Huángguǒshù Falls is not to be missed. Take a walk through the trails of the national park to find this beautiful sight. Rainbows are to be seen amongst the mist with colourful peacocks complementing the spectacle.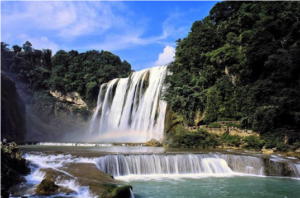 Zhījīn Cave
Tucked into a national park in Bijie, you will find Zhījīn Cave. At 10km long and 150m high it is the largest cave in the country. Described as a "stone forest", this cave is a must-see for anyone visiting Anshun county.
Lìjiāng 丽江
Home to Lijiang Old Town and Jade Dragon Snow Mountain, it's no wonder why Lijiang is so popular among tourists.
Described as the "Venice of the East", Lijiang Old Town is located on Old Market Square and surrounded by canals and cobbled streets. It's a time-locked beauty. Filled with history and culture, Lijiang is the most preserved and most Naxi-style old town in China. In 1997 it was made a "World Heritage Site" by UNESCO.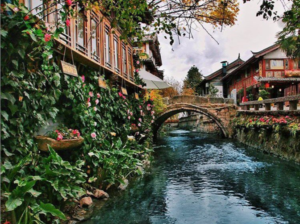 This is the mountain at the hearts of the Naxi people. Covered in snow all year round and with 13 peaks, it's like a dragon flying over the clouds, hence its name. Not to be missed is the Impression Show, with 500 singers and dancers and 150 horses, it's an outdoor show that demonstrates the lives of its local Naxi, Bai and Yi people.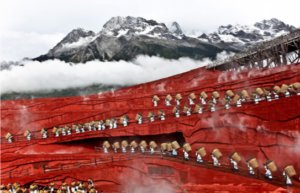 Gānsù 甘肃
In the northwest of China, you will find the beautiful province of Gānsù. Rich in history, culture and a diverse landscape, it's no wonder it was voted as Lonely Planet's 'Best in Asia 2017'. Historians can find themselves swooned in Silk Road history, whilst adventurers can explore vast sand dunes and mountains.
Zhāngyē Dānxiá National Geopark
The 'Rainbow Mountains' of China are located in Gānsù and are voted as one of the most beautiful landforms in China. These colourful mountains are a result of deposited sandstone and minerals over a 24 million year long process.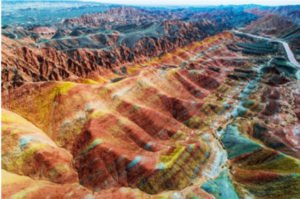 Singing Sands Dune
We said Gānsù was diverse, didn't we? A beautiful place for any adventurer is the Singing Sands Dune. Get sandy climbing up the to the 1715m high peak for a spectacular view. Not into getting sweaty? That's okay, jump on a dune buggy, soar over the dunes whilst paragliding or you can hop on a microlight or even a camel.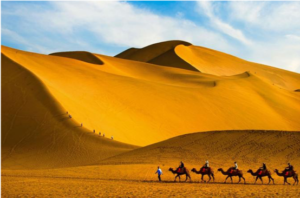 And finally, the incredible province of Guǎngxī. Guǎngxī is home to surreal landscapes, ranging from karst peaks to rice terraces. Two amazing spots to visit are…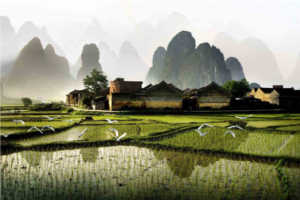 This is what you imagine when you think of Guǎngxī. Rafting through the River Li surrounded by karst peaks. You can even cycle through the valleys, where you will bear witness to Yangshuo's other-worldly landscape.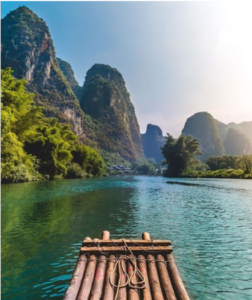 Lóngjǐ Rice Terraces
Cascading into a beautiful valley, you will find the rice terraces of Lóngjǐ. Literally meaning "Dragon's Back", here you will find the most spectacular views which took 400 years to build. Zhuang, Dong and the Yao nationalities inhibit the area and are seen wearing their traditional colourful clothing.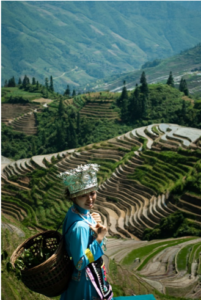 Seen our list and decided to travel around China, but worried about the infamous overnight trains? Check out some of our top tips and what to expect when on them here.