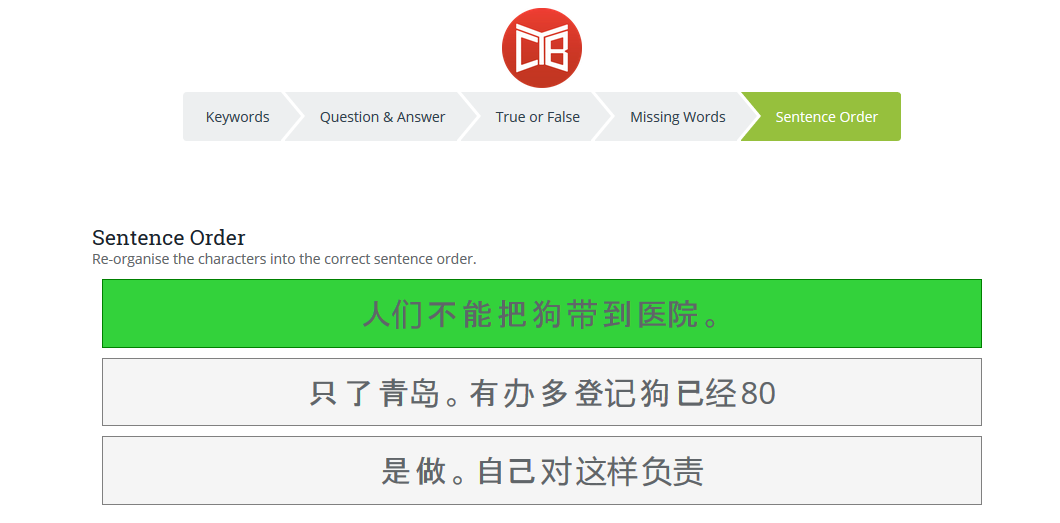 Comprehension Questions for Each New Lesson
From today, all new TCB lessons will feature between four and six comprehension questions to learn Chinese. Comprehension exercises are automatically graded and you can track progress with detailed feedback. Current interactive formats are as follows, with more to be added in the coming weeks:
Lesson keyword testing
Question and answer
True or false
Missing words
Sentence order
The aim of the comprehension exercises is to test understanding on the articles we publish, as well as to develop knowledge of grammar and reinforce structures. Ths interactive nature of these exercises truly enhances the TCB user experience!
Teachers
Teachers can also set homework and monitor student metrics within the Teacher Dashboard for new TCB Classroom subscriptions. Engage students and test on all aspects of Chinese study. If you would like to receive a quotation for TCB Classroom in your school or university, please get in touch with us here.
Sample Exercises
If you are yet to join TCB Premium, you can try the comprehension exercises on our latest sample lessons which appear at the top of the news feed when logged in and non-Premium. Here's a sneak peek at some of the exercise formats:
The comprehension questions are currently only available through the website, however we will be building them into the apps over the coming months.
Thank you all for the continued support and we have a whole host of new and exciting features set to be released soon! We can't wait to show you what we've been working on…