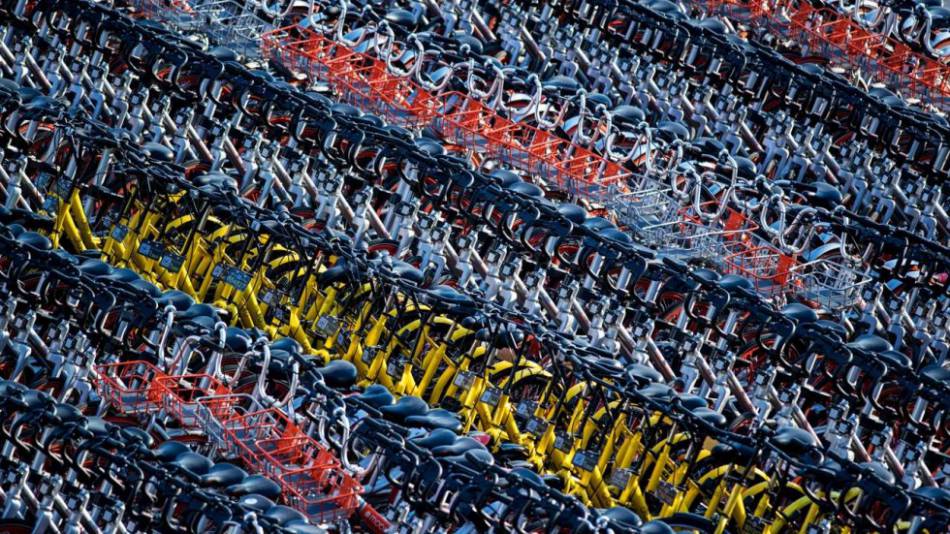 China's new wave of bike sharing companies, with their brightly coloured bicycles and 'dockless' operating models have flooded Chinese streets in the past 12 months. But theft, vandalism, freeloaders (who'd have guessed) and parking problems have meant that it has been far from plain riding as tech startups battle in a Didi Kuaidi and Uber-style turf war to win the hearts (and wallets) of Chinese consumers.
Bike sharing as a concept is nothing new, with over 1,000 cities globally having at least one bike sharing scheme. What differs in China is a 'dockless' operating system which means that bikes can be left anywhere and located using GPS tracking and smartphone apps. It's a model that makes it extremely convenient for users but a headache for authorities. What's more, a cutthroat pricing system in the duel for market share means that rides can be picked up for as little as 0.5RMB/hour – and that's when generous free ride incentives have been exhausted. In a country where already-cheap public transport can be swapped for an even 'healthier' and cheaper alternative, it's easy to see why Chinese consumers have taken to the concept like ducks to… well, bikes.
Shanghai has now risen to be a world leader with 450,000 shared bikes, the majority of which have, quite incredibly, appeared within the past six to eight months. Potential for waste and pile up aside, this greater availability and ease of pick-up spurred an increase of nine million active users within the final four months of 2016 for the top two bike sharing apps, Mobike and ofo, although an additional 30 bike sharing companies have also sprung up in the past 12 months in China. The 'dockless' system of bike sharing in China also offers a convenient and cheap solution to the issue of how people make it between home and public transport, a question which often presents challenges in urban planning.
Naturally, the rise in bike sharing popularity hasn't come without controversy. Simple 'hacks' on the bikes to gain free rides or permanent use have become commonplace, whilst property managers have complained about the amount of space taken by bikes. In fact, two nurses in Beijing recently spent five nights in jail after they were caught using a trick to access the bikes permanently. Images of pile-ups in rubbish sites, on top of buildings and alleyways have also become commonplace on Chinese social media. The problem is so widespread that bike sharing companies employ 'spotters' to report and collect the discarded and vandalised bikes and take them to popular pick-up locations or repair warehouses. This of course isn't an issue faced in the taxi-hailing industry where companies like Uber and Didi Kuaidi don't own the vehicles they operate.
The two market leaders, Mobike and ofo, have both secured huge venture capital from China and overseas and are valued at well over US$1bn each. Mobike was founded in late 2015 by a former Uber China employee, whereas ofo – so called because its name looks like somebody riding a bike from the side – started as a student project between five Peking University students back in 2014. A bubble set to burst, perhaps, but tech companies in China have a habit of doing well once they overcome the initial hurdles of government regulation and competition. Furthermore, bike sharing is also clearly in line with the government's policies to reduce pollution and promote China's tech industry, which many see as leapfrogging that of the west.
Not content with competing for Chinese market shares, Mobike and ofo are also both eyeing overseas expansion and UK trials in Cambridge, Manchester and Birmingham are set to be tested in the coming months. It's worth noting, however, that cycling has never 'gone out of fashion' in China and roads are flat and wide; often with designated bike lanes already in place. Not to mention the fact that the bikes are made in China so can be wheeled from factory to street at very little expense and it's clear to see that international expansion won't be a simple 'cycle in the park' for the fast-growing companies.
A friend of mine who lives in Shanghai recently told me that 'dockless' bike sharing in China has revolutionised his way of life. He now cycles everywhere he can instead of taking the metro and has lost weight as a result. Despite the shortcomings of the infant industry in China, it must be said that bike sharing can have an overall extremely positive impact on society if these initial hurdles can be overcome.