After writing about the bike sharing industry in China a few months back, I have kept tabs on the various other start-ups springing up and attempting to ride on the coattails of its relative success. The concept of affordability and convenience through shared use has taken off in China far quicker than elsewhere, in large part thanks to the country's widespread adoption of cashless transactions. Visitors to China will be familiar that cash has long given way to mobile payment (WeChat Pay, Alipay etc.) for most of modern city life's daily necessities: taxi rides, meals out and buying your morning baozi. This ease of transaction has led many entrepreneurs to try to capitalise by offering affordable conveniences at the click of a button.
Sleep capsules, charging stations, basketballs, kitchens… the list goes on. But after start-up E Umbrella lost 300,000 umbrellas in its first few weeks of operation and a shared chair business lost half of its chairs on the first day of use this week in Beijing, I wonder what is in store for the future of the industry and where the 'shared' concept ends?
I was drawn to an image recently of a shared bike 'graveyard' in Hangzhou, of bikes that had been seized by local security forces. There's over 10,000 in this image!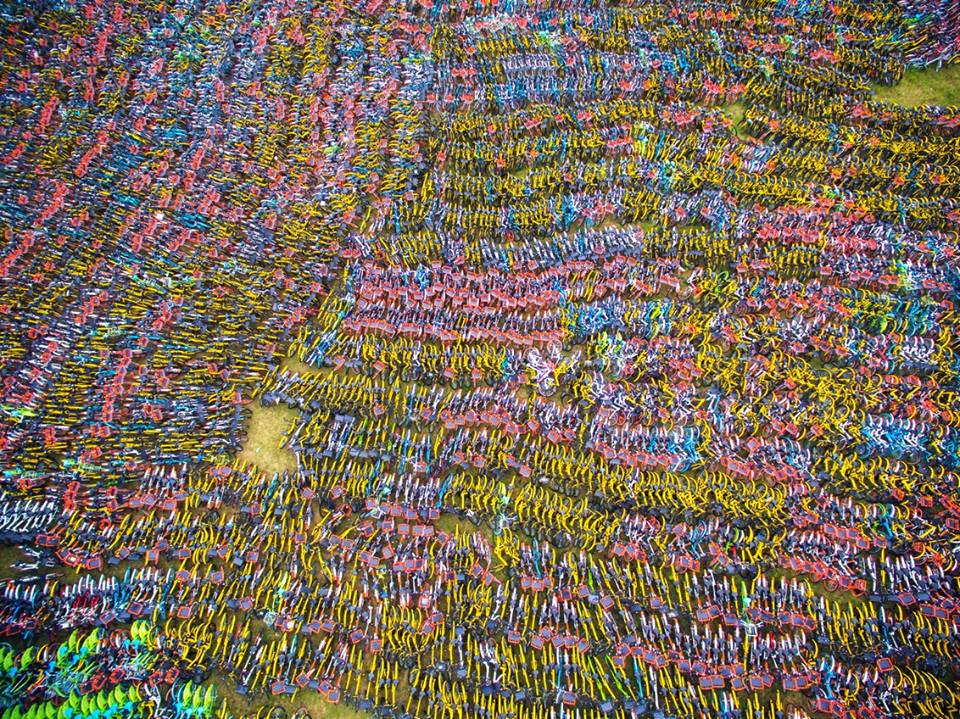 What else is 'shared' in China?
Kitchen
Two students at Hubei University recently invested 20,000 yuan in a shared kitchen for their classmates who miss the taste of home cooking to use. For a small fee, students are permitted entry to use the facilities to make fresh food, rather than relying on unhealthy restaurant options that often cost much more. A neat idea! Price: 10-yuan/visit.
Gym room
Micro, stand-alone rooms in public spaces that are each equipped with a treadmill, tv and air purifier. For those who don't like training in front of prying eyes, window shades can be let down for privacy. Within two weeks of launch, the company was valued at a massive US$15 million. Price: 99-yuan deposit + 0.2-yuan/minute of use.
Basketball
Zhulegeqiu – a pun for 'rent a ball' – is a basketball-loaning start-up which has spread to many cities since its launch in Zhejiang this April. Price: varies, but usually a deposit of 69-yuan and 1-yuan/hour of use.
Umbrella
Despite losing 300,000 umbrellas in the first weeks of operation, start-up E Umbrella pledged to battle through the storm and add a further three million umbrellas before the end of the year. With each umbrella reportedly costing 60-yuan to replace, the founder has some deep-pocketed investors to thank for the ability to take the hit of the initial losses. Price: 19-yuan security deposit and 0.5-yuan/30 minutes of use.
Sleep capsule
Sleeping on the job? Napping pods are tipped for a big future in Chinese office blocks, after fire regulations have led them off to a sleepy start. Price: ten yuan/hour, but priceless when your boss sees you stroll back into the office in your pair of stripy pyjamas, teddy in hand.
Battery pack
Anybody with a smartphone will be a huge fan of this option! Portable charge packs which are rented by QR code at a multitude of locations. Price: 0.5-yuan/30 minutes.
Electric car
While ride-sharing is not a new phenomenon, electric car-sharing certainly is in China. With a fleet of cars that range from low-end to top-end BMWs and Teslas, the electric car-sharing market is one to watch in the coming year. Not sure I'm quite ready to drive in China just yet, though! Price: 1,000-yuan deposit, 15 yuan for the first hour and 0.5 yuan/subsequent minute. However, higher-end models will be much more expensive.
As can be seen from the above pricing, many of the companies are still offering heavily favourable introductory pricing that one would imagine can't be sustained for years to come. Can we expect another Uber, Didi Kuaidi-style jostle for position in each of the markets? I fear in the end it will come down to which set of investors has the deeper pockets in each case, and that the customer is not likely to come out on top when one company monopolises or start-ups merge in each sector of the economy.
All of this does make me wonder whatever's next, I have enough trouble sharing my popcorn at the cinema!