The Chairman's Bao is the ultimate tool to learn Chinese through engaging news-based lessons produced daily. Our website and apps synchronise across platforms and our wide-ranging content is designed to suit all tastes. We publish more than 1,600 news-based lessons each year – up to six daily – five times more content than any other Chinese news-based graded reader! Oh, and there's now over 2,500 lessons in our library – enough to keep even the keenest of students engaged!
Features
HSK-graded News-based Lessons
Thousands of HSK-graded news-based lessons meticulously created each year by our highly-experienced writing and editing team, all under a stringent seven-point editorial process. At TCB, quality is key!
TCB Platform Synchronisation
The TCB platform fully synchronises across all devices; Website, iOS and Android. This includes user data, bookmarks, personal Learning Hub and Word Bank.
Bookmarking
Bookmark articles to read or refer back to at a later date.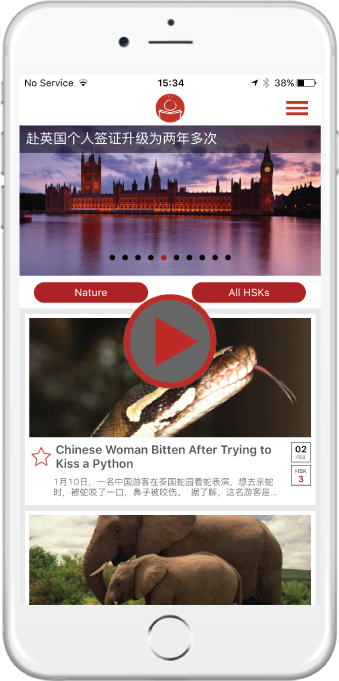 Interactive Live Dictionary
Don't know a word? Use the Live Dictionary – which comes complete with audio and scrolls as you study – to save words to your personal Word Bank. View stroke order animation and even practice writing characters in the correct order, all from within the Live Dictionary!
Spoken Audio for Every Article
Each lesson comes complete with native audio spoken with a variety of Chinese accents, at a speed in-line with the targeted HSK level.
Simplified & Traditional
Easily switch between simplified and traditional characters.
Grammatical Explanations
Unlike any other news-based graded reader, TCB offers a complete HSK level-targeted list of grammatical explanations for each lesson. Grammar is made fun and relevant with contextualised examples in the most comprehensive grammar list of any online Chinese learning resource.
Keywords & Idioms
TCB carefully selects keywords and idioms for each article, in accordance with the targeted HSK level. Users also have the ability to save keywords and idioms to their personal Word Bank.
Personal Word Bank
Save unknown words to your personal Word Bank. View words, add notes and view the original sentence from the news-based lesson the word originated from.
Word Pronunciation
Forgotten how to pronounce a saved word? All saved words can be said aloud as a reminder and to improve pronunciation.
Word Groups & Exportation
Users can create word groups, view pre-existing HSK-levelled word groups and export to other major Mandarin learning platforms via the website.
Flashcard Tests
After creating or viewing pre-existing word groups, test using our intelligent flashcard system. As words are tested, they are automatically grouped in accordance with how well they are known. This means users are tested more frequently on words they know less.
Original Article Sentences
Struggling to remember or find a context for a word? View the original sentence from the lesson each word originates from.
Word Pronunciation
Forgotten how to pronounce a saved word? All saved words can be said aloud as a reminder and to improve pronunciation.
Why TCB?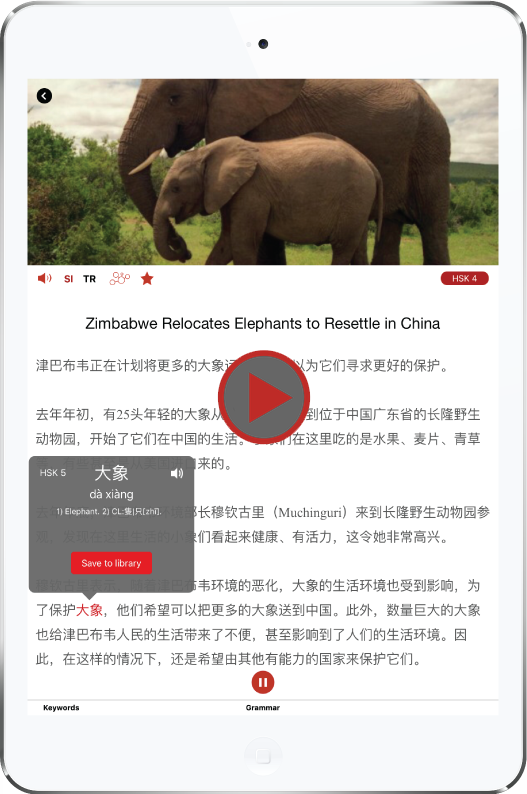 Quality Control
Extra functionality is great but our primary concern has been and will always be lesson quality. For that reason, we developed a stringent seven-point editorial process to ensure the quality of everything we produce. Students and teachers can have faith that our news-based lessons have been produced to precise standards by our highly skilled writing and editing team. In the 2017/18 academic year, you can look forward to more content than ever before, with the same exacting quality that you have come to expect from our team.
Volume and Variety
By breaking Chinese learning into fun, manageable chunks, TCB takes the chore out of the daily character grind. We understand better than anybody that as materials for other languages have progressed, Mandarin has tended to get left behind and for that reason we are leading the revolution! Students love to learn from content that is fun and engaging. So, whether you are studying for HSK, other formal examinations, or as a supplementary course, TCB is the platform for you.
What People are Saying About The Chairman's Bao
"Best Chinese language tool I have ever seen! TCB has everything a serious student of Chinese needs to maintain and improve their fluency. I started studying Chinese 32 years ago. I would find simple articles and have students read it into a tape recorder. This has everything for reading, including very interesting articles. You need basic Chinese skills to use it but you will improve very fast, because you will read listen and study everyday – because you will want to."

"This app gives me the perfect way of practicing reading and adding to my vocabulary without having to switch to another app to look for words in the dictionary. So convenient and all at my fingertips. I love the variety of articles for each language level. This is great for both those who need in-context HSK practice and those who just need to maintain and improve their modern Chinese. My favorite feature is that articles are categorized by level. Some days I read level 5 articles to give myself a challenge, but some days I read level 4 articles for reading fluency and to enjoy reading a whole article with ease and making myself feel better about my Chinese even if I know there's still a great way to go. I like that there's idioms, grammar points and keywords in each article too! Best of all, it's all in one app!"

"One of the most serious problems for learners of Chinese is to find suitable reading material. This means both that the text should be at an appropriate level, and that it should be interesting to read. With level-adjusted articles about recent events, The Chairman's Bao kills two birds with one stone, offering comprehensible reading practice in an accessible and entertaining way. TCB is a valuable asset to both students and teachers of Mandarin!"

"The Chairman's Bao is a super app for anyone wanting to improve their Chinese listening and reading skills. 12 years ago I intended to sit the HSK, but never got around to it (that's a long story!). Now, between full time work and family commitments, I have finally registered and the test is just days away! Fortunately, the TCB app is in my iPhone making for a quick and convenient way to get up to speed. Thanks TCB!"
TCB Institutional Subscriptions
TCB in the Classroom
Do you want to take the chore out of lesson planning and provide students with engaging quality lesson content on a daily basis? Look no further. TCB offers institutional subscription for all types of institutions; Primary schools, high schools, universities, companies, summer schools and so on.
"I wholeheartedly recommend The Chairman's Bao to all students of Chinese of all levels, for self-learning or to supplement a formal course. The bite-sized bespoke articles are ideal for graduates of Chinese or others who want a pain-free method to keep their language skills ticking over on a daily basis from foundation to advanced levels. The links to HSK levels are a useful bonus. There is a remarkable range of online resources now available to help people learn Chinese, but very few are as user-friendly and well-designed as TCB, and even fewer cover such interesting topics. I have found myself recommending the site on numerous occasions and will continue to do so.""

Dr Frances Weightman

Director of East Asian Studies & Senior Lecturer in Chinese Studies at Leeds University, UK
(Visited 6,405 times, 13 visits today)